Amphan-hit Calcutta racecourse trees back on their feet
The restored varieties include Kadam, Krishnachura and Aswathya, naturalist Arjan Basu Roy informs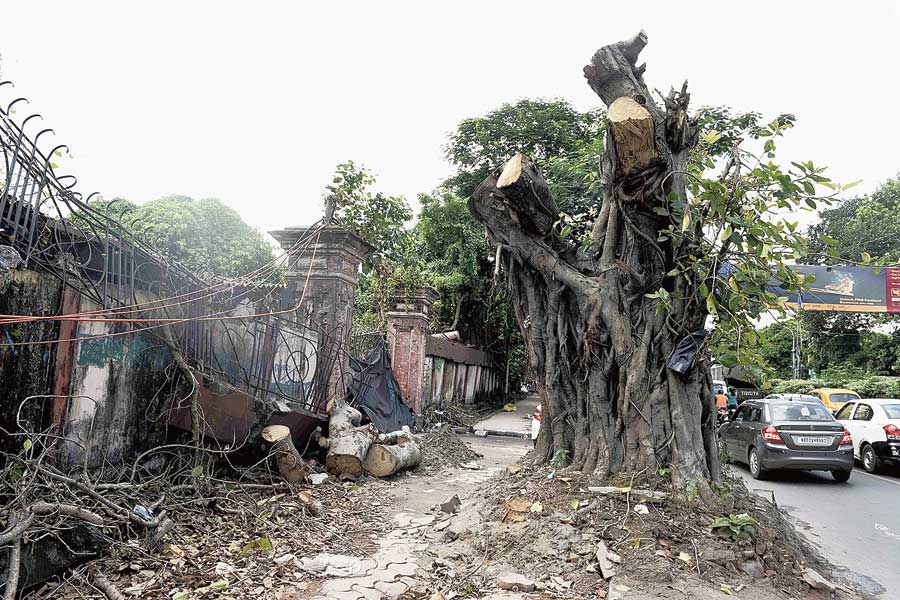 A tree outside racecourse after their restoration.
Sanat Kr Sinha
---
Calcutta
|
Published 08.10.20, 03:12 AM
|
---
Five trees outside the boundary of racecourse opposite the police training school that had tilted when Cyclone Amphan had struck in May were restored recently and made to stand straight again.
Despite the restoration happening more than four months later, the trees did not die. This was possible because the roots were still tied to the soil and could draw nutrition from it, according to naturalists.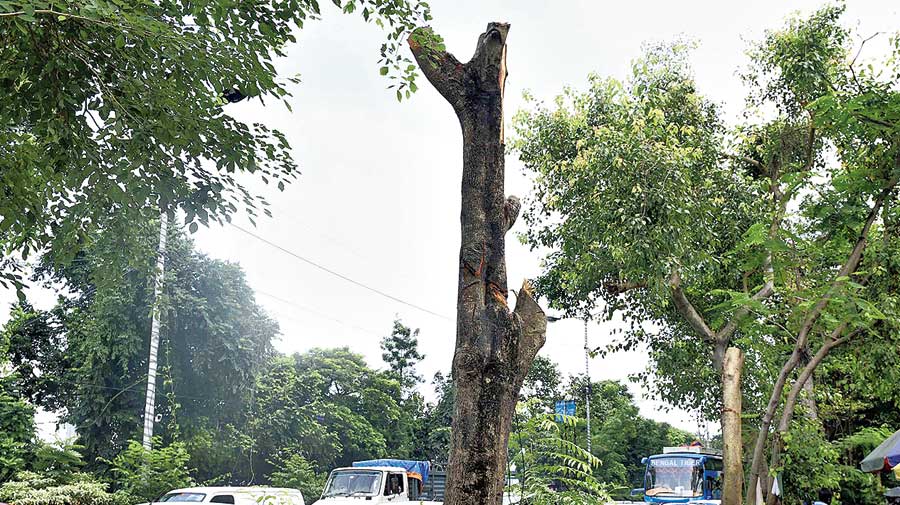 The restored trees include Kadam, Krishnachura and Aswathya, naturalist Arjan Basu Roy said.
The Calcutta Municipal Corporation completed the restoration about 10 days ago. "We completed the restoration work after getting the Eastern Command's approval. I do not remember exactly when we approached the army for permission to restore the trees," a CMC official said.
The army's permission was needed as it is the custodian of the Maidan and the trees were outside the boundary of the racecourse, the CMC official said.
"As the roots of the trees had not been severed from the soil, the trees had a supply of nutrition from the soil, which is why they survived even in the tilted position," a naturalist said.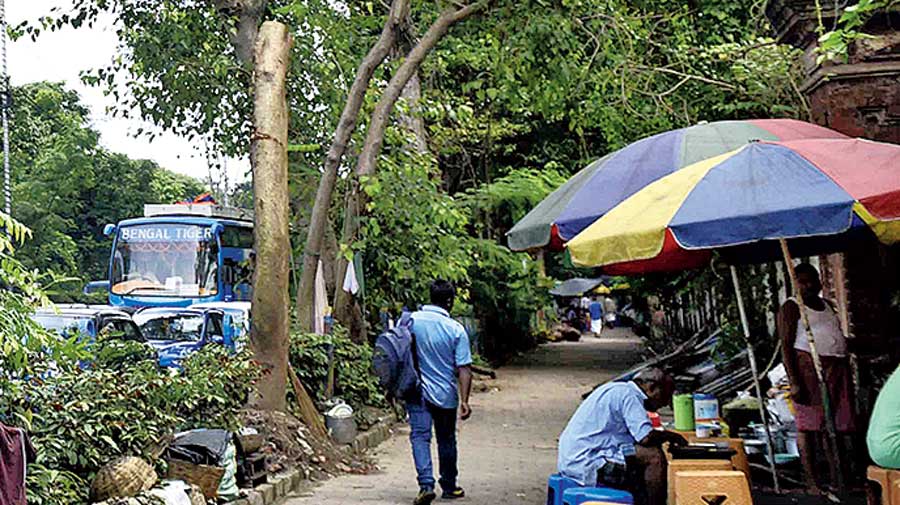 The branches and leaves had been chopped off before the trees were put back in erect position.
Basu Roy, who had inspected the tilted trees, said he found that the perimeter of the girth of a tilted Aswathya tree was 12m. The tree could be a century-old, he said.
Basu Roy was not involved in the restoration work.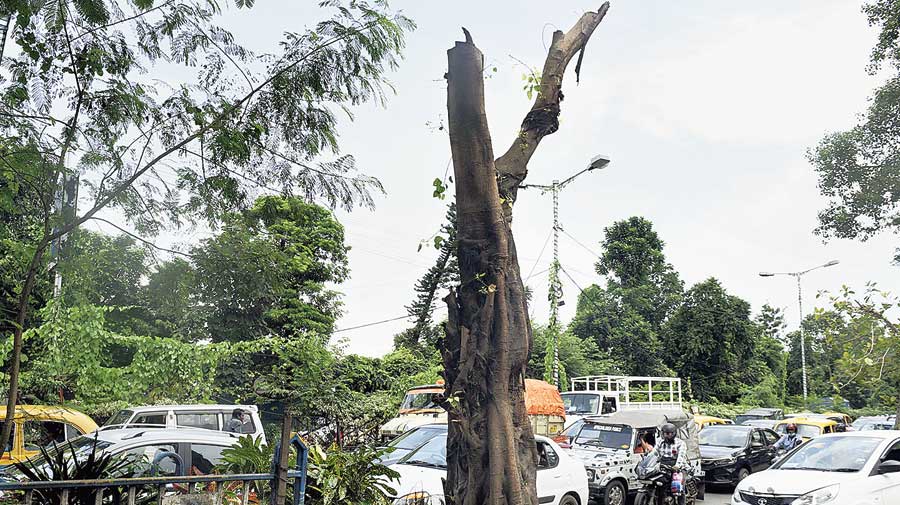 Author Amit Chaudhuri who had knocked on several doors to restore the trees said he was happy that the tree had been restored. Many of the trees Calcutta lost during Amphan were ancient ones, he said. "These were trees that our parents' generation or people older than our parents have seen. Losing something that old and beautiful is not worth it. This is the same reason I fight for saving old and beautiful houses of Calcutta.
"After seeing the trees outside the racecourse I felt putting them back to their original position would not be a tough thing. I thank the CMC and the army for doing this."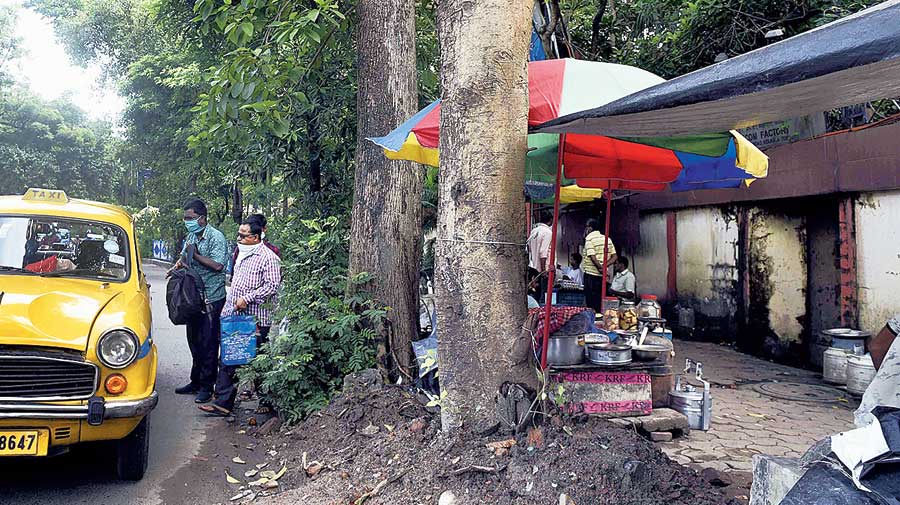 The Kadam and Krishnachura trees will be close to 30 years old, Basu Roy said.
There is no count on the number of trees Calcutta lost to Amphan that had struck the city on May 20. Many had fallen but the roots had not lost touch with the soil. Many such trees had to be chopped off because they had either blocked the road or had tilted towards the road and keeping them in that position posed a threat to people.
"The trees near the racecourse were not tilted towards the road; so, there was no urgency to chop them off. Only about 30 per cent of trees that had tilted during the cyclone but had not lost connection with soil could be restored," Basu Roy said.
The CMC should regularly water the roots and tree trunks to ensure they don't become dry, he said. Also, insects are known to infect trees around this time of the year. "Since these trees would be weak, they should be treated immediately if they get infected with insects."