Always remember people like him: CM
The former teacher requested everyone to step forward and help each other in their own capacities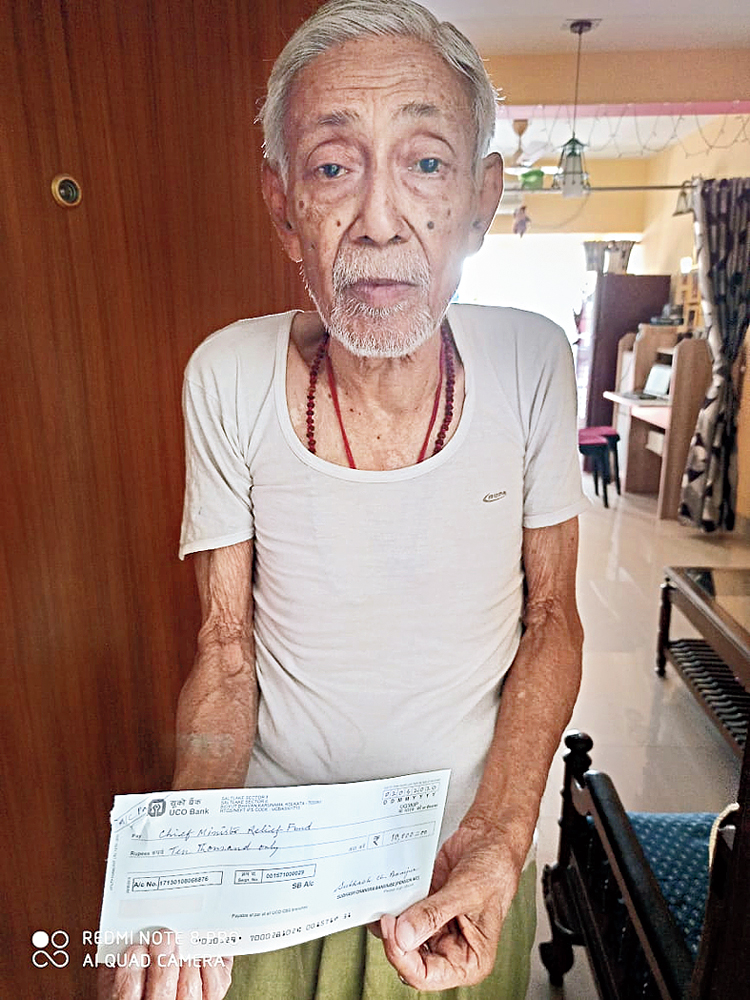 ---
|
Calcutta
|
Published 17.04.20, 09:33 PM
---
Mamata Banerjee on Friday talked about an octogenarian who donated Rs 10,000 to the Chief Minister's Relief Fund to stress the importance of "positive things" amid the Covid-19 crisis.
"Many can help with money. But remember, many can help with heart…. I have seen pictures. An 82-year-old man, a retired teacher, stepped out of his home to call police," she said during the news conference at Nabanna.
"The police had thought he wanted food. The man, at this age, had stepped out to hand a Rs 10,000 cheque to the cops, asking them to deposit it in the Chief Minister's Relief Fund. I had called the gentleman two-three times. He must have missed the calls, perhaps he was resting then. But I always remember people like him. You also keep them in mind. Let such positive things happen for the sake of peace. People don't want to see negative stuff all the time."
On April 12, The Telegraph had reported how Subhash Chandra Banerjee, a retired college teacher in Dum Dum, had called out the cops a day earlier. The policemen, part of a patrol from the Airport police station in the Bidhannagar commissionerate, thought he was hungry but were surprised when he wrote out a cheque for Rs 10,000 in favour of the Chief Minister's Relief Fund to help in the fight against Covid-19.
Banerjee was surprised on Friday afternoon when a policeman rang the doorbell and asked him to switch on his mobile phone.
A few minutes later, he received a call. The caller identified himself as an officer of the police station and told him that the chief minister had tried calling him but could not get through to him and was likely to call him again.
Although he has been receiving several calls from former students and colleagues, Banerjee said he had never expected the chief minister to call him.
"I was resting so I must have missed her calls. I had made a very small contribution. She (Mamata Banerjee) must be extremely busy and it does feel good that she thought of me even though hundreds of others are doing so much more than what I have done," he said.
A former teacher of Dinabandhu Mahavidyalaya, Banerjee said he remembered the time when Mamata had visited Bongaon in North 24-Paraganas and delivered a speech on the town hall ground when he was still a teacher at the college.
The former teacher requested everyone to step forward and help each other in their own capacities.