After the rain stopped
The system is likely to persist till the weekend leading to more winds and rain, the Met office has said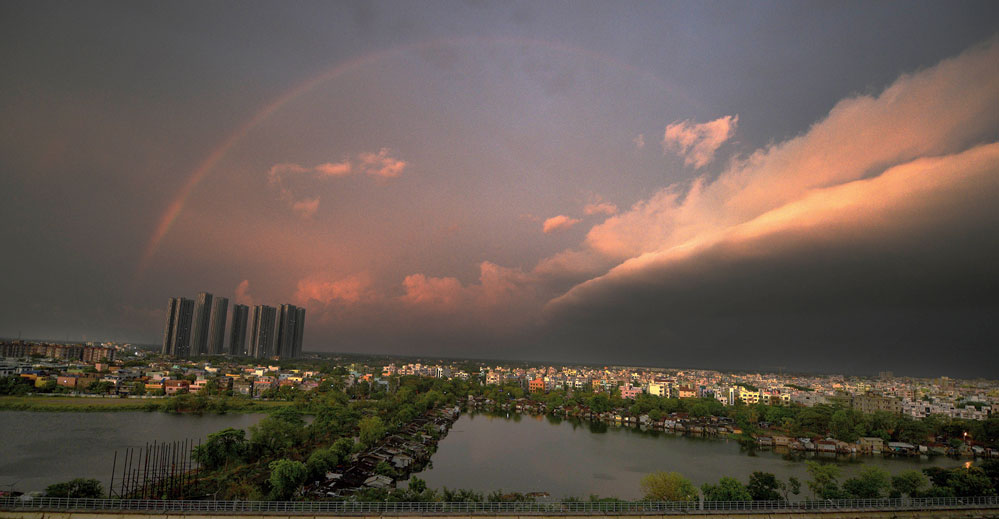 A rainbow adorns the city sky in the picture taken from the terrace of an EM Bypass highrise overlooking the East Calcutta Wetlands.
Picture by Gautam Bose
---
Calcutta
|
Published 23.04.20, 11:22 PM
|
---
The picture was taken a little after 5pm on Thursday.

The rainbow appeared as the sun came out after a spell of rain. Social media was abuzz with pictures. 
"Life says often the brightest colours follow the darkest storm," said a Facebook post. The sun and clouds had been playing hide and seek throughout the day. Around 3.30pm, the sky started changing colours and was dark in another 30 minutes.
A brief spell of lightnings, gusts of wind and sharp rain came next, followed by the reappearance of the sun.
A cyclonic circulation over Madhya Pradesh and a high-pressure area over the Bay of Bengal led to the clouding and rain, said a Met official.
"The shells (rain-bearing clouds) kept gaining strength as they neared coastal Bengal from the western districts," he added.
The system is likely to persist till the weekend leading to more winds and rain, the Met office has said.