Close to 1,000 people protested against the Centre's citizenship matrix in the heart of the city on Friday, shattering a long lull triggered by the Covid pandemic.
Deafening roars of azaadi and "we will not show papers" posters made a comeback on busy roads as the protesters marched from Moulali to Esplanade where they staged a meeting. Many of the marchers had come from the districts, like Nadia and Murshidabad. Some of them reached Calcutta last night.
December 11 was chosen because the Citizenship Amendment Act was passed by Parliament on the same day last year. The campaign against the citizenship troika — National Register of Citizens, National Population Register and CAA — was at its peak when the coronavirus brought everything to a grinding halt.
The rally was organised by Anti-NRC People's Movement, a joint platform of 21 organisations campaigning against the citizenship thrust. Groups of people started arriving at the meeting point — Ram Leela ground on CIT Road in Moulali — on foot, mini vans and buses.
A mini-truck parked on the road became a makeshift stage for speakers.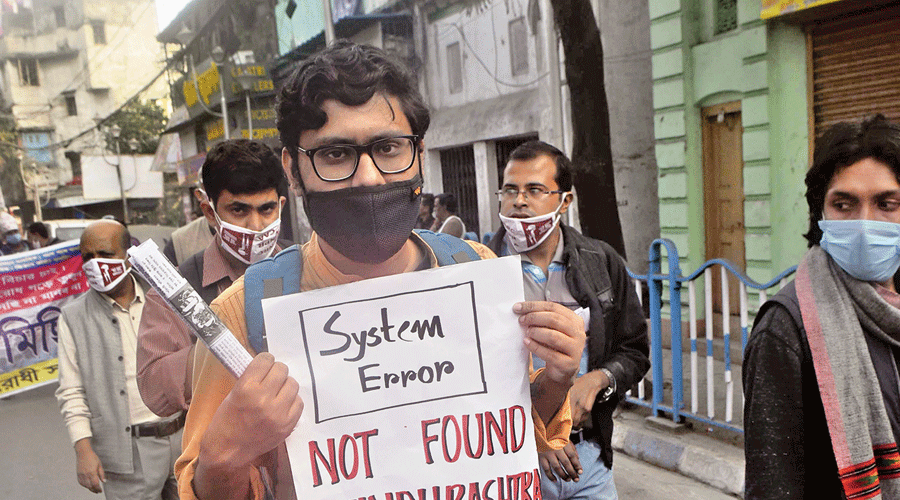 "The Narendra Modi-led government has used the pandemic and lockdown as a tool to stifle dissent and bring another series of anti-people laws like the labour code and farm bills. The government had kept the NRC-NPR-CAA combine in the cupboard like mothballed woollens but they would bring it out any time. We should be alert," said Prasun Chatterjee of Azaad Gana Morcha.
The BJP's Bengal minder Kailash Vijayvargiya said on Sunday that the Centre might implement the CAA from next month to confer citizenship on a large section of refugees living in Bengal.
"From infiltrators to termites, we remember every word that was used to describe us, citizens of this country," said Kasturi Basu of Humans of Patuli.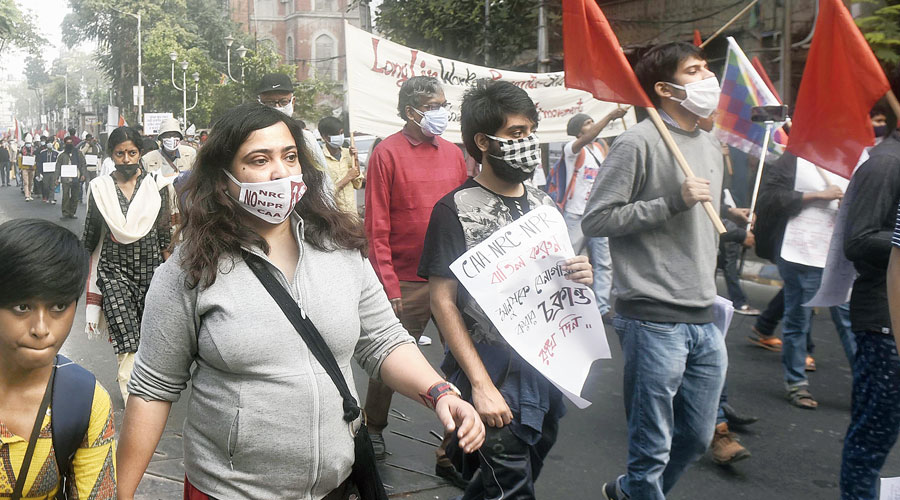 A group of youngsters from Janaganamana Sanskritik Manch performed a series of songs — most of them tweaks of popular Bengali songs. "Batashe bohichhe bish, bukete lagilo chot, raja je kohilo heshe NRC eshe gechhe (The air is filled with poison, the heart wounded. The king says smilingly that NRC is here)," said one song.
The opening lines of another song: "Tora je ja bolish bhai, raja'r shosta mojur chai (No matter what you say, the king wants cheap labour)."
Almost every speaker said the citizenship thrust mirrored blatant religious discrimination and its main objective was creating a vast pool of cheap labourers for big companies.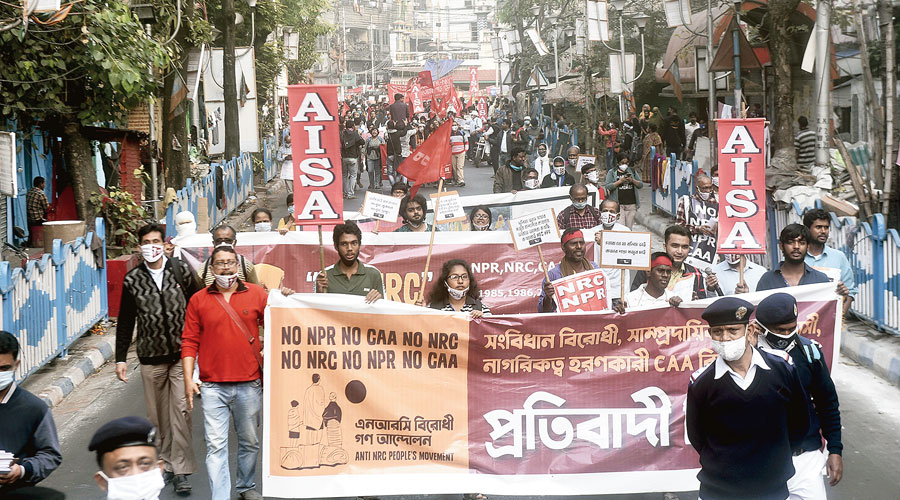 "This government has sold itself to big corporate houses and will turn people languishing in detention camps into cheap labourers," said Chandan Bhattacharjee of the Sramik-Krishak Ekta Manch, who had come from Jaynagar in South 24-Parganas.
The rally started from Ramlila Maidan in Moulali around 2.30pm and its head reached the front of the Calcutta Municipal Corporation headquarters on SN Banerjee Road around 4pm.
Tricolours and large banners fluttered under the canopy of trees dotting the road that connects Moulali with Esplanade. A third of the marchers were women, who often out-shouted the men in sloganeering.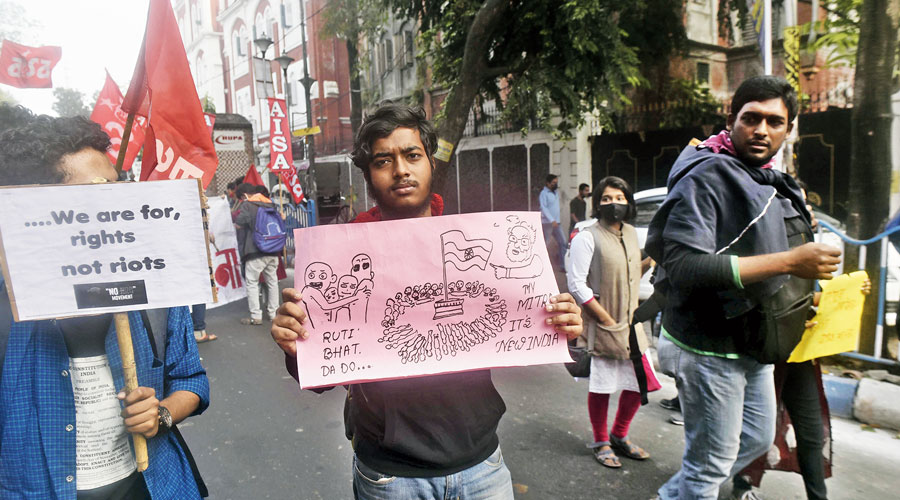 "System error… Not found — Hindurashtra," read one poster. "We want rights, not riots," read another.
A police officer put the number of marchers at over 500 but organisers said more than 1,000 people had turned up. "It is a big number because many people, even in Calcutta, are still not ready to join a large group for fear of the virus," an organiser said.
Many marchers on Friday had posters of political prisoners like Umar Khalid, Sharjeel Imam and Varavara Rao. The protesters demanded their "immediate release".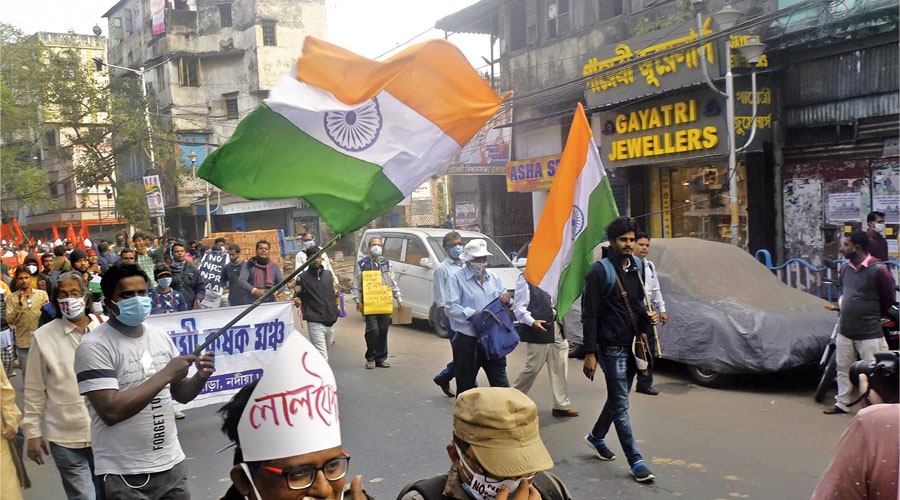 Banojyotsna Lahiri, a Presidency and JNU alumna and a friend of Khalid, walked in the rally on Friday.
"In Delhi, a protest march is usually limited to the stretch between Mandi House and Jantar Mantar. It is extremely tough to protest anywhere else. Being able to walk in a rally through a residential area like this is a big deal. With people watching from their balconies and shopkeepers coming outside stores, the protest becomes so organic," she said.
Arup Majumdar, the convener of the Anti-NRC People's Movement, said a section of people opposed to the citizenship matrix were now more bothered with livelihood problems posed by the pandemic. "Since there is no strong narrative on the part of the government right now, they think the NRC-NPR-CAA is not on Modi-Shah's immediate agenda. But the BJP will suddenly strike with these tools, maybe just before the Bengal election. If we do not step up the vigil now, we cannot do much then," said Majumdar.