A solo traveller around the world, on a bicycle
The cycle is as good for our personal health as it is for our environment, not to mention women's empowerment: Lipika Biswas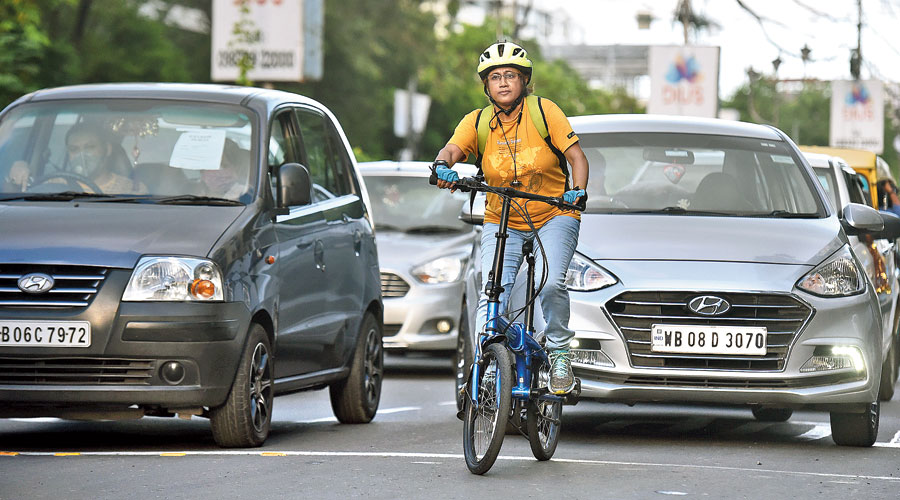 ---
---
Lipika Biswas's landing in Europe for the first time in July 2018 was with a thud. She was in Frankfurt where first the immigration officer would not believe that a woman from India was on a two-month cycling tour in Europe, alone. Then Biswas realised that no mechanic was free to help her re-assemble her bicycle, which she was lugging behind her packed in a box.
But Biswas is not someone who gives up easily. Getting to Frankfurt had not been easy either.
She calls herself a solo traveller. An Eastern Railways employee where she works as a senior clerk, Biswas, who turns 52 on Wednesday, had planned the Europe tour meticulously. She would bike from Germany to Iceland. With loans from friends and a very supportive family, she had managed to put together Rs 4.5 lakh for the trip, and had trained herself relentlessly, but had missed the bit about the re-assembling.
In Frankfurt, she lost a day trying to get a mechanic to help her and several Euros, which would always and instantly be converted into rupees in her mind. "I paid Rs 3,500 as taxi fare in Frankfurt just to move to a new accommodation," says Biswas, a resident of Kasba. The next day she got to work herself, going by instinct, and put together her bike, and set off for Mainz, when she also realised that she did not know how to use GPS.
But the roads held her up, as she was borne by the kindness of strangers.
Biswas had been a mountaineer from 1994, the year she joined the railways. She wanted to be an adventurer. She had grown up in Palta, on the outskirts of Calcutta, attending school there and college in Naihati. "I was a tomboy. I played daant-guli. No dolls for me," says Biswas.
She joined a local mountaineering club, Nababganj Mountain Lovers, and with them, as with others, "summited" several Himalayan mountain peaks. In 1995 she trekked up to Kalindi Pass, which connects Gangotri and Gastoli. Within a few years, she was a veteran. For two years, 2014 and 2015, she was part of an Everest expedition team, but on both occasions she had to return from the base camp as the expeditions were cancelled.
She had always loved cycling. The last few years she has turned to these "magic wheels".
"I still wanted to go far," she said. To be able to go up mountains that seem to be rising straight up is to conquer fear. "While going up I would think not again. Coming down I would want to return right then."
But she also wanted to go alone. It would help her to confront the final frontiers of fear. A doctor friend, her adviser, told her to try Europe. It would be "safe".
So there she was, on way to Mainz from Frankfurt, on a bicycle assembled by herself for the first time.
In Mainz, she was told at a late hour that she would have to cross the Rheine to camp. Biswas would either be hosted by members of Warm Showers, an international free touring cyclists community, or stay at Airbnb places, or camp in her own tent wherever possible, even in someone's garden, spending as little money as possible on food. But in Mainz, the couple told her she could stay the night at their place. This would be the first of the many homes that would be offered to her by strangers.
"One of the best things about cycling is meeting people," says Biswas. She made many friends in Europe. She did not face a single incident of racism, she feels. She felt appreciated, though she surprised many as an "Indian woman" out on such a tour.
She rattles off the names of places she visited: Mainz, Cologne, Duisberg, to Arnhem, Amsterdam, Zalk (a village in the Netherlands), back to Germany, and Fehmarn, from where she entered Denmark. Then she visited Sweden and Norway. From Norway she reached Iceland from Faroe Islands by ferry. Reaching Iceland was an emotional moment. She biked through the country from Seyðisfjörður to Reykjavik, from where she took a flight to Calcutta via Copenhagen and Delhi.
"On some days I cycled for 100 to 120km,"says Biswas. "My friend from Calcutta insisted that I go wild camping. So I stayed alone in the forest at Kronsjo the night before I entered Norway from Sweden."
She discovered the pleasure of railway waiting rooms. At Lunden, near Flam in Norway, she decided to spend the night at the tiny railway station just because it was so heart-stoppingly beautiful. She was the only one at the waiting room, surrounded by mountains and an immense solitude.
She also made friends out of a few Indian ambassadors at the capitals. "Despite some problems, the tour went off quite well," says Biswas, who was back in Calcutta after two months.
Only to be back in another part of Europe the next year, same time, for two months. She took off from Vienna, biked through Budapest, Belgrade and Sofia to Istanbul, where she had a brainwave.
She felt she must visit Greece. She went to the island of Lesbos, the home of Sappho, the greatly admired poet of ancient Greece who also gives her name to the Sapphic tradition.
Biswas visited the island, but when she wanted to enter Turkey again, from where she would take the flight home, she realised that she had a one-entry visa. She spent a deeply anxious night with her passport taken away, after which she was finally granted another visa for Turkey.
Last year in April, she had also gone on a bike tour of Sri Lanka, but with a friend.
"And I will go again," she says. And looks proudly at her three bikes – a folding bike, a mountain bike and a touring bike — which are all parked happily inside her bedroom at her small Kasba apartment.
She wants Calcutta to be more cycle-friendly. The cycle is as good for our personal health as it is for our environment, not to mention women's empowerment, she points out. During the pandemic many cycles are out in the streets.
"But in Calcutta cyclists should also learn to follow traffic signals," she insists.