99-year-old's Covid-relief gift
Salt Lake's Karunamoyee was built under my supervision, says Mihir Kumar Chatterjee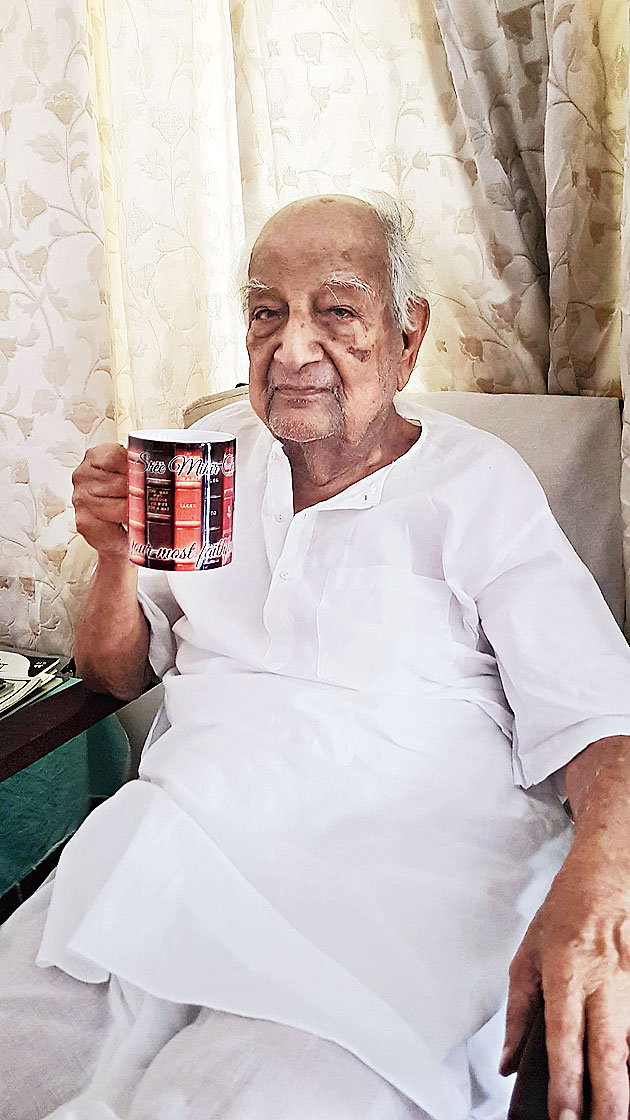 ---
---
Clear sight
After his wife's demise four years ago, Chatterjee lives alone, assisted by two domestic helps who work 12-hour shifts. One of them is Mita Basak, who he calls his friend, philosopher and guide. "She takes great care of me and won't let me speak for more than 15 minutes," Chatterjee laughs.
Besides being hard of hearing, the nonagenarian has no major health complications — no sugar, no pressure, he does not even need a pair of glasses to read the Taslima Nasrins and Narayan Sanyals on his bookshelf.
"On his birthday, dadu relished payesh and machher matha diye dal," says Mita. "He can eat everything. He has a strong constitution thanks to the pure food he grew up eating. He would have milk from cows in their own shed and rice that grew on their own land. "
Chatterjee still contributes to souvenirs of EC Block and B.E. College Ex-Students' Club, Bidhannagar. Since his hands tremble somewhat he now dictates while others write for him. "Some friends come to seek his advice on pension-related matters and he does their calculations mentally," says Mita.
While Chatterjee is mobile around the house, he leaves home only thrice a year — on Independence Day, Republic Day and Netaji's birth anniversary. "I'm a good orator and deliver speeches on these days at the block's programmes," he says.
Poetry on birthday
On his birthday, Chatterjee was greeted by a few members of the PWD family, the B.E. College alumni group and Gaabesu (Global Alumni Association of Indian Institute of Engineering Science & Technology, Shibpur).
"Many well-wishers wanted to go over but we had to keep in mind social distancing norms," says Syama Prasad Datta, a resident of FD Block who is also associated with all the three institutions. "Mihirda had asked for books by Taslima Nasrin or Bimal Mitra. Given the lockdown, we got what we could. On our request, he also recited a portion of Meghnad Bodh Kabya; from memory, of course."
Chatterjee has a command over Bengali, English and Sanskrit and Datta recalls how he would deliver extempore speeches at all their events. "He loves the theatre too and has acted and directed many in the past," says Datta.
A lakh a year
Of all his virtues, Chatterjee says his greatest is his honesty. "I had much scope of being dishonest but I didn't take that road. My wife Mira had a big role to play in this. She would threaten to desert me if I ever accepted a bribe. That I have been honest shows in my lifestyle," he says looking around his house. "Who else in Salt Lake has a house that's only one-storey?"
From his honesty stems his generosity. Chatterjee dresses in fotua-dhoti-slippers and has given away his prized suits and shoes. Annually, he donates Rs 1 lakh to institutes like Child Rights and You (CRY), HelpAge India and Bharat Sevashram Sangha.
Mita interrupts to add that he funded her daughter's education and that he lends a hand whenever she is in need. "During the lockdown, I stayed over for 10 days at a stretch while the other help was home. But dadu paid us both in full. He realises how badly we need the money."
Chatterjee also donated Rs 90,000 — almost the entirety of his monthly pension — to the Covid relief fund as he felt it was the need of the hour. He recalls ghastly incidents of the past century but says none have been like Covid-19. "During the Bengal Famine, I remember seeing starving people on the streets, crying 'fyan dao'. It was terrible but Covid is different," says the man who does not approve of the lockdown mechanism.
"In terms of economy, India is falling back by 10-15 years by enforcing such a ruthless lockdown. The financial loss is not worth it."
As for his own health, Chatterjee jests that he plans to live past 100 as the government would grant him Rs 1 lakh as pension after that! "Jokes apart, however my end comes, I am confident that I will not suffer," says the man, reciting a verse from the Bhagwad Gita. "Lord Krishna assures us that he who does no wrong will not suffer and I have lived an honest life."
Mihir Kumar Chatterjee has lived his life so simply that his friends tell him he lives like a beggar. Days before his 99th birthday, this "beggar" of EC Block donated Rs 90,000 to the chief minister's relief fund to fight Covid-19.
"Simple living, high thinking," says Chatterjee, who turned 99 last Friday. Usually his son and daughter-in-law come down from Delhi to spend this day with him but this year, of course, things are different. He still got lots of phone calls and a visit from well-wishers of institutes he is associated with on the day. "They gifted me books, sweets, a dhoti, a laminated greeting.... Next year when I turn 100 they will hold a big felicitation," he smiles.
Born in Bankura on June 5, 1921, Chatterjee is a product of what were then known as Presidency College and Bengal Engineering College. "I graduated with a degree in civil engineering in 1945 and sat for the first and only interview of my life. I got through the PWD test and continued there, retiring in 1979 as housing commissioner," he says. "Salt Lake's Karunamoyee was built under my supervision."
Chatterjee's memory is as sharp as ever.