95 oxygen concentrators gifted to fight third wave
The machines were donated by the founder of Pradip and Kumkum Ghosh Family Foundation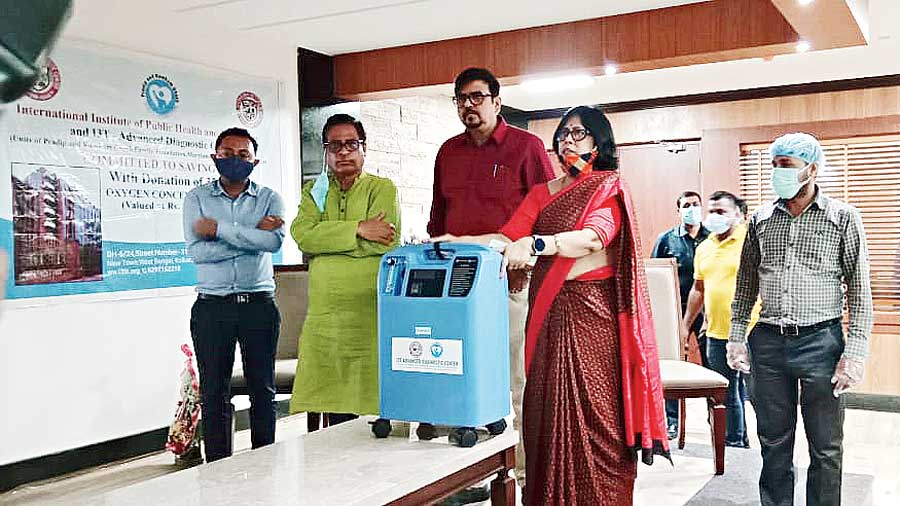 Anuradha Bhowmik, managing administrator of I3TK, handing over one of the oxygen concentrators to Sujit Bose at the New Town premises of the institute. To his right are MLA Aditi Munshi's husband and Bidhannagar Municipal Corporation Board of Administrators member Debraj Chakraborty (extreme left) and MLA Tapash Chatterjee
---
Salt Lake
|
Published 23.07.21, 12:20 AM
|
---
In yet another non-government organisational response to counter the possible ravages of the third wave of Covid-19, a total of 95 concentrators were handed over to people's representatives as well as office-bearers of local housing complexes on July 7.
The donor was Pradip and Kumkum Ghosh Family Foundation, which runs the Action Area IID-based International Institute of Innovation and Technology (I3T). The institute, founded in 2018, is involved in research on dengue and malaria and is starting work on Covid-19 too.
The machines are a part of a total of 350 oxygen concentrators, worth Rs 2 crore, that the founder of the organisation, Pradip Kumar Ghosh, has pledged for the people of Bengal. An economist, based in Maryland, US, Ghosh hails from Khardah.
"He took the decision to send the concentrators after seeing people die for lack of oxygen in the second wave earlier this year. Even if there were oxygen cylinders, lives were lost in the time needed to take the cylinders for refill," said Moonmoon Chakraborty, the coordinator of I3T Mental Health Centre, which also runs under the institute's umbrella.
"Our team of psychologists has started counselling people who have lost jobs or suffered losses in the pandemic as well as students who are getting increasingly frustrated at home," she said.
On the day, 25 concentrators were handed over to Bidhannagar MLA and minister Sujit Bose, 15 to Rajarhat New Town MLA Tapash Chatterjee and 10 to Rajarhat Gopalpur MLA Aditi Munshi.
Ghosh spoke to them over live video call, sharing his vision for the institute.
Also receiving the gifts were representatives of housing complexes Uniworld City, Rosedale Garden, Highland Willows and Jal Vayu Towers in New Town and Purbasha, Bidhan Nivas and Aelite in the Ultadanga Hudco crossing area, which have built in-house oxygen-supported isolation centres for their residents.