25-year-old youth electrocuted in city of killer wires
Eyewitnesses told the police that the engineer tripped on the waterlogged footpath and got electrocuted when he grabbed a lamp post apparently in an effort to get back on his feet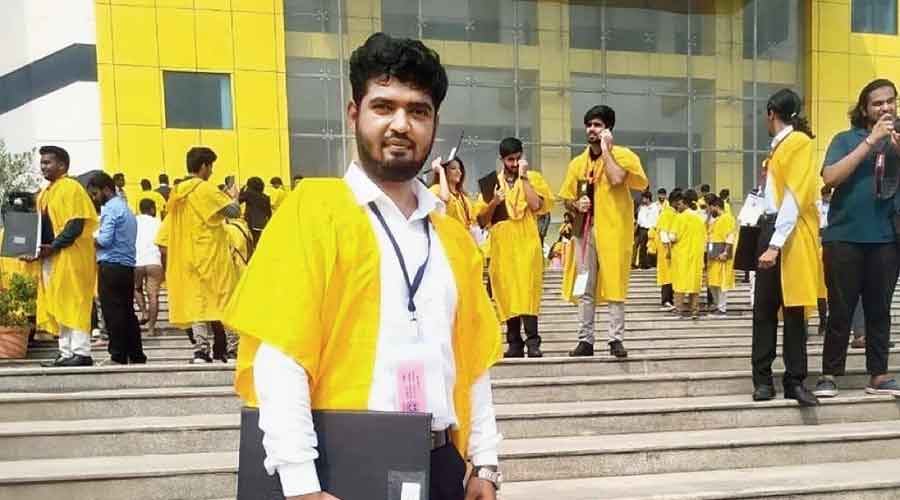 Rishav Mondal
Telegraph picture
---
Calcutta
|
Published 13.05.21, 02:09 AM
|
---
The youth whose body was found on a waterlogged footpath outside Raj Bhavan on Tuesday was an engineer and he was heading towards Esplanade Metro station station to catch a train for Dum Dum, police have learnt from his family.
Eyewitnesses told the police that the youth tripped on the waterlogged footpath and got electrocuted when he grabbed a lamp post apparently in an effort to get back on his feet.
Rishav Mondal, 25, originally from Farakka in Murshidabad, was staying as a paying guest in a north Calcutta apartment, officers at Hare Street police station said.
"His family said he had come to Calcutta recently and joined the Dalhousie office of a petroleum company. He spoke with his family members over the phone minutes before stepping out of his office on Tuesday evening. He had told them that he would walk to Esplanade Metro station and board a train for Dum Dum on his way home," an officer said.
People in a car that was passing through the waterlogged street in front of the Registrar of Assurances office, near Raj Bhavan, raised an alarm on seeing Mondal's plight. Traffic cops and officers of Hare Street police station rushed to the spot and found him senseless. He was taken to SSKM Hospital in a police ambulance, where he was declared dead.
Large parts of Calcutta went under water following intense showers on Tuesday afternoon, exposing pedestrians to the risk of electrocution. Lamp posts with exposed wires and live wires submerged in water on roads make many parts of the city a death trap during or after a downpour.
Mondal, a civil engineer, is survived by his parents, sister and brother-in-law. His relatives from Murshidabad and Calcutta visited Hare Street police station on Tuesday night and on Wednesday morning to claim the body.
The police said that the preliminary verbal opinion shared by the autopsy surgeon suggested that electrocution was the cause of his death.
The only breadwinner in his family, Mondal had done civil engineering from a private college in Chennai, his Facebook profile says.
The civic body, which is responsible for the maintenance of lamp posts, has announced a compensation of Rs 2 lakh for the bereaved family.
Mondal's relatives, however, refused to accept the compensation and demanded justice for the untimely death of the youth.
"We do not want the money. Instead, the government should use the money to ensure that such accidents do not happen again," said Mondal's brother-in-law Keshab Chandra Palit.
His sister Vijeta said his brother died because of the government's fault. "Now they want to compensate with money?" she said.
The police said the family did not lodge any official complaint till Wednesday evening.