200 ghats ready for Chhath rituals
CMC and CMDA readies both temporary and permanent water bodies for the rituals to be performed by worshipers on Friday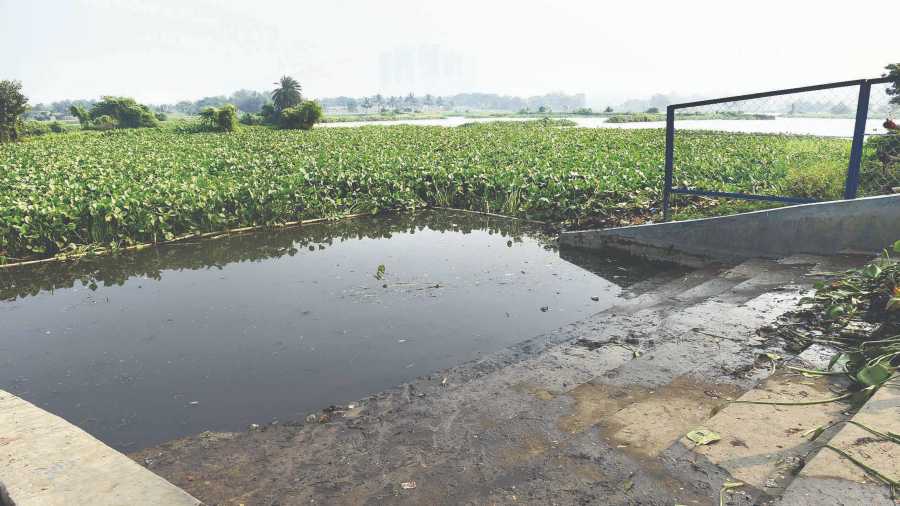 A concrete ghat built at Nonadanga
Sanat Kr Sinha
---
Calcutta
|
Published 18.11.20, 02:01 AM
|
---
Nearly 200 ghats across the city, some of them newly built, have been prepared for Chhath Puja rituals, officials of the Calcutta Metropolitan Development Authority (CMDA) and Calcutta Municipal Corporation (CMC) have said.
Three of the newly built ghats — all three are permanent structures made of concrete — are in Nonadanga, about 700 metres from Fortis Hospital in Anandapur, off EM Bypass. A temporary ghat has been built at 9 Panditya Road, another on the Rashbari ground on Tollygunge Road and a third on Remount Road in the port area.
The CMC has readied more than 150 ghats and the CMDA 56 ghats for the rituals, to be performed over Friday and Saturday, engineers of the two organisations said.
"We have embarked on a project to build 51 ghats at 16 locations in Kasba, Jadavpur, Anandapur and Patuli. Some of the ghats that are ready can be used by Chhath worshippers to perform rituals," said a CMDA engineer.
The ghats are being built mostly along waterbodies beside EM Bypass. The temporary ghats are of two kinds — some have wooden steps that go down into the waters and others are enclosed brick structures that the CMC will fill with water.
Once the rituals are over, the wooden steps will be removed and the brick structures dismantled. The grounds where the structures have come up will be restored, said engineers of the two organisations. Jui Biswas, the coordinator of Ward 81 of the CMC, said a rectangular temporary pool with brick walls had been built on the Rashbari ground on Tollygunge Road. "We had built a temporary pool last year, too, for the devotees. But it was too small compared with the number of people who went there. This year we have built a bigger pool," she said.
A similar structure has come up on Panditiya Road, too. Biswas said many worshippers from the Tollygunge-New Alipore area would go to Rabindra Sarobar to perform the Chhath rituals. "If the rituals are not allowed at the Sarobar, devotees may visit the temporary structures," she said.
A CMDA official said they would campaign across the city, especially where Chhath worshippers live in large numbers, about the ghats. He said they would spread word about the ghats through loudspeakers mounted on autorickshaws.
"We will not mention anything about Rabindra Sarobar, because the Supreme Court will hear the matter (the CMDA's plea to allow the rituals there) on Thursday. We will only encourage devotees to go to the other ghats," the engineer said.
Worshippers from central and north Calcutta perform the rituals at ghats along the Hooghly. "There are numerous ghats along the river. We will illuminate them and clean the steps. There will be drinking water facilities for the devotees," said a CMC engineer.