Calcutta's Gariahat vendors want larger model stall
The mayor had announced after last week's fire that stalls would be provided free to those who lost theirs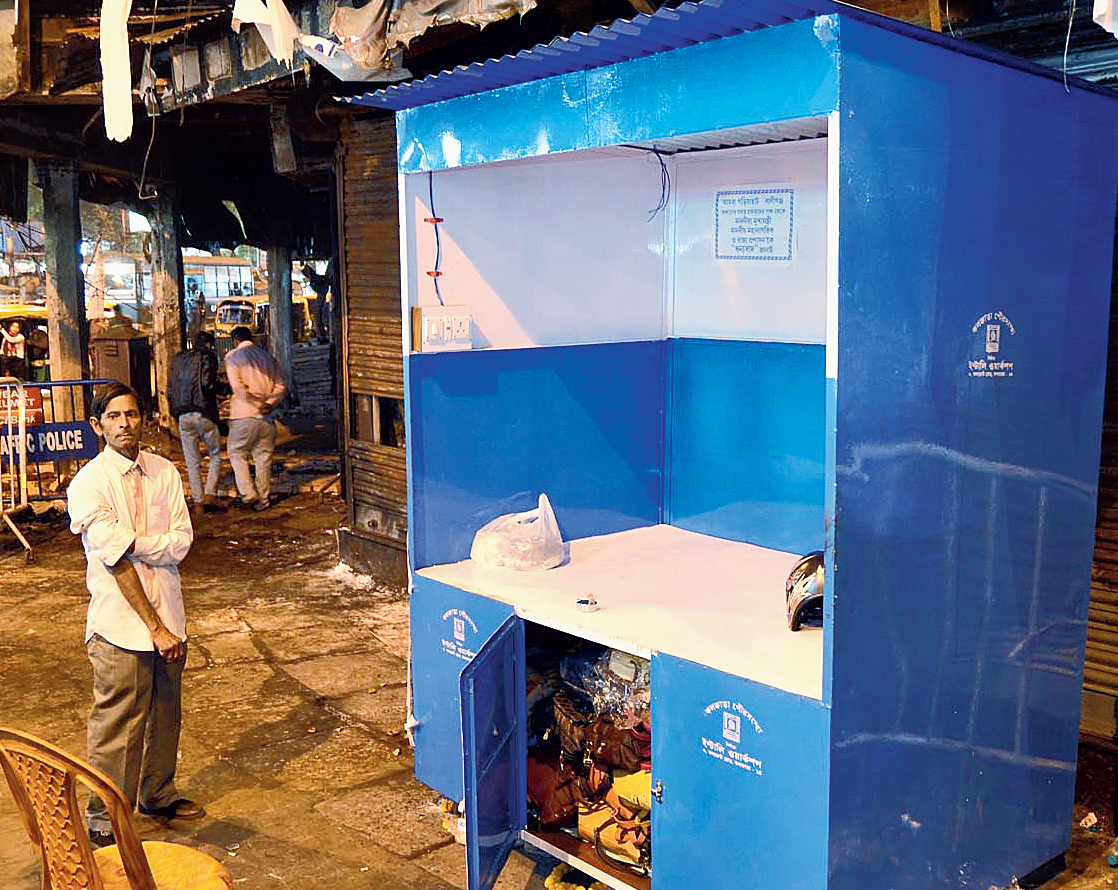 ---
|
Calcutta
|
Published 28.01.19, 08:20 PM
---
Mayor Firhad Hakim on Monday unveiled before hawkers in Gariahat a "model stall" that they felt was too small at one-third of the width that many pavements businesses occupy.
The structure, made of mild steel and painted blue-and-white, was displayed on the pavement in front of the Traders Assembly building on Rashbehari Avenue that had only last week battled a fire which forensic sleuths suspect started from a hawker's stall.
Hakim, who is also the minister for municipal affairs and urban development, said he had heard that a section of hawkers wanted some "adjustments" to be made vis-à-vis the dimensions of the prototype. He asked civic officials to hold a meeting with representatives of the hawkers' unions on Tuesday afternoon to collect feedback.
"The stall needs to be larger. Articles like soft toys and dress materials have to be displayed. Even flower pots take up a lot of space. Everything has to fit," said a union leader. "The model stall that was displayed is six feet in length. Some modifications are required because the length allotted currently to hawkers on the pavements along Gariahat vary from 2ft to 6ft. We will need multiple variants of the same structure."
The mayor had announced in the wake of the fire that stalls would be provided free to those who lost theirs. Other hawkers would need to switch to the prototype commissioned by the Calcutta Municipal Corporation (CMC).
Hakim said it cost the CMC Rs 35,000 to build it. He did not mention if hawkers whose stalls were not damaged in the fire early on January 20 would have to pay for the new ones that the civic body wants them to use and, if so, how much.
According to the CMC records, 52 stalls were gutted in the blaze, which also left a showroom each of Traders Assembly and Adi Dhakeswari Bastralaya gutted.
The rule-book states that two-thirds of the width of a pavement has to be left for pedestrians. A typical Gariahat pavement is between 12ft and 20ft wide.
If one stall occupies 6ft, it would be tantamount to flouting that rule. Even on a 20ft pavement, a stall that stretches 6ft across its width would leave no space for another one opposite it.
Problems could also crop up in accommodating all hawkers because at certain places, there are two or even three stalls across the width of a pavement.
"We understand there are a lot of unanswered questions, especially about how to accommodate hawkers within 50ft of the intersection. We will have work these things out with the civic body," a union leader said.