Calcutta Metro commuter misses punctuality
The reduced frequency of service has made little difference to the punctuality of trains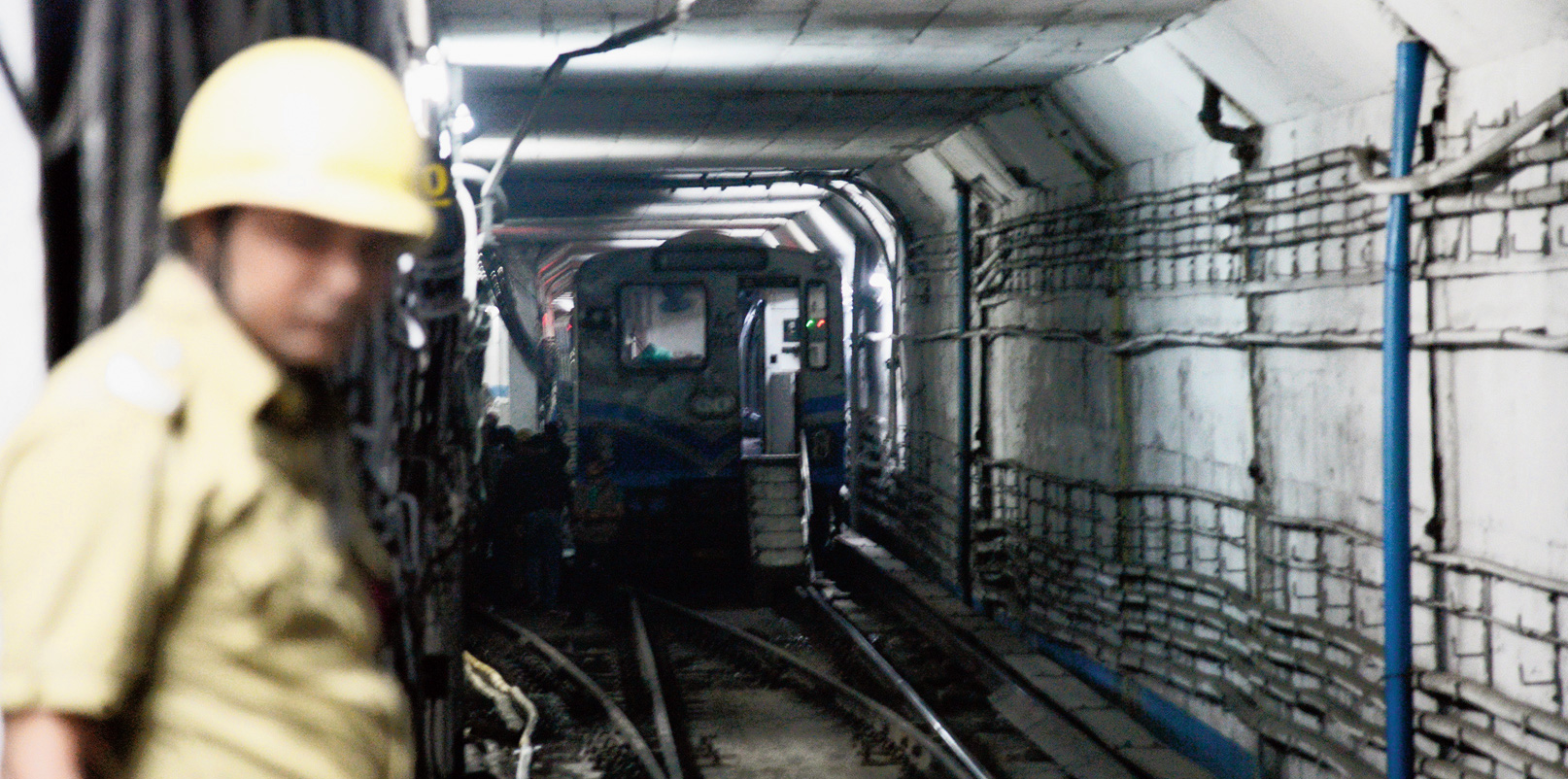 An air-conditioned Metro train stuck in the tunnel after it caught fire on December 27. The rake had been commissioned in 2010.
The Telegraph picture
---
Calcutta
|
Published 05.02.19, 08:59 PM
|
---
Metro Railway's struggles with punctuality, once its USP, have apparently not eased even after reducing the frequency of trains to cope with a shortage of fit rakes and a temporary speed restriction along Esplanade.
The speed of trains entering and leaving Esplanade station has dropped from 25kmph to 10kmph on an average since the start of the week because of tunnel-boring operations for the East-West Metro that will connect Sector V in Salt Lake with Howrah Maidan.
A senior Metro official had cited the speed bump as the reason for cutting the number of trains on weekdays from 300 to 284 a week in advance.
According to commuters who depend on the Metro as their transport lifeline, the reduced frequency of service has made little difference to the punctuality of trains.
A resident of Hazra who takes the Metro from Jatin Das Park to Central almost every afternoon said he spent 10 minutes waiting for a train to arrive on Tuesday and still couldn't board it because it was so crowded.
"I entered the station around 2pm. A train had just left. The next train came after 2.10pm. It was packed and I could not even get in. I had to wait another five minutes for the next train," the commuter said.
The frequency of service at that time of day is supposed to be six minutes.
A senior Metro official said that under normal circumstances, a train should take 49 minutes to reach Dum Dum from New Garia station. After the speed restriction near Esplanade came into force, the average time needed to travel that distance has increased to at least 52 minutes, he said.
"On some occasions, the travel time is even higher," the official said.
Once a Metro train is delayed for whatever reason, it cannot make up for the time lost even on the return journey. It takes a train four to five minutes to switch tracks and change direction at the terminal station.
"There is no cushion for a train. If one arrives late, we cannot make the switchover faster," the official said.
"With 284 trains running in a day instead of the earlier 300, the interval between two trains arriving has anyway increased to six minutes between 8am and 8.50pm. Every time more than six minutes are lost on one journey, a train effectively gets cancelled."
Frequent snags add to the troubles of Metro Railway. The older non-AC trains, some of them with more than three decades in business, are more prone to getting delayed because of door malfunctions and other technical problems.
"Whenever the doors don't close at one go, a few seconds are lost. If the problem recurs at subsequent stations, the delay keeps getting worse. By the time the train reaches the terminal station, the total time lost could be a minute or two," a Metro engineer said.
The current target of 284 trains on weekdays is proving hard to achieve despite the Metro authorities trying to increase frequency after 9pm, when the stipulated interval is between seven and 10 minutes.
"We haven't been able to run 284 trains on some days," an official said.
The speed of trains entering or leaving Esplanade had last been restricted in November, when a narrow tunnel was created underneath the station to cut a series of steel joists standing in the way of the proposed East-West Metro alignment.
The number of rakes deployed in a day had to be reduced from 20 to 19 from January 31, when a three-decade-old non-AC train spewed smoke from its undercarriage while leaving Dum Dum station. That rake is still under maintenance at the Noapara car shed.