Calcutta cop lights up lives beyond Diwali
Runs a school for poor with half of his salary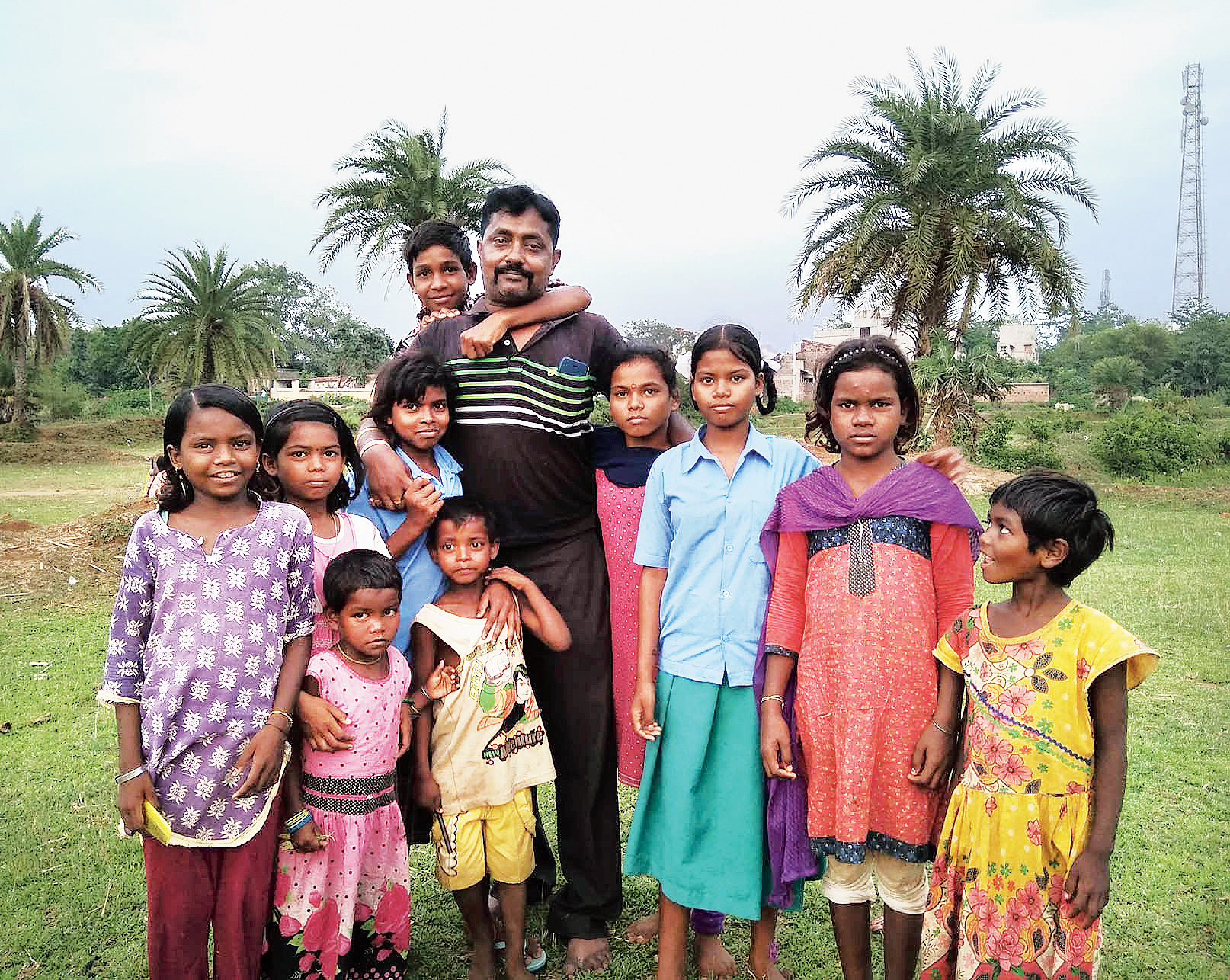 ---
|
Calcutta
|
Published 06.11.18, 09:15 PM
---
Mukherjee, who was six years old at the time, never forgot what his grandfather told him or the promise he had made to himself. In 1999, he joined Calcutta police and started saving immediately for what would go on to become the fuel for his existence.
Puncha Nabadisha Model School became a reality in 2011, putting this unassuming constable of the South Traffic Guard on a path few like him would dare to tread. "I remember what my grandfather told me when I had spoken to him about what I wanted to do. He asked me to grow up, start earning a living and then think of doing something for the Sabar children," Mukherjee recalled.
The initial corpus of Rs 2.5 lakh for the school in Puncha village of Purulia district, around 280km from Calcutta, came entirely from Mukherjee's savings. He also took a bank loan of Rs 1 lakh and another Rs 50,000 from his mother to build five rooms with an asbestos roof on a plot donated by a friend of his father.
Starting with 15 children, Puncha Nabadisha Model School has grown into an institution that provides education to 112 children aged between 4 and 15.
It wasn't easy in the beginning for Mukherjee to convince the Sabar tribe that he wanted their good. "They started trusting me after realising I did not have any motive. I would tell them, "Send your children to study if you do not want your plight to be like yours'. That struck a chord," he said.
An incident three years ago highlights the despair and desperation that Mukherjee occasionally encounters. "I was visiting this village in Purulia when the strong smell of kerosene hit my nose outside a tribal house. A mother had wrapped three of her children, the youngest barely a year old, in a blanket and sprinkled kerosene on them to do the unthinkable. I went into the hut and held the mother by her hand. She said her children were asking for food and she didn't have any to feed them," he said.
Mukherjee took the three children under his care and their mother hasn't met them since. The eldest of the siblings is now in Class III and the second one in Class II.
According to Mukherjee, who received a special honour at The Telegraph School Awards for Excellence 2018 in August, the courage to accomplish what he does comes from being a policeman.
Many among the Sabar community depend on him not only to give their children an education but also bail them out whenever they are unfairly accused of a crime. "Someone might be innocent but how to prove it when you can't comprehend the law? They now have the confidence to speak up because they know that if they are right, I will help them," Mukherjee said. "Most of them no longer resort to crime to feed their families."
Around 20,000 members of the Sabar tribe are spread across five blocks of Purulia district. The children who go to Mukherjee's school are provided food and a place to stay in. After Class IV, schooling continues in the secondary and high schools in that area.
Puncha Nabadisha Model School needs Rs 45,000-50,000 a month to function, but Mukherjee does not believe in going around with a begging bowl. He accepts only voluntary donations. "I do not want to force people to help my children, neither do I want them to think that I am collecting funds for my own needs. People see the work that is done and offer help, which I accept," he said.
Mukherjee is the father of twins, both students of Class XI, but it is the responsibility of being "Baba" to his extended family of 112 children that keeps him going. "My family does not make any demands of me. They are not upset that I don't spend my entire income on them. They are rather proud of me," he said.
A Calcutta police constable who as a child had made a promise to himself to help the poor now sets aside Rs 20,000 from his salary of Rs 37,000 each month to run a school for abandoned and underprivileged children.
When 43-year-old Arup Mukherjee is not managing traffic at a busy intersection, he is busy pursuing his mission to rescue and rehabilitate abandoned children and convince impoverished and unlettered parents to send their daughters and sons to school.
Some of these children were in New Alipore on Monday to inaugurate a Kali Puja, escorted by the Samaritan who works tirelessly to dispel the darkness in their lives.
Mukherjee's zeal to rescue and educate children from the Sabar tribe of Purulia originated from a childhood curiosity about the persecution faced by a community counted among the poorest of the poor.
"I have witnessed since childhood people belonging to the Sabar tribe being blamed for theft or any other crime in the areas they inhabit. I have seen them being mistreated and ostracised and not given jobs, resulting in some resorting to crime. When I asked my grandfather about it, he told me this was because they were not educated and hence unable to find employment," he told Metro.