Bratya wants more quality plays to give Bengali theatre a push
He did not prefer talking about masala Hindi films or some of the mindless films made in Bengali while referring to entertainment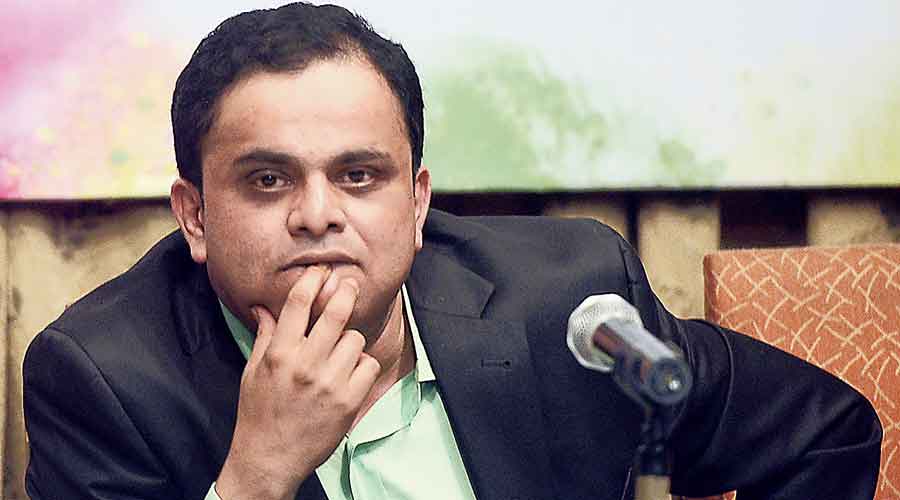 ---
Published 01.01.22, 01:49 AM
|
---
More quality original plays in Bengali will give Bengali theatre the much needed push and help expand the audience base beyond Calcutta and a few urban centres in the state, said thespian and politician Bratya Basu on Friday.
"The supply of scripts is more than demand, but there is a dearth of quality scripts for plays.… This trend, however, is also true for novels and poems in Bengali," Basu, a minister in the Mamata Banerjee government since 2011, told The Telegraph a day after his name was announced as a recipient of the Sahitya Akademi Award 2021.
"For quality, the language — be it English or Bengali — needs promotion and the state has a role to play in this context. Our chief minister Mamata Banerjee has been doing that since coming to power and we will surely get the results in a few years," said the Bengal education minister.
Basu, in his 25th year as a playwright, will get the award for his play Mirjafar O Anyanya Natak. The prize does have a special significance as the last time someone from Bengal got the award for a play was Buddhadeb Bose for his verse play Tapasvi O Tarangini in 1967.
Lack of availability of wholesome and indigenous script with which the audience can identify themselves has been an Achilles heel of Bengali theatre in the past few decades as most of the productions have been adaptations of Russian or German or Greek plays.
Besides, the social reform role expected of Bengali theatre — a trend from the 1960s and the 1970s when most group theatre productions became preachy — had often eclipsed its entertainment value. 
"Theatre has to be entertaining to be viable," said Basu, before adding that he was not talking about masala Hindi films or some of the mindless films made in Bengali while referring to entertainment.
According to him, in today's world characterised by instant gratification, availability of an entire gamut of entertainment options and globalisation, there is a general decline in appreciation for any art form.
"But it is also true that people will have to finally appreciate art to discover themselves…. That's why I think experimentation with the content and the form is very important," said Basu.
For example, he referred to Mirjafar O Anyanya Natak, in which he used three-four linguistic styles — like Bengali in Urdu flavour or Bengali in typical north Calcutta dialect — and tried to portray a so-called traitor as a hero.
Similarly, in his play Banijye Basate Lakshmi, Basu tried to capture the angst of a corporate sector employee from a small town, who later chose to be an entrepreneur.
"These are difficult times in terms of what's happening all around us.... There is optimism, but there is also cynicism; there is construction, there is also subversion, there is rebellion, there is also malicious defaming. While these are challenges, they also offer a lot of opportunities to think and experiment," said Basu, while adding that he had been trying to experiment since he wrote his first play, Ashalin, 25 years ago.
"The time we live in helps a playwright. For me, this award is a celebration of my attempt to read our time since I began writing," added the playwright, who has also donned the role of actor, producer and director in his theatrical pursuits. 
According to him, his dream is to take quality theatre to more people — beyond districts like Burdwan, North 24-Parganas and Nadia and small town like Malda and Balurghat.
"The government has a role to play in this and we at Paschim Banga Natya Akademy are trying to do that by organising theatre festivals in different parts of the state since our government came to power in 2011.… The results are visible in districts like West Midnapore and Jalpaiguri and we are sure about adding more districts to this list," said Basu. 
According to him, patronage from government will serve the twin objectives of audience development and growth of quality theatre beyond a select few centres. 
"Take the example of Kerala where successive governments, be it the Left or the Congress-led regimes, have always heavily funded Kerala State Chalachitra Academy, which allowed them to hold film festivals across the state.… The result is evident in the quality of Malayalam films," said the minister.
Other than quality films and government largesse, Bengali theatre also needs smart promotion for audience connect. "As theatre production doesn't need too much investment and its returns are also low, promotion has to be done accordingly by using social media tools," he summed up.