Bowbazar evacuation: 'Large chunks on my floor'
A portion of the house next door also collapsed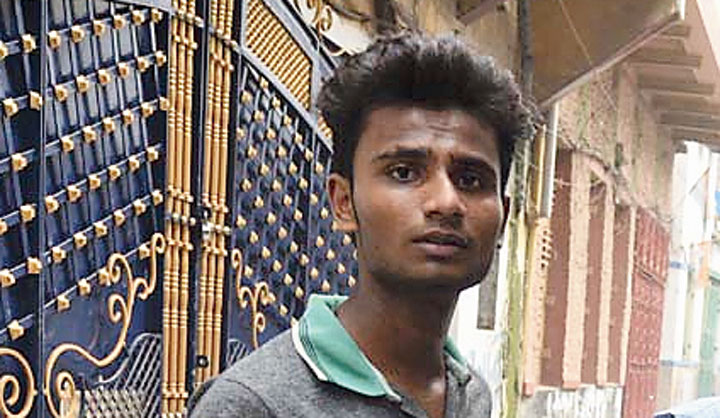 Avishek Gupta
Telegraph picture
---
Calcutta
|
Published 01.09.19, 07:23 PM
|
---
A 21-year-old man who lives in a three-storey house in Syakra Para Lane was greeted with chunks of concrete and jolts of vibrations when he stepped into his living room on Sunday morning. He ran out to alert others.
Avishek Gupta, a food delivery boy, was among those who had been relocated to hotels a few days ago. He returned on Sunday morning to collect a change of clothes. The youth recounted to Metro the Sunday-morning ordeal
It was around 6.30am. I entered my first-floor house and saw large chunks of concrete lying on the floor. They had fallen off the roof. I was surprised as the steel props (erected by ITD-ITD Cem) were in place.
As I started walking towards the closet, I felt vibrations. A few seconds later several more chunks crashed on the floor. The entire house was filled with dust. Fortunately I was not hurt.
I rushed down. Once outside I realised that some of my neighbours were in their houses as well. I started screaming and running up and down the lane asking everyone to get down.
Soon, I saw that several houses, including mine, had developed huge cracks and I started shouting louder. I was relieved to see my neighbours streaming out of their houses.
They asked me why I was shouting. I showed them the cracks. Two of them joined me and we went to Durga Pithuri Lane, where we asked people to get down.
A house there had tilted. Nobody was inside.
We stayed put in the area for some time. As I had feared, the balcony of my house collapsed in the afternoon.
A portion of the house next door also collapsed.