Bose dig at Modi on Gandhi
'PM recalls Mahatma during cleanliness drive'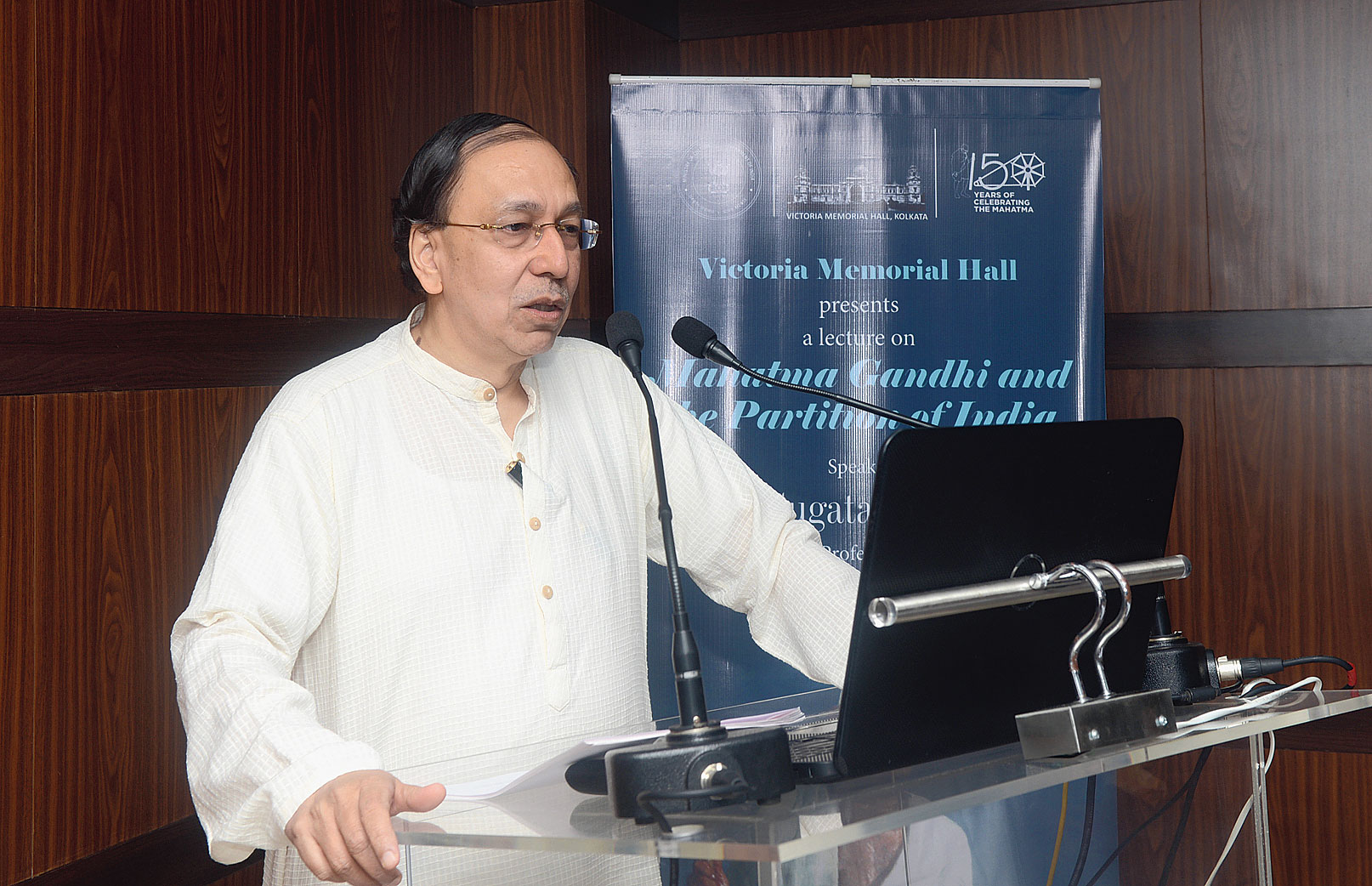 ---
|
Calcutta
|
Published 02.10.19, 12:24 AM
---
The Narendra Modi government tends to be "overly selective and pigeonhole Mahatma Gandhi into Swachhta Abhiyan" by only remembering him during cleanliness campaign, said Sugata Bose, the Harvard Unibersity professor of Oceanic History.
Had the government been a true follower of Gandhi, it would respect his vision on Kashmir — "We have to respect the will of the people of Kashmir".
The historian made the comment after delivering a lecture on "Mahatma Gandhi and the Partition of India" in the Conference Hall of the New Library Building, Victoria Memorial Hall, on August 29, as part of the celebrations to mark Gandhi's 150th birth anniversary.
"I particularly mentioned (in my speech) what Gandhiji had to say on Kashmir when he had visited Kashmir in early August of 1947, just before Independence, and again after war broke out over Kashmir after Independence. He basically said, we have to respect the will of the Kashmiris. This is precisely which is not being done. On Sunday (August 27), our Prime Minister Narendra Modi had said we have to honour Mahatma Gandhi on his 150th birth anniversary by rejecting single-use plastic. But what about honouring Gandhiji's thought on Kashmir? If we are followers of Gandhiji, we would change course on Kashmir and stop being selective," Bose, the grandnephew of Netaji Subhas Chandra Bose, said in reply to a question after the lecture.
Bose said when it comes to hygiene, cleanliness and environmental protection, the government should remember Gandhi as these are values associated with the Mahatma.
"But let us not be overly selective and just pigeonhole Gandhi into Swachhta Abhiyan. There is more to Gandhi. It is specially ironic that we have lost our soul and forgotten our collective conscience on his birth anniversary and therefore, I really hope that out of respect for the father of our nation, we will be changing course on Kashmir," he said.
The lecture analysed Gandhi's quest for unity among India's religious communities before and after the announcement of Mountbatten's Partition Plan on June 3, 1947.
Bose broached the issue of selectively remembering Gandhi when he was asked after his lecture whether Bangladesh and Pakistan were celebrating Gandhi the same way that India was doing.
"Not quite perhaps in the way that we are. Naturally, I suppose we will be remembering Gandhi even more. But then I think it is worth considering how do we actually remember him. We need to remember him for hygiene and cleanliness. But at the same time I think, we also need to remember him for the way in which he showed equal respect for members of all religious communities. The way in which he tirelessly worked for unity, but without erasing difference. That is the lesson that Mahatma Gandhi has left us," he said.
Bose in his speech said Gandhi in the last years of his life was standing "so bravely" at a time when the religious hatred was stalking the land and he never abandoned his values.
"Addressing the first AICC session post-Independence, Gandhi spoke some home truth. He told the leaders of the party and the government that 'no Muslim in the Indian Union should feel his life unsafe'. During his post-prayer discourse of November 21, he had noticed that as many as 137 mosques in Delhi had been damaged and he regarded all such desecration as a blot upon Hinduism," he said.
Referring to Gandhi's vision on Kashmir, Bose said in his speech: "After India and Pakistan went into war over Kashmir, Gandhi reiterated that the people of Kashmir must decide their own fate without coercion or show of it from within and without".
What could be the fallout of the government's stand on Kashmir?
"We should have tried to give the people of Kashmir a sense of belonging to the Indian Union. That would have been the Gandhian way. Instead we have taken steps towards greater alienation," said Bose.