Blast witness talks about 'bulky white bag'
TMC supporter Ejaz Hossain, 24, was with a junior labour and a Suti MLA when a bomb exploded at Nimtita railway station in Murshidabad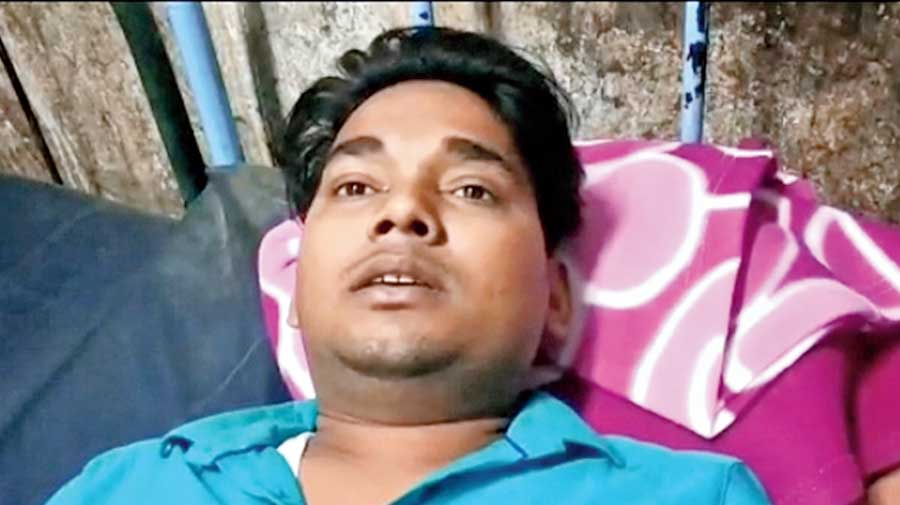 Ejaz Hossain on hospital bed.
Samim Aktar
---
Behrampore
|
Published 19.02.21, 02:28 AM
|
---
Trinamul Congress supporter Ejaz Hossain, 24, was with junior labour minister and Suti MLA Jakir Hossain when a bomb exploded at Nimtita railway station in Murshidabad district around 10pm on Wednesday.
Ejaz was one of the approximately 50 youths who had gathered at the railway station to send off Hossain who was to board the Calcutta-bound Teesta-Torsa Express around 10.03pm when explosives hidden inside a bag went off on the platform, injuring the minister and at least 26 others.
Speaking from his bed at Murshidabad Medical College in Behrampore, Ejaz, who suffered splinter injuries to the right leg, said: "The minister alighted from his SUV at Nimtita railway station around 10pm on Wednesday to jubilant cries from us praising him and the party. He was on his way to Calcutta for a meeting with chief minister Mamata Banerjee."
The Trinamul supporter said the minister took the same train whenever he travelled to Calcutta and they were used to the routine.
"We began following him from his vehicle up to platform number two to wait for the train to chug in. The atmosphere was a positive one. Once we reached the platform, a few of us noticed a bulky white bag sitting conspicuously almost on the edge of the platform and where the AC Tier-II compartment of the Teesta-Torsa Express is usually positioned," Ejaz said.
"As the train was to arrive any moment, I asked one of my comrades to move the white bag. He did so and then everything happened in a flash. I still cannot believe I am alive. There was a loud bang, and then smoke and screams of pain and desperate plea to save lives. It was nothing less than a nightmare," said Ejaz.
"I have returned from the mouth of death. I heard my friend has lost his arm on the spot. I have suffered injuries to the leg. In hindsight, I feel the device was either a time bomb or a remote-controlled explosive. Those who carried out the blast must have been keeping a watch on our movement," he added.
Police officers from Suti, 4km from Nimtita railway station, were the first to reach the site of the explosion on Wednesday night. They rushed 13 grievously injured victims in two ambulances to Jangipur subdivisional hospital.
An officer who had rushed to the Nimtita railway station said: "By the time we reached the platform, the minister had already been rushed by his aides to the hospital. But the sight was unthinkable, straight out of a horror movie. Maimed and screaming people, bloody body parts, and a burning smell filling the air. People were crying."
Asima Biwi, 65, who lives 30m away from the station, said the sound of explosion was something she had not heard in her life.
"A massive noise shook us late at night. A noise like I had never heard. We were too frightened to even find out what had happened. So, we locked our doors and closed our windows," Asima said, adding she did not find out until Thursday morning about the attack on the minister.
"We could barely sleep because of fear," she added.