Partha Bhowmick accuses BJP legislator of 'inaction'
'It is disappointing that the MLAs and MPs of the saffron party elected from this region are being mum on the issue of river erosion'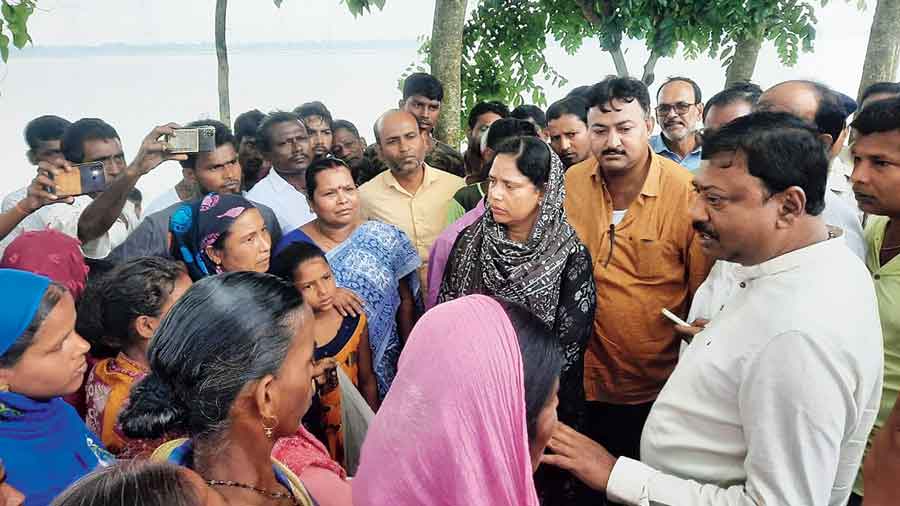 Ministers Partha Bhowmick and Sabina Yeasmin meet Jalpaiguri villagers on Sunday.
Biplab Basak
---
Siliguri
|
Published 05.09.22, 12:40 AM
|
---
State irrigation minister Partha Bhowmick accused BJP legislators of north Bengal on Sunday of inaction in addressing the problems of people in their constituencies or the region as a whole.
Bhowmick, on a three-day trip to the region, visited Jalpaiguri and Alipurduar districts to check the status of irrigation facilities available to farmers and erosion and other damage caused by rivers.
The minister, while speaking to newspersons here on Sunday, said the government alone cannot address the issue of erosion and needs central funds.
"The Centre, however, pays no heed to our communications and does not allocate money that we require to check erosion. It is disappointing that the MLAs and MPs of BJP who have got elected from this region are mum on the issue, instead of writing to the Centre and asking for funds, at least for their respective areas. This indicates their lack of commitment towards the people who voted for them," said Bhowmick.
In the course of his visit, the minister met farmers to find out their irrigation problems. He also consulted with officers and engineers of his department to know how more farmers in these districts of north Bengal can be brought under the ambit of irrigation.
Earlier, he had said his department would take up the task to use semi-finished and unfinished canals of the Teesta river to water more stretches of farmland.
Bhowmick said he would visit north Bengal again in November.
"The state government is sincere in addressing the issues of farmers and is also doing its part to curb erosion caused by rivers. But the BJP MLAs are sitting idle and instead of providing funds to us to work for people, central agencies are engaged in political vindictiveness. People here have realised the hollow promises of the BJP and the party hardly has any prospects in the upcoming elections," he added.
His remarks prompted the saffron camp to react. Shankar Ghosh, the BJP MLA of Siliguri, said Trinamul hardly gives any importance to the MLAs in Opposition.
"The state government ignores the MLAs in Opposition. The irrigation minister should understand that we are ready to work for people and extend all help. But no help or advice is solicited from us. He can write to us on the issue," said Ghosh.
Alipurduar district police organises race for youths A 10-kilometre race for youths was held by the Alipurduar district police on Sunday. In all, 700 runners, including girls, participated in the race.
The race started from Samuktala police station, covered some local roads and culminated at the same venue. Medals and cash were distributed among 13 winners from girls' and boys' categories.
"Chief minister Mamata Banerjee has instructed police to conduct different events to inspire youths across the state. We organised the race as youths should be physically and mentally fit to succeed in their future endeavours," said Y. Raghuvamshi, the SP of Alipurduar.
Reporting by Anirban Choudhury