Bengal school with Slovenia heart
Couple united by a calling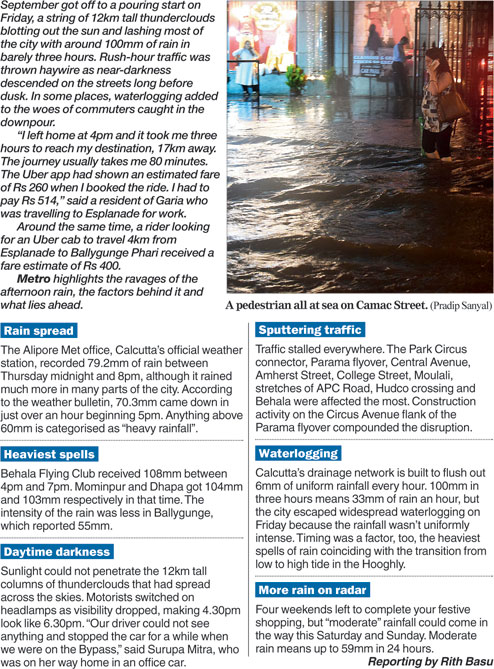 ---
Published 01.02.16, 12:00 AM
|
---
• Name of school: Piali Ashar Alo
• Where: In Piali village, around 27km from Calcutta
• Students: Underprivileged children
• Founders: Anup and Mojca Gayen
• Sponsors: Slovenian schoolchildren and various other individuals and families; two German NGOs
A bright village boy who might have been grazing cattle had a German lady not funded his education is giving many others a shot at education through a school he and his Slovenian wife have set up with donations from Europe.
Anup and Mojca Gayen's Piali Ashar Alo, in Piali village of South 24-Parganas, isn't just an extraordinary act of charity. It is a mission spanning continents and small contributions - from Mojca digging into her personal savings to provide Rs 12,000 as seed money to students of 30 schools in Slovenia collecting newspapers over two years to sell them in bulk and raise Rs 4.5 lakh for a plot of land.
The school, which had started out from a rented space in February 2008, has since gone from a class of 12 students to a roll call of 140, mostly children of daily-wage earners, van rickshaw-pullers, fisherfolk and brick kiln workers. Most of the students are girls.
The genesis
Anup, 45, had always wanted to do something for the underprivileged, a feeling that found an echo in wife Mojca, 38. She was on a six-month internship in India in 2006 when she decided to leave her job as a psychologist in Slovenia and stay back.
"If there is no education, children of the poor will continue to remain poor. I believe that if not all, at least 50 per cent of our students will grow up and stand by another poor child," says Anup.
In the early days, Anup and Mojca would go from door to door to convince parents to send their children to Ashar Alo. The school still sends teachers to homes in the village, but only to ensure that the seats are filled by children who wish to study.
Each student, from kindergarten to Class VII, is sponsored by an individual or an institution, most of them based abroad. They get their uniform, stationery and a monthly package of hygiene aids from the school. Breakfast and lunch are provided too.
The school has two floors with open-plan classrooms and a playground spread across a bigha and two cottahs of land. The building was designed by a Slovenian who was then studying architecture and had spent a year in Piali observing the place, its people and climate.
"He took note of how most villagers spend a lot of time on the verandas of their home and felt that his design should reflect that. So we have open classrooms," explains Mojca.
The playground bustles with energy during a break between classes, badminton and skipping being the students' favourite activities. This they are allowed to do only after they have finished their meal and cleaned up, for etiquette and discipline are as important at Ashar Alo as learning to read and write.
The school also teaches its students to dream. Twelve-year-old Sanchita Mondal's father earns a living as a hawker on local trains, but she aspires to be a doctor. She is one of three students from Ashar Alo who now go to a CBSE-affiliated English-medium school in Sonarpur, about 5km away.
"We are not from rich backgrounds but the importance of education was obvious to our families when we were young. But the importance of education is not obvious to many in Piali," says Mojca.
Ashar Alo's focus is on educating girls, although the school remains a co-ed institute. "Women must learn to read and write. Even at home, they should not have to listen quietly to everyone who has an opinion. They should be able to speak and go to the bank or the post office," says Mojca.
According to Anup, "80 per cent of the girls in the area" wouldn't go to school until the start of the previous decade.
Momina Bibi, who works in the school's kitchen, is one of them. Her daughter Jasmina Khatoon is a Class VI student, though. "I couldn't study but I want my daughter to earn a decent living," says the 29-year-old.
Many girls leave their education midway to get married. A six-year-old who studies in the school also accompanies her grandmother to beg.
A couple of years ago, the school started charging between Rs 30 and Rs 50 a month from the parents of some children who can afford to pay the fees. "Otherwise, they tend to take everything for granted," explains Anup.
Flashback
Anup remembers carrying hay on his head and helping his grandfather graze cattle. It was a life he would have probably continued to lead in Champahati, the village next to Piali, had his mother not sent him off "with a pair of clothes, a plate and a glass in an aluminium box" to catch a train to Sealdah and from there to Behrampur.
He was eight then and headed for the Children's Home run by the Christian Mission Service. He next moved to Azimganj, then Bhadrakali and again to Konnagar College to complete his education. In 1993, Anup enrolled for a mechanical and motor vehicles training course at the Industrial Training Institute near Kanyakumari. He topped his batch.
His first job was with a courier service in Calcutta that earned him Rs 700 a month. A succession of jobs later, he found his calling in educating needy children. "I owe my education to a German lady. We would write to each other but I never got a chance to meet her then, because it was meant to be confidential," says Anup.
But he finally did manage to meet her in the middle of 2008 when his wife helped track Haide Marie Schneider in Germany through a friend who had searched the "telephone dictionary and managed to locate her despite Schneider being a common name".
"I travelled to Germany to meet her," he recalls.
Wife Mojca first came to India in 2006. "I had always wanted to serve poor children...and I went to Africa and then came to India...not to travel but to serve. But my work was for a limited period and I didn't intend to stay," she recalls.
That was, of course, until she met Anup. "I had a wish and he had more experience in the field and we decided to do it together," says Mojca.
Funding
After Ashar Alo started, Mojca wrote to people she knew in Slovenia for help. One of them, Romana Jordan, mobilised schoolchildren to collect newspapers and sell them to raise the money that helped buy a plot.
Christlicher Entwicklungsdienst, a German NGO, came into the picture after one of its members visited the "empty plot with a gate" and offered to help. "Given our resources, we would have maybe built 10 rooms in 10 years!" says Mojca.
Another German organisation called FAMI helped the couple build the boundary wall. "Before them, there were only individuals and families sponsoring us," says Mojca.
Today, she and Anup can look back at a job well done, altgough far from complete. "Not many might know about us in Bengal, but not less than a million people know us in Slovenia," smiles Anup.
What message do you have for Anup and Mojca? Tell ttmetro@abpmail.com