Bend it like these girls
Cricket and football are the most popular sports but opportunities for girls to play are few in the twin townships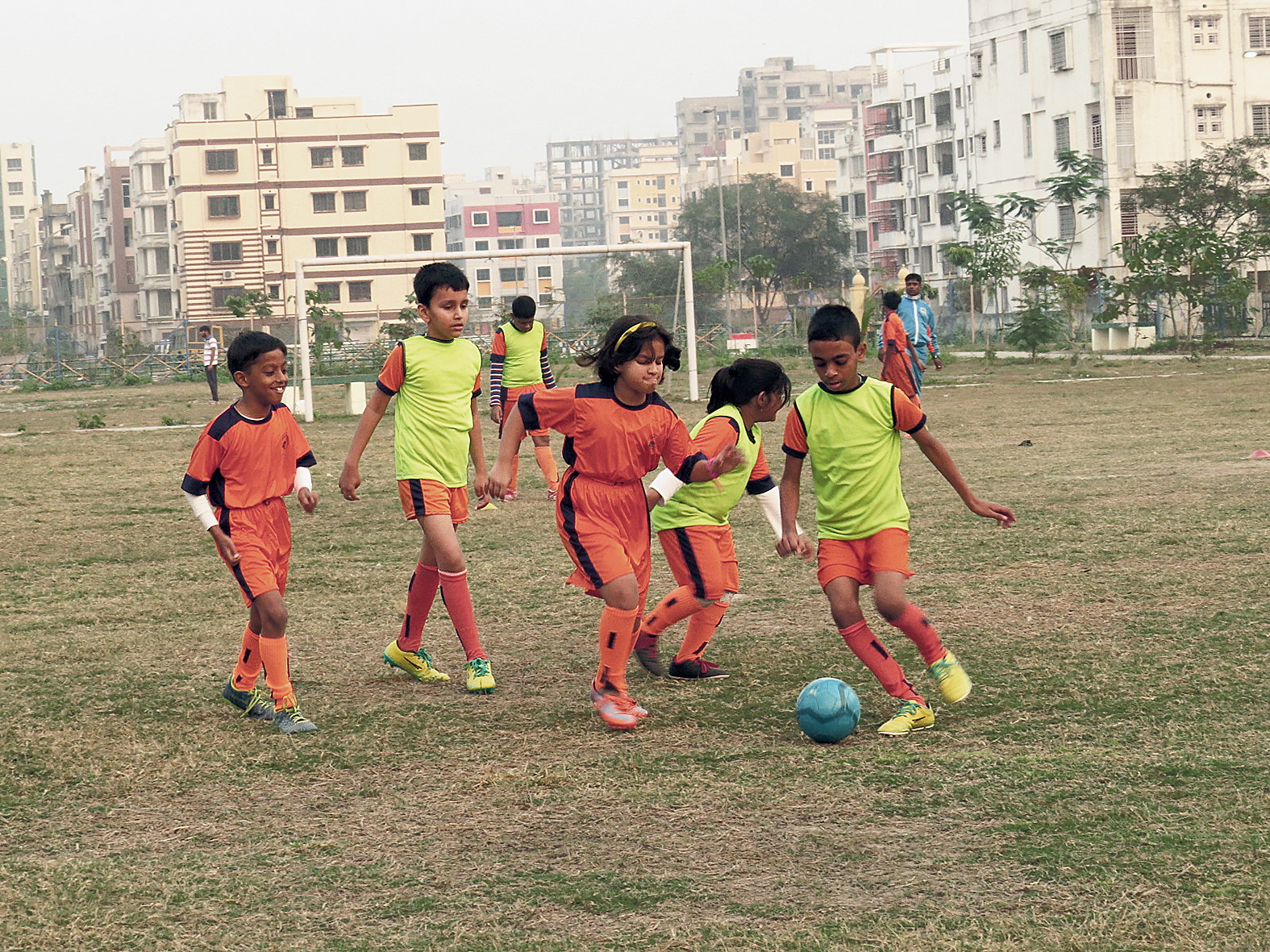 A tussle for the ball at the CE Block ground during practise.
Sudeshna Banerjee
---
Calcutta
|
Published 11.03.19, 09:35 AM
|
---
CE Block coaching camp, New Town
The block, behind Axis Mall, has started a football coaching camp in an adjacent field. "We thought of this initiative as we wanted children to get outdoors," said Debdas Chatterjee, head of the sports committee of the New Town CE Block Cultural Association.
A majority of the 42 children enrolled gather every weekend and run around practising dribbling, dodging, shooting, ball control etc. Sometimes the coaches would divide them into age-specific teams and make them play five or six-a-side practice matches.
All participants have been given jerseys too with the block residents' forum name printed on the back. The kids are bubbling to go, overtaking their parents and sprinting into the field as they draw near. "There are about 10 girls who are coming for coaching. We thought there is no point depriving them as every child loves to play," said Alok Das, general secretary of the residents' body.
The opportunity is a god-sent one for Ahana Pramanik. The student of Class VII in DPS Newtown used to yearn to take the field on seeing older boys play football at the family's former Barasat neighbourhood. "I joined as soon as my father learnt of the camp from a message in the residents' WhatsApp group on Mahalaya."
She is the first girl to join in the senior age group. One of her playmates, Suvodip Marjit, 13, says he goes soft if he has to tackle Ahana, but gives the matter no thought otherwise.
The parents are delighted at the development. "This is a great way to ensure physical fitness of the children. The boys and girls are making friends too. They can help each other. In both school and here, they have not learnt to distinguish at all," said Madhumita Chatterjee, mother of Shiv, 10, and Adrit, 7.
Dipsikha Dutta Chowdhury stays in Kasba and owns an apartment in the block. "Ever since I heard of the initiative, I bring my 13-year-old son Pushan over every weekend. There is no scope for him to play in our south Calcutta neighbourhood."
Some did dither at the thought of sending girls to play with boys. Kavita Bhanuka said she never thought of playing with boys in her childhood. So when the camp started she thought twice before sending daughter Shreya. "I asked my son who is in college. He supported the idea." Now she is surprised how much the eight-year-old enjoys the experience. "From 3pm, she pushes me to bring her here."
Now she is emboldened by the result of her choice. "Log kya kahenge ka zamana chala giya hai. I will let her play as long as she wants to."
Nupur Bhowmik, mother of five-year-old Arjun, is happy to see him stay away from the mobile phone and television. "They are also getting a chance to bond with kids their age. At their age, they don't even know if football is a boys' game or girls'."
Some are yet to break the glass ceiling. The afternoon The Telegraph Salt Lake visited, Shayna Banerjee was sitting on the sidelines watching her friends "Tojo, Rio, Khushi and Shredyadidi" play. Soon she got so upset that she would not even want to stay on. "What can I do? My wife is not letting her join," shrugged father Soumya Banerjee. "She says why bother joining when she can't pursue the sport!"
The children, though, are not bothered about the future. Six-year-old Arna Roy Choudhury wants to be a dancer when she grows up. For now, she loves both football and cricket. Shreya Bhanuka's passion in sports is shared between football and basketball though the eight-year-old's ambition is to be a scientist.
The camp is inclusive not just in terms of gender but also economic class. Many of the children of the domestic and professional help have signed up. Sumitra Mondol, who stitches blouses and whose husband is a marble contractor, said their children were not treated any differently at the camp. "All parents want their children to improve in good company," she smiled.
Sujata Biswas, whose husband is a carpenter, remembers hadudu games in her childhood in the Hooghly village where she settled after crossing over from Bangladesh at the age of seven. "Those used to be girls versus boys," she said, watching a boy with the ball trying to get past a girl. "In today's age, why shouldn't boys and girls play together?"
Coach Debabrata Roy has children of both sexes playing together till the age of 12 at a New Town sports school too where he coaches. "There is no dearth of enthusiasm or talent in girls. It is the parents who do not let them continue," he laments.
The organisers are so happy with the response that they are considering starting a similar camp for cricket. Uniworld Premier League
At this housing complex with 2,000-odd families in residence, a limited over cricket tournament, Uniworld Premier League, was played in January in which men and women played in separate editions. But boys and girls, up to 14 years of age, played shoulder to shoulder in the kids' chapter of the league, forming 12 teams.
"They play eight-over matches. The first four overs have players aged 10 and under batting and bowling. In the next four, the older players of both teams take over," explained Ishteaque Ahmad, whose brainchild the tournament is.
"Each team has to have two girls. A girl must bowl one over at least," added Mamta Baid, captain of women's league semi-finalists Mystic Maya whose son Dheer and daughter Diya played in the kids' league.
Young achievers from various fields were chosen to run a torch relay and it was eight-year-old Shyla Senapati who ran the final leg to light the cauldron. The Bengal Tennis Association under-eight girls' championship winner would be playing in Rainbow Warriors though tennis was obviously her first love.
Dheer, the vice-captain of Scarlet Raptors, named Australian pacer Mitchell Starc as his idol. "I try to copy his action," said the 11-year-old, adding that he did not reduce his speed when he had a girl facing him.
Some of the girls might have been offended if he did. Lined up for the marchpast at the inauguration, Falak Mahenaaz, who is the same age as Dheer and played in the same team, categorically said that boys and girls were equal. She too would bowl fast, she said. Raika Agarwal has been playing in the league for three years on the trot. "We had a match against War Hawks today. I was down with food poisoning but still I wanted to bowl. But they asked me to field today," said the 10-year-old. The spunky pacer takes a lot of pride in her bowling. "Other girls feel nervous about bowling, not me."
Dheer had seen a final of a women's cricket tournament on TV and found the going 'pretty slow'. But all the boys agreed that once the girls now playing consistently in their teams graduate to the senior group, the UPL women's league will attain a higher standard.
Shyla Choudhury bagged the Best Girl Player of the Tournament award, with three wickets, a catch and 23 runs. "Earlier I have played with cousins in the garden for fun. But I learnt the game while playing this tournament," she said.
Her captain Siddhant Narayan Singh was full of praise for her. 'Shyla is a wicket-taker. The high catch she took in the semifinals to dismiss the best player of Huskers was the turning point of the match.'
In the finals, Shooting Stars set a target of 87 which Siddhant's team Thundering Herds fell short of by 14 runs.
Priyanshu Sen, the 13-year-old victorious captain, had one complaint about the girls. "They don't play seriously. Now that the tournament is over, we still play cricket downstairs in the afternoon. But you would never see a girl touch a ball or a bat anymore."
Truth be told, not all the girls who played had enough interest in the sport. Pratistha Javalgi, playing her first UPL, said it was her mother Krupa who had enrolled her. "She is also playing," the nine-year-old said. Asked what she enjoyed more, batting or bowling, she replied; 'I would rather field.'
Krupa laughed aloud on hearing her daughter's grudging comment. "She is a bookworm. Give her crayons and she would be happy," said the key player of Mystic Maya. Eight-year-old Diya Jain of Thundering Herds too said that her dolls were her 'best friends'.
None of the girls had heard of Jhulan Goswami but were awestruck when told that the highest wicket-taker in international women's cricket lived just across VIP Road. Liga Prodigio, Salt Lake
Among a band of under-9 boys playing a six-a-side match in a children's tournament called Liga Prodigio at the Bidhannagar Municipal Sports Academy ground, she cuts a solitary figure. But Aadya Das is no less than any of the boys as she sprints with the ball, warding off challenge from defenders as part of her team WUK Peace.
The Howrah girl's idol is Cristiano Ronaldo and her biggest supporters are her parents. "We are a dedicated football family. When my three-year-old son Aadit enrolled in Warming up Kids and started going to the Dalhousie Athletic Club lawns on the Maidan to practise, we started sending Aadya too. She was just over five then. My in-laws were apprehensive about a girl playing football. But my husband was all for it," said mother Tanupriya.
The league for the children is organised by BL Block resident Aparup Chakraborty, with Bidhannagar Municipal Sports Academy as venue partner, under the All India Football Federation Baby League Project and will continue till May. "There are nine teams in the fray in the under-9 age group. Each team is playing 14 matches," Chakraborty explained. Players of the other teams come from clubs in Rajarhat, Halisahar, Barrackpore and Bongaon.
Little Aadya, one of two girls registered in the tournament but the only regular fixture in her team's playing XI, is not the strongest on the field. "But she is not one bit afraid. Today itself, she fell flat on her face while playing," Tanupriya said, tending to the bruises on the gutsy player.
Every day, when leaving home before a match, prayers are said for both and when they go back their father, who often accompanies them, discusses what went wrong in their game.
The brother and sister are sometimes pitted in opposite teams during practice. "There is a quarrel at home if he tackles her hard," their mother laughs. But ask Aadya and she says she will not think twice about tackling her brother if he is progressing towards her goal with the ball.
Tournament director Chakraborty said he had given the proposal for mixed teams but was disappointed to see only two girls enlisting. He is now pushing for year-round mixed coaching at the Bidhannagar Municipal Sports Academy. "Salt Lake is the best place to start this trend. The infrastructure is good here, so is security."
Aadya's mother Tanupriya was also surprised at the lack of response from girls. "The matches are competitive and it gives girls confidence to cope up. The experience also teaches mutual respect."
Aadya might have more female company in the tournament next year. Vanshika Paul, a nine-year-old from CD Block is itching to join. "In our school in New Town, boys are made to play football and girls basketball. But I love football and am a big fan of Ronaldo's. I try to copy his moves like the step-over and his celebratory act after scoring a goal. I got my parents to write a letter to the school, seeking special permission to join football but the school didn't allow it. They said there aren't enough girls interested in football to have a girls' team. But I really want to play the game. For my ninth birthday, I have asked to be enrolled in a football training institute."
Her father Devraj Paul has found out details about Baby League and is interested to enrol Vanshika if the timings suit them.