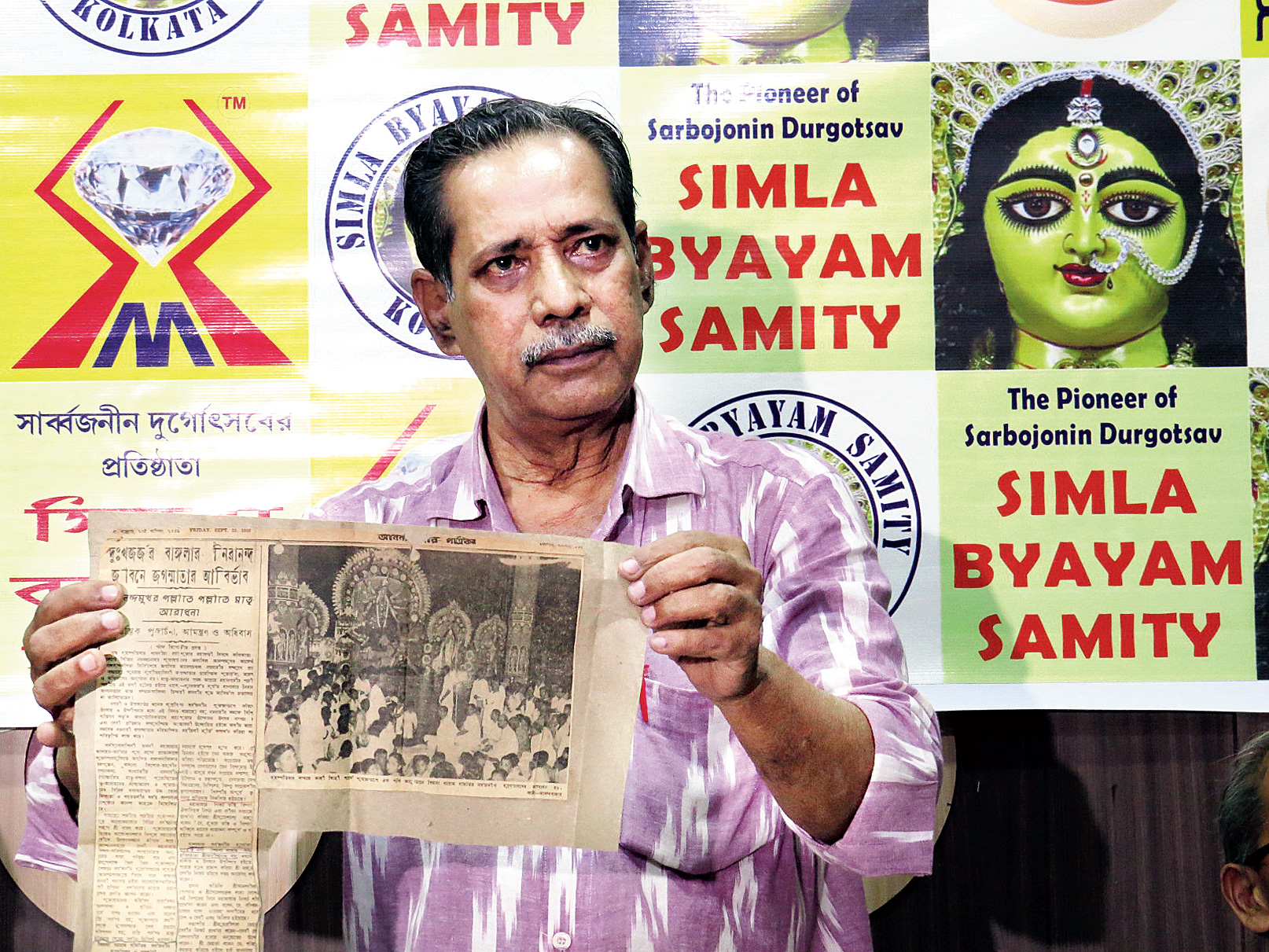 Researcher Gautam Bagchi displays a news clipping on Saturday. Sudeshna Banerjee
Two north Calcutta pujas known to be sticklers for tradition are fighting for the title of the oldest sarbojanin ('meant for all') celebration in Bengal.
Baghbazar Sarbojanin Durgotsav and Exhibition will be ringing in its centenary celebration with a probhat pheri (morning rally) on Sunday. A logo has been created with the words "Baghbazar Sarbojanin" under the number 100.
On Saturday, the neighbouring Simla Byayam Samity tore into Baghbazar's centenary claim at a news conference. "We are the oldest sarbojanin Durga Puja in Bengal and we have proof to back our contention," said Gautam Bagchi, who is about to publish a book on the history of the puja.
"Let those who are claiming to be 100 years old show documentary evidence," he challenged.
Gautam Neogy, the general secretary of Baghbazar Sarbojanin, had told Metro a few weeks ago that the centennial would be all about celebrating tradition. "Our opening will be on Tritiya. Our idol will have the look created by Jiten Pal, whose legacy passed to his son Kartik and then his grandsons Naran and Naba. The two of them are now in charge along with Kartik's brother Sadhan. The idol's shola pith decoration will come from Krishnanagar, as always," Neogy said.
The Simla Byayam Samity Puja was founded in 1926 by Atindra Nath Basu with the support of Mahendranath Dutta, Swami Vivekananda's brother. "Basu came up with the term sarbojanin because he felt the need for a puja for all," Bagchi said.
Among the documents cited by the organisers to establish the puja's antiquity is a clipping from the Anandabazar Patrika edition dated September 26, 1952, where Basu is described as "the initiator of sarbojanin puja in Bengal". Bagchi also displayed an old, unused receipt under the head "Sri Sri Durgotsav Bhandar", bearing a signature said to be of Basu's.
Another exhibit was a handbill of the Simla Byayam Samity with the header "Birat Sarbojanin Durgotsab."
The Simla Byayam Samity's challenge seemed to take Baghbazar Sarbojanin by surprise. "Why didn't they protest all these years?" president Samar Pal said. "They are trying to get publicity by taking our name," general secretary Neogy added.
The Simla Byayam Samity seems to have borne the grudge for a long time. A letter written by its erstwhile secretary Duniya-chand Seal and published in the Anandabazar Patrika in 1971 states that the Baghbazar Puja was founded two years after Simla Byayam Samity's and, therefore, "the publicity happening (of Baghbazar) as custodian of 53 years of tradition is wrong information".
The Baghbazar celebration had been registered as the Baghbazar Sarvajanin Durgotsav and Exhibition in 1930. "The registration was done by Durgacharan Bandyopadhyay, who was the secretary in 1930-33," recalled Ramesh Mitra, a 96-year-old resident. "That is the year we shifted to our current site, the Baghbazar Metal Yard."
Before this, there was a puja in Lebubagan Lane from 1919 to 1923, known as Lebubagan Baroari.
The Simla Byayam Samity is opposed to Baghbazar drawing its history from Lebutala's foundation year. "How can they add the father's age to the son's?" said secretary Baikunthanath Seal.
Calcutta's first community puja had been organised by the Bhowanipur Sanatan Dharmatsahini Sabha in 1910. At least three other pujas in north Calcutta claim to have crossed 100. But since they do not use the word sarbojanin in their name, Simla has no problems with any of these celebrations.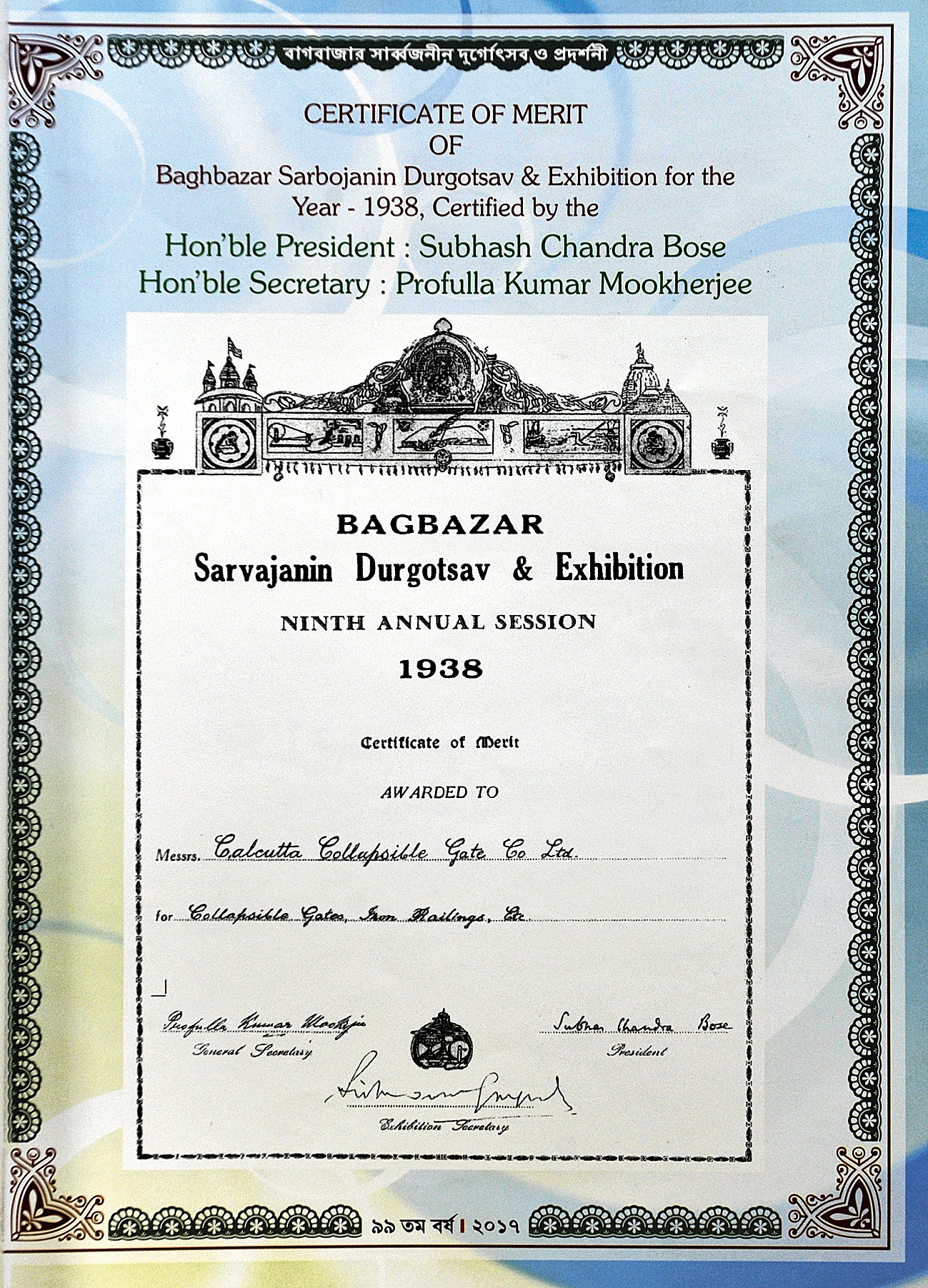 A certificate of merit issued in 1938 by Bagbazar Sarvajanin Durgotsav & Exhibition. The north Calcutta puja had started in 1919 under a different name. File picture The Simla Byayam Samity idol. File picture