At people's court: no adjournments
A fast is broken, not the will to fight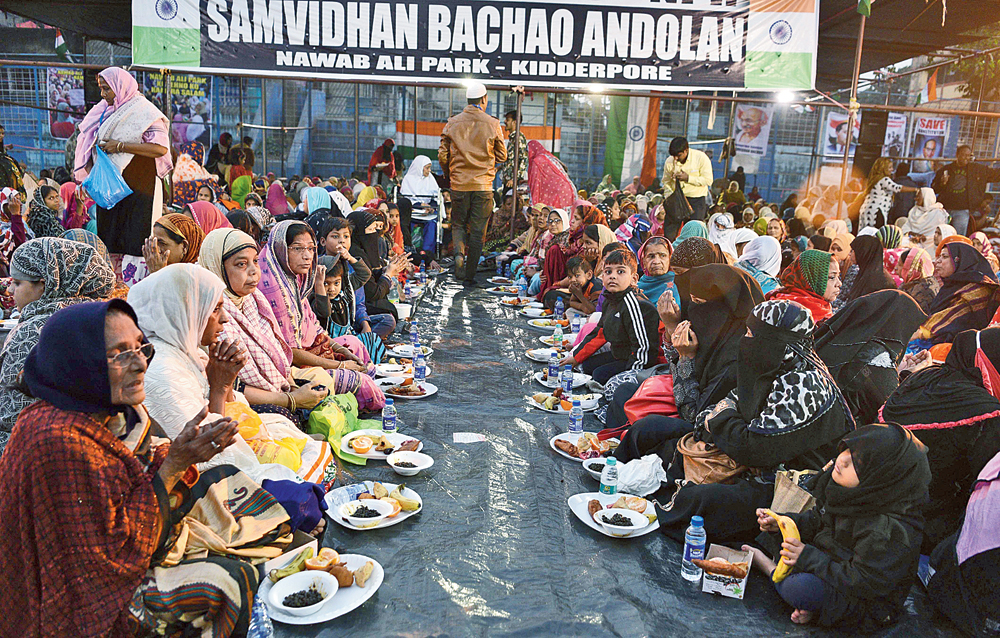 Women break their fast at Nawab Ali Park in Kidderpore on Wednesday evening
Picture by Gautam Bose
---
Calcutta
|
Published 22.01.20, 10:40 PM
|
---
They said a silent prayer and broke the fast at sunset on Wednesday.
On the minds of the more than 300 women who did so at Nawab Ali Park in Kidderpore, the Citizenship (Amendment) Act (CAA) was "uppermost" — just as the Supreme Court of India had said a few hours ago.
The Supreme Court has adjourned for five weeks the hearing on petitions against the act.
At Nawab Ali Park, the mood was melancholic when the women ended the fast but they did not call it a day.
"We will not stop. The movement will continue. We will fight for our rights," said Sanobar Jahan, 24, who runs a stitching class at her home but has had to discontinue it lately.
One woman said there would be a Shaheen Bagh in every corner of the country. "There will be a voice of protest from every locality till the government is forced to listen to us," she shouted.
The women, some old and frail and some with babies in their arms, had gathered at the park since Sunday night for the Samvidhan Bachao Andolan (Save Constitution Agitation).
"Our forefathers chose to stay in this country and, therefore, we are here. Why should we now have to produce documents?" Tamanna Ahmed, who came to the park with her nine-month-old daughter, said, referring to the proposed National Register of Citizens.
"This government talks about Beti Bachao Beti Padhao. But look at the atmosphere of uncertainty that has been created in our country today. What kind of a future am I taking my daughter to?" Tamanna asked.
Some said the government had failed them when it imposed demonetisation and now the new citizenship regime.
"During demonetisation, we had money but we could not use it. We could not pay our nephew's school fees because the currency notes were not valid. We stood in long queues to withdraw our own money. Now with the CAA and the NRC, we are out on the road. We have been forced to come out and protest. How much are we supposed to take?" asked Shagufta Nahid, 26.
Inside the park they have placed posters of Mahatma Gandhi and B.R. Ambedkar. There are also posters of a bleeding Aishe Ghosh, the JNU students' union president.
Many are first-time protesters. Shehnaz Begum, 55, reached the venue with the aid of a walker. She had a scooter accident four years ago. "If I have to die here, so I will," she said.
Gulshan Naaz is a corporation health worker and a mother of three sons. She goes to work at 8 in the morning, makes field visits, returns home and cooks for her children. By evening, she is at Nawab Ali Park.
Some women wanted to block the road but most said they should sit at the park and make their voices heard.