App cab and taxis to stay off roads in Calcutta
Nearly 10,000 app cabs and some 4,000 yellow taxis could remain off the roads from Tuesday in response to a strike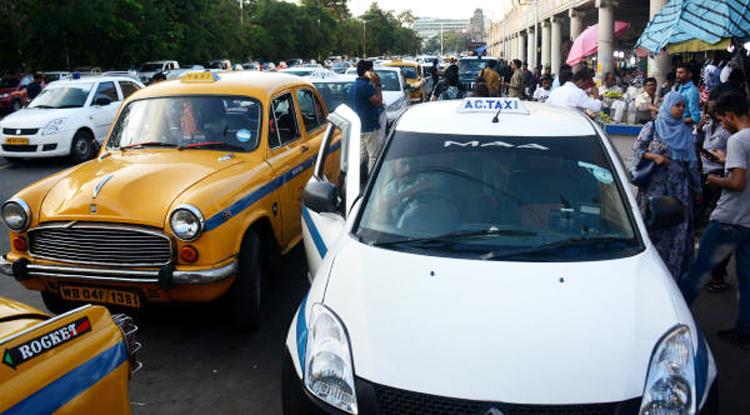 ---
|
Calcutta
|
Published 05.08.19, 08:25 PM
---
Over half the taxis — app cabs and yellow taxis — can disappear from city roads on Tuesday and Wednesday if a call by the Left trade unions for a 48-hour strike with "moral support" from a Trinamul faction is successful.
By a rough estimate, nearly 10,000 app cabs and some 4,000 yellow taxis could remain off the roads from Tuesday morning in response to a strike called by Citu-based app cab operators' union and Left-backed West Bengal Taxi Operators' Union.
For a long time, strikes called by app cab operators did not succeed, as more drivers were willing to ply than those who wanted to be a part of any strike. But with the number of cabs opting to join Ola and Uber increasing by the day and returns diminishing, several cab owners felt they needed more money to remain afloat.
A weekly incentive for stipulated rides — 120 trips a week for Rs 5,000 — was the only way out. But with hired drivers demanding more for a each trip, owners realised the economic model was not yielding enough returns.
"We have to pay Rs 60 per trip to drivers. Without the incentive, it is nearly impossible to pay EMIs," said Seikh Rehman, an app cab owner.
Dwindling returns have forced app cab drivers' unions to demand more from the existing system where the aggregators take away 25 per cent of the fare. The owners now say they want the companies to keep even lesser and give more for every trip.
They are also not happy with the aggregators cracking the whip on drivers who are reported against.
"App cabs are not getting their dues. IDs of drivers are being blocked on vague grounds and the owners are struggling to pay EMIs," said a member of the Citu-backed Calcutta Ola Uber App-cab Operators and Drivers' Union.
Yellow taxi operators, too, have decided to join the strike to press for their demands. Taxi fares were last revised in June 2018 when the minimum fare was raised to Rs 30 from Rs 25. Since then, yellow taxi operators have been demanding a revision citing increase in fuel prices.
"Taxi drivers are bleeding. We want the minimum fare to be revised from Rs 30 to Rs 40 and the waiting charge increased from Rs 2 to Rs 3 for every 2.12 minutes," said Pramod Jha, secretary, West Bengal Taxi Workers' Union.
Indranil Banerjee, convenor of the West Bengal Online Cab Operators' Guild, has clarified that it won't participate in the strike though they would lend moral support "since the demands are more or less the same".
"We will not join the strike. But we support it because the demands are more less the same," said Banerjee.
If the strike is not called off, this would be the second one in the last two months.
Taxis and app-cabs had disappeared from the roads on July 1 and 2 when thousands had a trying time commuting across Calcutta. App-cabs were stopped on the way and passengers allegedly pulled out of the cabs, who dared to defy the strike call on the first day. Many commuters feared Tuesday could well see a repeat of the same.
Union leaders said they had campaigned extensively while trying to impress upon taxi and app-cab drivers why it was their survival that was under threat this time. The response has been "overwhelming," a leader said on Monday evening.
Senior officers of the transport department said if the strike happened, the West Bengal Transport Corporation would run more buses depending on the demand. "We have told our depot managers to be ready with their fleet," said an officer of the transport department.
DEMANDS

App cabs
Stop indiscriminate blocking of driver IDs
Increase the percentage of returns to drivers from each trip
Taxis
Increase minimum fare from Rs 30 to Rs 40
Revise waiting charge from Rs 2 to Rs 3 for every 2.12 minutes