Anit Thapa gets candid on Gorkhaland Territorial Administration 'wrongdoings'
GTA chief comes down heavily on contractors 'asking engineers to overestimate project budgets'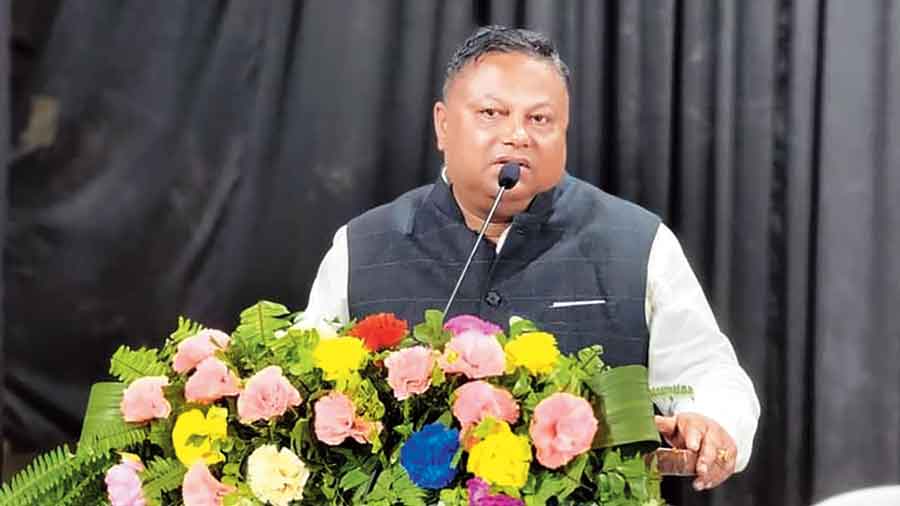 Anit Thapa, the chief executive of the GTA, at the meeting with engineers, in Darjeeling on Tuesday
---
Darjeeling
|
Published 27.07.22, 02:02 AM
|
---
Anit Thapa, the chief executive of the Gorkhaland Territorial Administration (GTA), on Tuesday came down heavily on the engineers of the hill body and gave a glimpse into alleged malpractices during the previous GTA rule.
"The GTA has earned a bad tag both before the eyes of the public and the government…. somewhere there is truth in this tag, too," he said in a meeting with the GTA engineers at Gorkha Rangamanch Bhavan in Darjeeling on Tuesday.
Thapa's nearly 20- minute address to the officials was posted in a Facebook page that goes by the name Anit Thapa and is largely considered to be his page, though the account is not verified by Facebook.
Officials present at the meeting, however, also confirmed the contents of Thapa's speech to this newspaper.
Speaking on past malpractices, Thapa said contractors would ask engineers to overestimate the budgets of projects.
"The contractors come and tell you to convert Rs 10 into Rs 15. This is a fact because like you I have been in the GTA since its inception…. If nothing else, the conversion (of budget estimation) from Rs 10 to Rs 15 definitely takes place," said Thapa.
The GTA chief added that the budget of no work should be overestimated from now on in a clear indication that he wants to nurture a transparent system.
"Executive directors (EDs), please visit the site and get a satisfactory report (on the work done) before clearing bills," said Thapa.
The EDs are officials who head departments in the GTA.
Thapa also advised engineers not to buckle under pressure from contractors, even if they surround him.
"If the contractors who surround me put you under pressure, call me directly from the spot. I will take care of such contractors," he said.
Thapa also sent a strong warning to engineers taking up contract jobs in the hills body.
"One cannot be an estimator, engineer and contractor all in one. I have come across GTA employees working as contractors. If you want to be a contractor, forgo your employment (in the GTA)," said Thapa who also warned engineers not to engage in politicking.
Contractors, too, were warned.
"There was the practice of contractors threatening engineers. This won't work anymore," said Thapa.
The GTA chief also said that the practice of coming up with estimates based on statements of the contractors should end.
"I have heard contractors say that they have spent a lot of money on a project without even a single stone having moved…. This is amazing," said the GTA chief, possibly hinting at pre-project kickbacks.
Thapa also said that he would not allow a single penny of government funds to be misused in his new innings as the GTA head.
An official present at the meeting appreciated Thapa's speech on transparency.
However, he added: "The preaching was perfect but we have to wait and see whether the preaching is put into practice."