'Abbas Kali': A beacon of harmony
The puja, organised by Duckbungalow Para Players' Association, will step into its 51st year this week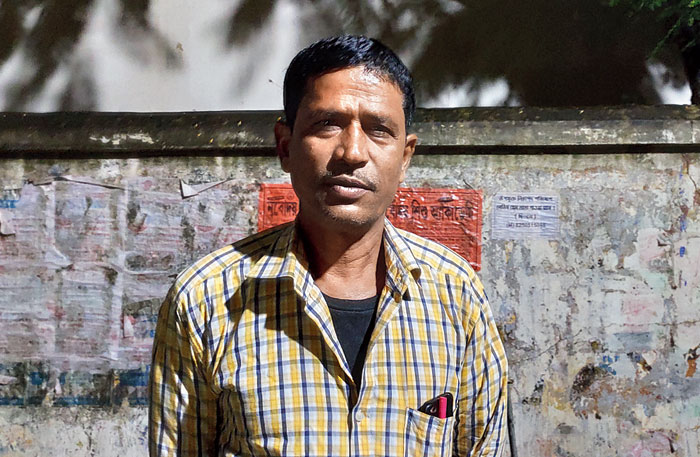 Abbas Hoosain
(Pritam Das)
---
Rampurhat
|
Published 25.10.19, 07:57 PM
|
---
A Kali puja in Birbhum's Rampurhat town has become famous as "Abbas Kali" among residents for the involvement of Abbas Hossain, a local councillor who has been a key organiser for 23 years.
The puja, organised by Duckbungalow Para Players' Association, will step into its 51st year this week. "We have a budget of nearly Rs 41 lakh this year. Our theme for the pandal is Mayapur's Iskcon temple," said an organiser.
Locals say that beside their affection for Abbas, his involvement in the puja elevates it as a symbol of communal harmony.
"It is really hard these days to find such instances of communal harmony. Political leaders involve themselves in different pujas with big funds but here Abbas is involved as an organiser," said Amit Kumar Chakrabarty, a resident of Rampurhat town.
Abbas, a three-time Trinamul councillor of Rampurhat municipality, became associated with the Kali puja about 23 years ago when he was a Congress worker. He switched over to Trinamul in 2011.
Gopal Chatterjee, one of the secretaries of the Kali puja committee, said: "If Abbas was not there, it would be impossible to organise the Kali puja. He arranges everything from the pandal to the priest, and takes a lot off our shoulders. The Kali puja has become famous as 'Abbas Kali'."
Abbas said: "When I was a student, this puja used to be organised on a small scale. About 23 years ago, when I was not yet a councillor, I approached the committee asking them to involve me. They were surprised but allowed me to join. I know people call this puja 'Abbas Kali', but the fact is at least 20 members in this Kali puja committee are Muslims…. I feel proud to be a part of this communal harmony."