A treasure hunt in the paddy fields
Read more below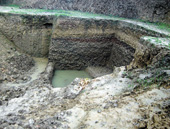 ---
---
A paddy field dug up for Chandraketugarh relics. Picture by Aranya Sen
The beaten track snaking through fields of paddy and jute leads to a mango grove, where two pits have been dug up that could easily be mistaken for ponds. The foliage is so thick and luxuriant the smell of green comes strong.
Concealed behind the shrubs is another pit, freshly dug but quite as deep. It looks like a huge cake from which a giant has taken a large helping, exposing the layers of clay with what is definitely a stratum of brickwork sandwiched in between.
A young farmhand exclaims: "People lease land and dig it." Why do they do it? He has no reply. But a village homoeopath, who was walking his cycle down the path, says they do to look for artefacts sometimes found even after scratching the surface of what was once Chandraketugarh, a huge fortified township dating back to 4th/3rd century BC.
They confirm what Dilip Maite, a man considered a local guardian of this priceless heritage, has been crying himself hoarse about all these years. He has been collecting artefacts since the 50s.
Berachampa, a bustling little town, is the name by which this area, 25 km off Barasat, is better known as today. And it has suddenly come into the limelight after Hutch, the mobile telephone company, started digging up a spot, a few metres away from Khana-Mihirer Dhipi or Baraha-Mihirer Dhipi, a site that the Archaeological Survey of India (ASI) has taken under its wing.
Hutch had planned to set up a communication tower there, and the digging had reportedly yielded valuable artefacts. Six men were arrested, thereafter, including Rishi Singh, the labourer engaged by Sadhu Khan, the man on whose land Hutch was erecting the tower. They are out on bail now. Work at the Hutch site has stopped.
It would be hardly surprising if artefacts were found at the site. It is common knowledge that ever since Kunjagobinda Goswamy of Calcutta University's Asutosh Museum, after pioneering excavations in 1956-57, had established the antiquity of the site, Chandraketugarh is there for everybody to plunder.
Gautam Sengupta, state director of archaeology and museum, says that as a student, when he had first visited the site covering several km in 1974, children would offer Chandraketugarh objects for sale, and he had bought a tiny plaque for eight annas. Now they command a price of anything between £1,000 and £5,000. The treasure hunt had started soon after they became increasingly hard to get, and they began to command astronomical prices in international sale-rooms.
Slivers of Chandraketugarh are so much in demand that there is already a flourishing cottage industry of producing fakes. Terracotta artisans from Bishnupur are hired to produce replicas of the relics. They are adept at reproducing the Kharosti script inscribed on pottery.
Arun Hazra, officer-in-charge of Deganga police station, says the area is being patrolled regularly for they are aware that there is a huge racket in rare artefacts operating at Kalitala, Tetultala and the fields of Chandraketugarh. The racket operates from Calcutta, Mumbai and Bangladesh.
Hadipur 1 panchayat members allege that Putul Samad, Habibur, Pintu and Bhola are the key players in this racket. They allegedly have private collections of artefacts which they sell to go-betweens. They often con these go-betweens by handing out fakes.
Historian Bratindra Nath Mukherjee says Chandraketugarh was named after a legendary king. Excavations had first revealed a continuous sequence of cultural remains dating from 4th/3rd Century BC. "The history of lower Bengal began to be rewritten soon after these excavations. The names of kings were revealed and also the fact that a confederacy was converted into a royalty," he says.
The Kharosti and Brahmi-Kharosti scripts were discovered, along with clay seals of ships bearing cargoes of horses. Mukherjee has authored a book entitled Kharosti and Kharosti-Brahmi Inscriptions in West Bengal (India), Indian Museum Bulletin, Vol 25, 1990.
ASI had excavated two sites in Chandraketugarh — the rampart, about a km from Berachampa on the road to Haroa, and the other at Khana-Mihirer Dhipi, on the left, in the middle of the market.
Mukherjee stressed that the entire area should be excavated both horizontally and vertically. If required, the area should be acquired.
Gautam Sengupta says Chandraketugarh was an early settlement in a relatively new geographical formation and is linked with the pan-Indian process of urban development. Its historical worth cannot be overstressed.
"Large-scale problem-oriented multi-disciplinary excavation is very essential. Excavation by archaeologists is not adequate. A whole range of disciplines has to be involved. A national register of Chandraketugarh artefacts is also a must," he said.
Bimal Bandyopadhyay, superintending architect of the ASI, Calcutta circle, says the ASI executed trial trenching in 1999-2000 at the rampart but had to abandon it due to the high level of water.
"History is quite clear now. Archaeological excavation is not treasure-hunting. We excavate with an objective," he asserts. "Now we know about the development of an urban centre during the advent of the historical period. I have written to the administration several times to alert it about the illicit diggings. Hadipur is the centre of most of this activity. It is not possible for ASI to protect the entire area for certain areas are quite densely populated," he adds.