2022 'Visit Sikkim' year
Move aimed at reviving the tourism industry ailing under the impact of the Covid-19 pandemic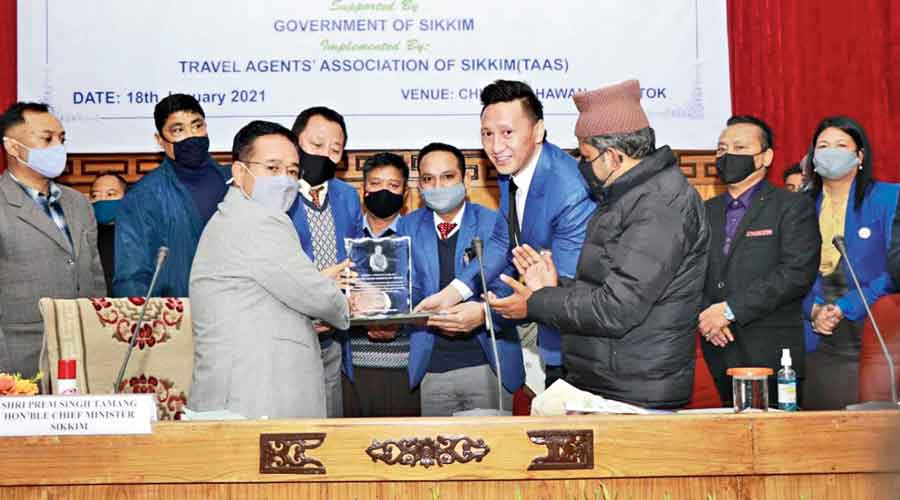 ---
|
Siliguri
|
Published 19.01.21, 12:33 AM
---
Sikkim chief minister P.S. Tamang (Golay) on Monday said his government would promote 2022 as "Visit Sikkim" year to revive the tourism industry ailing under the impact of the Covid-19 pandemic.
Speaking to reporters on the sidelines of an event organised by the Travel Agents' Association of Sikkim (Tass) in Gangtok, Golay said the state's tourism department in consultation with Tass would prepare a blueprint on how to promote and market tourism throughout the world. "'Visit Sikkim 2022' is aimed at marketing and promoting tourism. We want tourists from across the world to visit Sikkim throughout 2022," he said.
The chief minister said the pandemic had caused losses to the industry in 2020 and was also expected to cause further losses in 2021 as well. "We had set up the economic revival committee in view of the losses suffered because of Covid-19. The committee has submitted its report, and we will lend whatever support that is required (to the tourism industry) according to its recommendation," he added.
Golay said the government planned to hold many tourism-related events, including a mega festival, throughout 2022. "We must not focus only on Gangtok. Along with Gangtok, we must focus on other districts as well so that tourists visit some of those places," he said.
Tourism had come to a complete standstill in the Himalayan state for seven months from early March to October 10 in 2020 because of the pandemic. However, in the little over three months of the reopening of tourism, nearly one-and-a-half lakh tourists have visited the state.
Before the pandemic in 2019, over 14 lakh domestic tourists and nearly 1.5 lakh foreign tourists had visited Sikkim, which is about two-and-half times more than the close to seven lakh population of the state.