Will lead like I led India, says Sourav Ganguly
The former India captain pledged a corruption-free and clean administration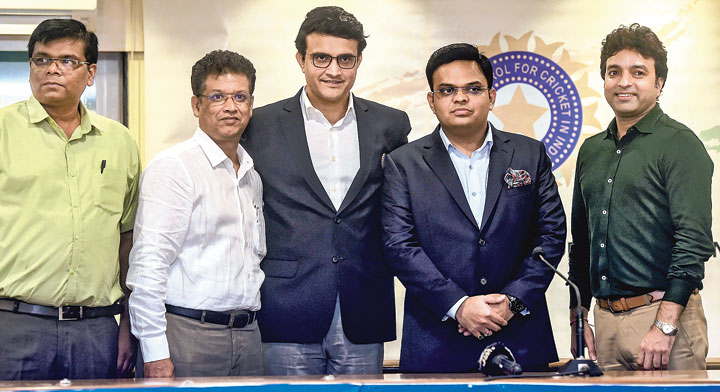 ---
Mumbai
|
Published 23.10.19, 08:33 PM
|
---
Sourav Ganguly ticked all the right boxes on his first day in office as president of the Board of Control for Cricket in India (BCCI).
While making it clear that he would be the players' president, the former India captain pledged a corruption-free and clean administration. From a cricketer's point of view he sent a clear message that performance would be amply rewarded and called captain Virat Kohli Indian cricket's "most important man".
Sourav got down to business almost immediately after electoral officer N. Gopalaswami, in the presence of the three-member Committee of Administrators led by Vinod Rai, made it official that he would be the president.
The first India captain to head the BCCI in 65 years (after the Maharajkumar of Vizianagram), Sourav, who donned his India blazer for the "big occasion", recalled the similarities between his new task and the time he became captain in 2000 in the wake of the match-fixing scandal.
"It's a new start for the BCCI. Coincidentally — fortunately or unfortunately — when I became captain it was a similar sort of a situation and I captained India for six years," he said at the media conference after assuming charge.
"This is a similar sort of situation that now things need to be brought back in place, reforms need to be done, huge amounts of money need to be paid to state associations. So it's a completely new start.
"From that point of view, I find myself in a position where I can make a change, and it's a challenge. I'll do it the way I know, in the way I feel is best for BCCI, with no compromise on credibility and corruption free. That's the way I led India and that's the way I will take forward this organisation in whatever time I have," he said.
The presence of former president N. Srinivasan at the Cricket Centre did raise a few eyebrows. The Tamil Nadu Cricket Association was barred from attending the general body meeting but Srinivasan and his team of professionals arrived a few minutes after the meeting ended.
According to The Telegraph's sources, the books of accounts and International Cricket Council-related documents were gone through with a fine-tooth comb. Some could have looked at it differently but Srinivasan was at hand to teach the young president the tricks of the trade.
"We sat with the staff, with the CEO, CFO getting the updates of what happened in the last three years. In terms of domestic cricket, (BCCI's general manager, cricket operations) Saba Karim was here. Financial issues of the Board, expenses incurred, so all these discussions have gone on and it will go ahead after this meeting. And then we will sit and take notice …
"We will then decide how we can make it better in the future… The biggest goal is to make the cricketers' life a lot more easier," Sourav said.
Sourav emphasised that Team India captain Kohli was "the most important man in Indian cricket".
"He's the captain of India, he is the most important man in Indian cricket. We'll have a word with him and as I
said we'll support him in every possible way. He wants to make this team the best in the world.
"It's been a great team to be honest with you, the way we have played cricket in the last three-four years. It's a fantastic side, yes, you can say they haven't won the World Cup but you don't win World Cups every time.
"We'll support him for whatever he wants and make sure that Indian cricket goes ahead smoothly. In terms of the Test venues, we have a lot of space and venues so we'll have to sit with him and see what he wants and take it forward," Sourav said.
The Indian team for the series versus Bangladesh will be picked on Thursday. Sourav will interact with Virat and the national selectors before the meeting gets underway.
He promised a cordial relationship with Team Virat. "I don't know what transpired between the CoA, Virat and Ravi Shastri… A new body and new office-bearers have taken over, it will be a proper discussion and everything will be mutually discussed.
"Be rest assured that we are here to make their life easier and not make their life difficult… Everything will be on the basis of performance and performance is the most important thing and that's what will decide the future of Indian cricket…
"We will be there to support Virat, we will listen to him because I have been a captain myself and understand from that position and we will deal with it… it will be mutual respect, opinions will be there and we will do whatever is best for the game," he explained.
The endless meetings didn't end at the Cricket Centre and even spilled over to his suite at the Trident in Nariman Point. India Test vice-captain Ajinkya Rahane also met the BCCI president in the evening.
Sourav put faith in his team comprising vice-president Mahim Verma, joint secretary Jayesh George, secretary Jay Shah and treasurer Arun Singh Dhumal. The accounts will be passed after a 21-day notice is issued for the AGM.
How would he describe his first day in office?
"It's the first day I sat in my chair, and it was the same thing when I was the captain and I was given the blazer. There were some great names who led the country before me and it's the same thing here. I have a role to do and I will do it to the best of my ability," Sourav said.