In reversal, Paralympics bars athletes from Russia and Belarus
'The environment in the village is deteriorating'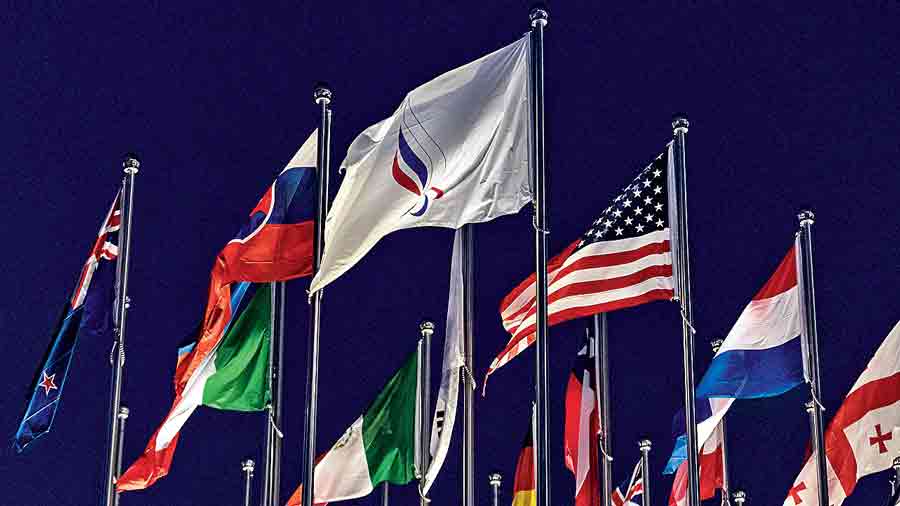 National flags flutter in the Paralympic Village in Beijing on Thursday.
Getty Images
---
Beijing
|
Published 04.03.22, 02:40 AM
|
---
A day after organisers of the Paralympic Winter Games announced that they would allow Russian and Belarusian athletes to take part in the competitions, the organisation's board made a stunning reversal and barred athletes from both countries on the eve of the opening ceremony.
Citing threats by several countries to boycott the Games, mounting discontent in the athletes' village and fears that a "deteriorating" situation there could lead to violence, the International Paralympic Committee said the situation had changed so dramatically overnight that the viability of the Games would be in jeopardy if organisers did not expel the Russian and Belarusian athletes.
"The environment in the village is deteriorating," said Andrew Parsons, the president of the I.P.C. He said rising anger and threats by multiple national committees, some under pressure from their governments, to withdraw from the Games had made the situation "untenable".
Parsons said there were no reports of confrontations or violence between athletes, but tensions were rising and he said there was a "huge" concern for the safety of participants.
"The village is not the place for fights," Parsons said.
The move made the Paralympics the latest international sporting organisation to bar Russian and Belarusian athletes and teams in the wake of Russia's invasion of Ukraine, which was staged with Belarusian support. Sports like soccer, tennis and figure skating already have barred Russian and Belarusian athletes since the International Olympic Committee took the extraordinary step this week of suggesting global federations and event organisers put in place a global ban on athletes from the two countries as a result of their actions in Ukraine.
The Russian and Belarusian Paralympic delegations — whose athletes had been cleared to compete as neutrals only a day earlier — could appeal the decision in court. But the Games are set to hold their opening ceremony on Friday, and their first events on Saturday.
On Wednesday, Parsons had said the I.P.C. could not remove the Russian and Belarus athletes because there was no specific mechanism to do so in the organisation's constitution.
"The athletes here, that were born in that nation, they are not the aggressors," he said at the time. "I think we need to treat them with the same respect as athletes from any other nation who earned the qualification to be here."
The board meeting that led to the decision was "very tense and emotional," and the vote not to punish Russia and Belarus more harshly was not unanimous.
But after it was announced, Parsons said on Thursday, an overwhelming number of members reached out and urged the I.P.C. to reconsider its decision. Ukraine's athletes released a statement voicing their disapproval, saying the claims of "political neutrality" from sports administrators were "a convenient lie used to deflect calls to stand up for human rights and peace."
"We want to stop wars in Ukraine," said Valerii Sushkevich, a member of Ukraine's parliament and the president of the nation's Paralympic committee, "We must work together against war, work together for the peace of the world."
(New York Times News Service)