Tomorrow is another day: Udanta
Midfielder Udanta Singh feels India will have to start afresh against Bangladesh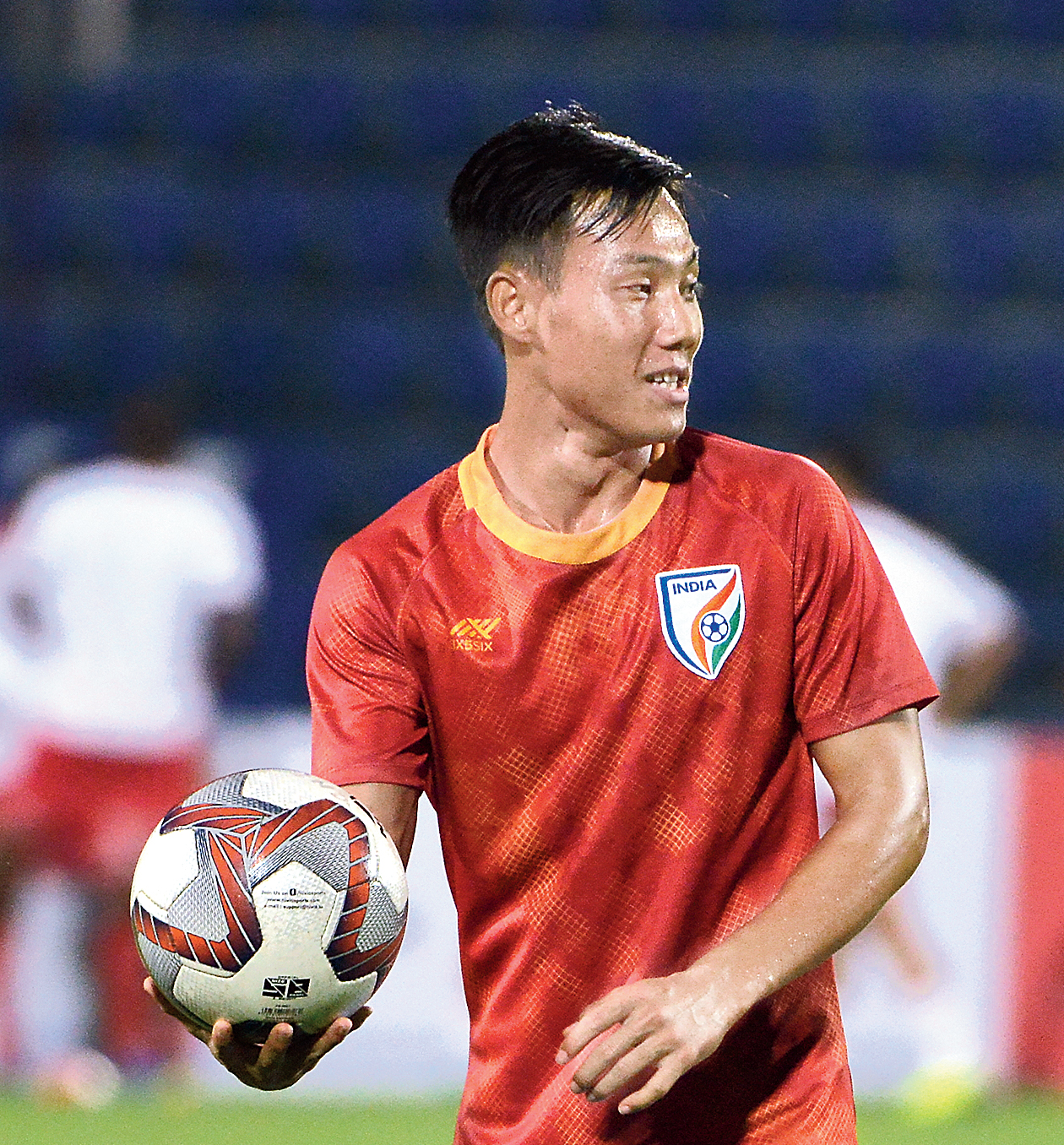 India surprised everyone by holding Qatar goalless in Doha on September 10 but for Udanta it's a thing of the past
AIFF
---
Calcutta
|
Published 25.09.19, 08:57 PM
|
---
Midfielder Udanta Singh feels India will have to start afresh against Bangladesh in the 2022 World Cup qualifier to be played at the Salt Lake Stadium on October 15.
"We need to start from scratch against Bangladesh. It's a new day. And on a new day, anything can happen," Udanta told The Telegraph.
India surprised everyone by holding Qatar goalless in Doha on September 10 but for Udanta it's a thing of the past.
"The Qatar match is done and dusted. We played well and that gives us a lot of confidence. But we are not complacent at all.
"We're counting the October 15 match as a must- win one and we are ready to face the challenge head-on," he said.
Goal-scoring is an area where India need to work on. Barring Sunil Chhetri, players like Udanta are not scoring many.
Former India captain Rennedy Singh, who is watching Udanta closely from the latter's Tata Football Academy days, feels that for scoring goals the 23-year-old will have to be more comfortable with the ball.
"See he just can't just run and run. He is talented, there is no doubt about that. But he needs to be more comfortable with the ball. Also he needs to improve his final pass.
"That's how he will grow as a player. During the TFA days he was a striker and when he switched to Bengaluru FC, Udanta started playing as a winger. Sunil (Chhetri) was not that fit during his early days but now he is the fittest.
"But even those days he was very comfortable with the ball. That's what I want from Udanta," Rennedy said.
Udanta agrees India cannot expect Chhetri to score in every match: "Yes, we can't expect only Sunil bhai to score every time. We have to focus more on the finishing part and we have already started working on that."
But he added: "In modern-day football everyone needs to contribute. While attackers need to track back to lend a hand in defending, midfielders, wingers, even defenders need to step up and score in order to get positive results. Personally I love to outrun the defenders and square it to onrushing strikers who can score."
Asked whether the burden of expectations after the Qatar show will be a disadvantage, the Manipur player said: "If you ask me whether we will be under extra pressure after the last game — I don't think so.
Bangladesh, who will be coming to India after hosting Qatar on October 10, are
expected to park the bus. Udanta though refused to think much about what strategy Bangladesh coach Jamie Day would adopt.
"We can't predict whether they will adapt a defensive strategy or an attacking one. We need to focus on our own game aiming to get a positive result, and carry on the momentum. Bangladesh have never been an easy team to play against.
"We will play in front of our home crowd, and we need to utilise this opportunity. We'll need to score early and help each other to get the desired result."
Udanta is also happy at the way the national team is shaping up under new coach Igor Stimac. "Coach has introduced a new brand of football and everyone is happy with that. He has brought in some new boys who have gelled well so far.
Amarjit Singh Kiyam, Narender Gahlot, who were part of the Indian Arrows team, have made themselves an integral part of the team, besides Sahal Abdul Samad and other youngsters. Overall, it's a cohesive force now."