T20 World Cup: When the sky fell on India
Cheerleaders from both countries were seen hogging the limelight and TV channels hovered around them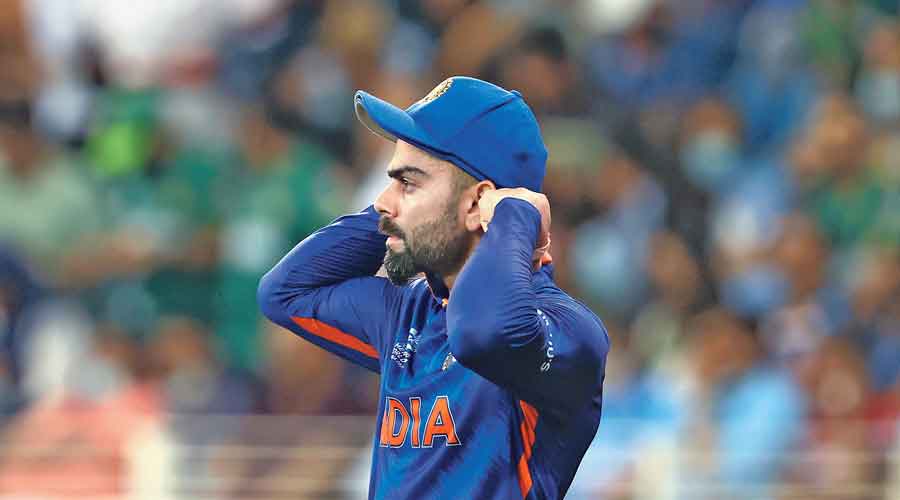 ---
Dubai
|
Published 26.10.21, 01:52 AM
|
---
The scenes, both on and off the field, during an India-Pakistan match are unique. Even walking into an India-Pakistan match is different from other matches. As one walked into the Dubai International Stadium on Sunday, there were thousands of fans from both teams waving their country's flags on the road and cheering for their team. Cheerleaders from both countries were seen hogging the limelight and TV channels hovered around them. Many Pakistan fans wore green shirts with the words: "I love Pakistan" written on them. But Indian fans had outnumbered the Pakistan fans given that the Indian team seemed more strong on paper, and maybe Pakistan fans were not very sure of a win.
Former UAE opener and coach Arshad Ali, who hails from Sialkot, Pakistan, said: "I went for the match between Sri Lanka and Bangladesh at the Sharjah stadium in the afternoon, but watched the India-Pak contest on television and enjoyed every moment of the victory."
Priceless ticket
Being present amidst a packed Dubai stadium is a great experience. Fans were willing to pay any amount to get a seat and it is understood that there were offers to pay even AED (UAE dirham) 10,000 for an ordinary ticket.
Calcutta-born cricket fan Ritwik Sen, who is a banker in Dubai, managed to buy his ticket online before it got sold out. He said: "I had requests from people willing to give me four times the money for
my ticket, but I was not willing to part with it. Watching an India-Pakistan match live is priceless."
Sen has, in fact, never mised watching an India-Pakistan match live, except for the World Cup in South Africa.
Be 'afraid' of Afridi
After Shaheen Afridi trapped Rohit Sharma leg before and also clean bowled KL Rahul, fans waved a banner 'Be Afraid of Afridi''. A few from the crowd shouted 'Fire Afridi, fire'. The two quick wickets silenced almost all Indian supporters while the Pakistan fans danced in joy.
Afridi has a special connection with the UAE. He made his Test and ODI debut at Abu Dhabi in 2018. He has also produced some great spells when the Pakistan Super League was held here. When India's Suryakumar Yadav, who is fondly addressed as SKY, got out in the sixth over, a journalist remarked: "It looks like the sky is coming crashing down on India."
Who's 'Captain Awesome' now?
India captain Virat Kohli as well as Pakistan skipper Babar Azam cracked half-centuries. Though Kohli's half-century went in vain, he has become the batsman with most half-centuries in T20 World Cups with his 10th fifty-plus knock in Dubai on Sunday to beat Chris Gayle's record of nine half-centuries. Before the match, Indian fans had created a poster with pictures of both captains and labelled Virat Kohli as "Captain Awesome" vs "Captain Azam". However, after the victory, the Pakistan fans immediately interchanged the captions.
Meanwhile, a disappointed Indian fan put out a poster: "I spent AED 700 for my ticket… one wicket please."