T20 World Cup: To erase that one blot, Kohli needs to be Captain Cool
Despite all his runs and records, the world never fails to rub sandpaper on his wound of never being able to lift a major trophy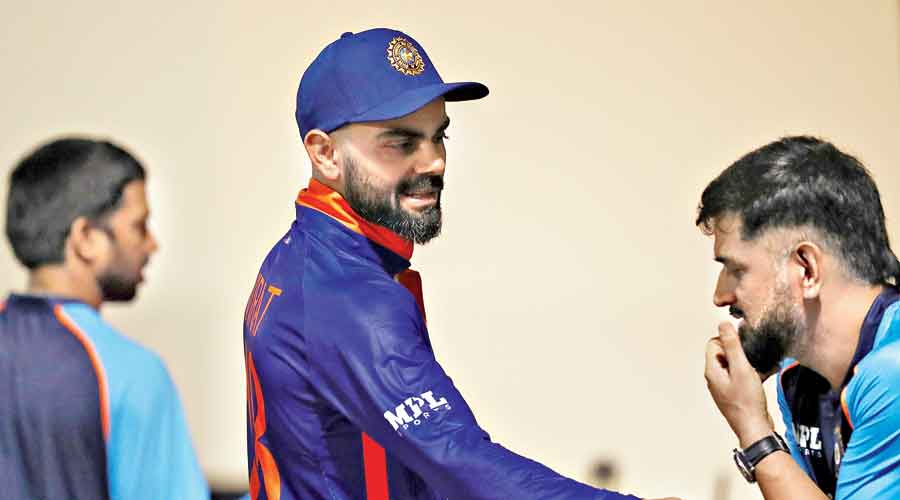 ---
Calcutta
|
Published 24.10.21, 02:28 AM
|
---
Imagine it's the 14th of November, the last ball of the T20 World Cup final has just been bowled and India have emerged champions. Now imagine how captain Virat Kohli, who emotes like an ancient gladiator at the fall of every wicket, would react to a triumph of such stature. It's difficult even in imagination to get a measure of how ecstatic the man would be.
It's difficult being Virat Kohli. Despite all his runs and records, the world never fails to rub sandpaper on his wound of never being able to lift a major trophy. Losses in the final of the 2017 Champions Trophy and the semi-final of the 2019 ODI World Cup, peppered with a long barren stint as the Royal Challengers Bangalore (RCB) captain, are seen like blots on the brilliance that Kohli is.
But what ails Kohli the Captain? And will he be able to leap over all hurdles and have the last laugh in what would be his first and last T20 World Cup as captain?
While captaincy in cricket involves a lot of instinctive decision-making, Kohli, one feels, overdoes it.
Recently, after announcing his decision to quit RCB captaincy, Kohli said: "…on the outside there are many data points and analysis. The game is not played on that. It is not on information from the outside, it is on reaction… belief in certain moments, game plans that you set out to achieve. Making sure you have the drive to execute. The simpler you keep it, the fewer distractions you will feel from the outside."
But is modern cricket that simple? Is it only about "reaction"? Perhaps not. In this age of data science, smarter is the one who analyses situations minutely before they arrive and it is always wiser to have back-up plans.
While one is not suggesting that Captain Kohli takes to a game unprepared, it's a fact that when the going gets tough on the field, the 32-year-old's demeanour often gives the impression of a man who is carrying the Everest on his shoulders.
Perhaps, passion, which Kohli so proudly wears on his sleeves, goes against him at times when he is captaining. A calmer approach might lead to clearer thinking. And Kohli doesn't have to look far for inspiration. His predecessor as captain and current team mentor, Mahendra Singh Dhoni, is a walking manual of how a captain in white-ball cricket should be.
Dhoni too flaunted his instinctive genius, but with that he possessed — he still does — a chiselled tactical acumen. It's difficult to believe that Kohli, one of the finest cricketers that any generation has seen, is a novice in tactics. Anyone who has heard Kohli speak cricket would know that the man and the sport have been married into a whole. But it seems that the tactical side of Kohli is often overpowered by his passionate avatar.
Like it is difficult to explain why Kohli, captaining the RCB, chose to play Dan Christian in the IPL Eliminator against the Kolkata Knight Riders. Christian had done little till that match to merit selection. He contributed 9 runs with the bat and then gave away 22 runs in one over of that low-scoring game RCB lost.
Team selection is one aspect that Kohli will have to be very careful about in this T20 World Cup. It is a disadvantage that he is spoilt for choice in the current India T20 squad, as it might only tempt him into making unforced errors, picking the wrong horses for the courses.
Herein comes Dhoni, the mentor. He has been there and done that. Dhoni is everything that Kohli isn't. Captain Cool can aptly be the screen that filters Kohli into being a sharper, better skipper.
Imagine a Kohli who would just hang a smile of success on his face and not really let out a Lion King roar if India go on to win the Cup. India would take that.