T20 World Cup: Quinton De Kock refuses to take a knee
According to a directive issued by Cricket South Africa on Monday, all its players are required to take a knee in support of the 'Black Lives Matter' movement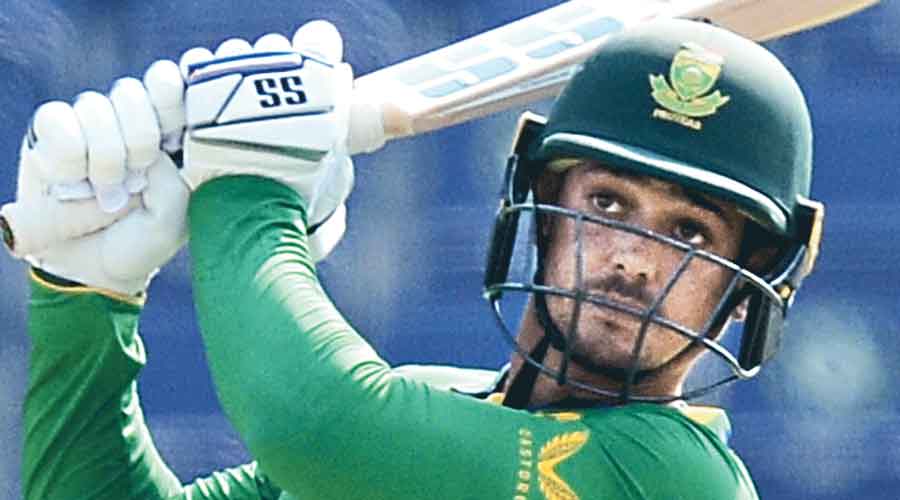 Quinton de Kock playing against Australia in Abu Dhabi on Saturday.
Getty Images
---
Published 27.10.21, 01:28 AM
|
---
The ongoing T20 World Cup picked up its first controversy on Tuesday as South Africa wicketkeeper-batsman Quinton de Kock defied a directive from his cricket Board to take a knee and subsequently pulled out from the match against the West Indies in Dubai citing "personal reasons".
According to a directive issued by Cricket South Africa on Monday, all its players
are required to take a knee in support of the 'Black Lives Matter' movement. But De Kock, who in the past has chosen not to take a knee  — or raise a fist or stand in attention, which are other expressions of support for the BLM movement — stuck to his stance and eventually opted out of the game with Reeza Hendricks taking his place.
De Kock did not comment on the matter on Tuesday but he had made his views clear in the past. "It's everyone's decision. No one's forced to do anything, not in life. That's the way I see things," he had said in the past, while expressing his reluctance towards the gesture.
CSA now awaits a report from the Proteas team management on the entire matter before deciding what further steps are to be taken. In a statement issued shortly after Tuesday's game in Dubai got underway, the South African Board said: "Cricket South Africa has noted the personal decision by South African wicketkeeper Quinton de Kock not to 'take the knee' ahead of Tuesday's game against the West Indies.
"All players had been required, in line with a directive of the CSA Board on Monday evening, to 'take the knee' in a united and consistent stance against racism. This is also the global gesture against racism that has been adopted by sportspeople across sporting codes because they recognise the power of sport to bring people together.
"After considering all relevant issues, including the freedom of choice of players, the Board had made it clear it was imperative for the team to be seen taking a stand against racism, especially given South Africa's history. The Board's view was that while diversity can and should find expression in many facets of daily lives, this did not apply when it came to taking a stand against racism.
"The Board will await a further report from team management before deciding on the next steps. All players are expected to follow this directive for the remaining games of the World Cup."
Previously, having agreed that team members would make their own decisions on how to express their stand against racism, the CSA changed it's mind after South Africa's opening T20 World Cup match versus Australia in Abu Dhabi last week. In that game, Australia took a knee while South Africa maintained their three options.
England, the West Indies, India, Scotland and New Zealand have also taken a knee in this World Cup so far, while the Pakistan players held their hands on their hearts to support the cause.
Skipper's support
South Africa captain Temba Bavuma agreed that he and his teammates were "taken aback" by the news of De Kock's withdrawal from Tuesday's game but also said he had full respect for his player's decision.
"Obviously, Quinton is a big player for the team. Not just with the bat, but the role he plays from a senior's point of view and not having his experience at my disposal was something I really didn't look forward to," Bavuma said after the Proteas' eight-wicket win over the Windies.
"In saying that, Quinton is an adult. He's a man in his own shoes and we respect his decision... As far as we stand, Quinton is still one of the players. So whatever support he needs, we'll be there for him," Bavuma emphasised.
England vice-captain Jos Buttler was asked during a virtual media conference on Tuesday if it was right for cricket Boards to issue specific directives to players on the issue. He replied: "I'm not sure, to be honest. I can only speak about myself and our team."
"But it's something we feel strongly about. It's an important part of our culture as a team, and that's all I can say on that."