Sports budget plays games with figures
An increase of Rs 723.97 crore seen but closer look will tell it's just Rs 334.72 crore as allocation for financial year 2022- 23 was Rs 3,062.60 crore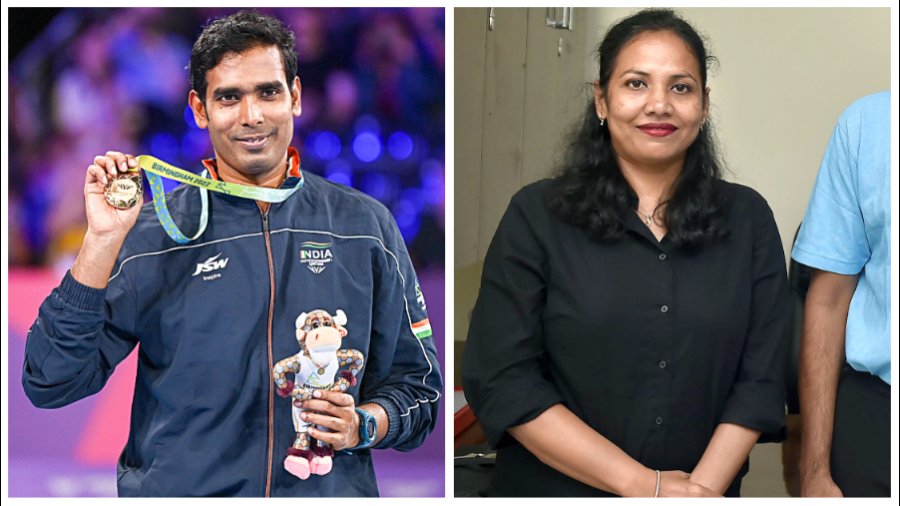 Sharath Kamal (left); Dola Banerjee
---
Calcutta
|
Published 02.02.23, 06:18 AM
|
---
Finance minister Nirmala Sitharaman's announcement of Rs 3,397.32 crore allocation for the ministry of youth affairs and sports for the financial year 2023-24 earned widespread praise but it's once again a trickle rather than a splash as it is made out to be.
Figures say that it's an increase of Rs 723.97 crore but a closer look will tell you it's just Rs 334.72 crore as the allocation for the financial year 2022- 23 was Rs 3,062.60 crore. 
In the previous financial year, the ministry received Rs 2,673.35 crore after the figures were revised. That's because Khelo India's revised expense was Rs 600 crore when the allocation was Rs 974 crore and also the Hangzhou Asian Games was postponed by a year.  
"If there was a reduction of Rs 374 crore in Khelo India then it doesn't show the government's flagship programme in good light. Isn't it?" a sports official, who refused to come on record, told The Telegraph on Wednesday.   
As has been the norm, Khelo India continues to be the government's priority. This time Rs 1000 crore has been allocated whereas the national sports federations (NSFs) will get Rs 325 crore. In the last financial year the NSFs got Rs 280 crore. 
"This year with the Asian Games set to be played in September-October and preparations for next year's Paris Olympic Games also in full swing, more allocation for NSFs would have been welcomed," another official rued.
In the Tokyo Olympic Games held in 2021, India got seven medals, including Neeraj Chopra's gold in javelin. InParis, India hope to cross double figures in the medals tally. 
"It's a brilliant sports budget. The government is serious about promoting sports. Khelo India has to be the priority since grassroots development is needed. Also with more budgetary allocation, parents will now be interested in allowing their children to take up sports as a profession," celebrated table tennis player Sharath Kamal, who is a vice-chairman of the athletes commission of the Indian Olympic Association (IOA), said from Chennai. "Ever since the NDA government took charge in 2014, sports and sportspersons have started getting more importance," he added.
Dola Banerjee, an archer of international repute and an executive council member of the IOA, also was all praise for the sports budget.
"It's a big thing... an increase of almost Rs 724 crore. I give you one example. There was a time when we had to struggle to get equipment because of the shoe-string budget. It's now changing with more and more funds being given," Banerjee said.
The Sports Authority of India (SAI), which organises national camps for athletes, provides infrastructure and equipment to the athletes, appoints coaches and maintains sports infrastructure, among others, has seen a Rs 36.09crore increase in its budgetary allocation from the previous year's revised expenditure of Rs 749.43 crore. Their allocation for 2023-24 stands at Rs785.52 crore.