Roger Federer turns 39 today
A fanboy contemplates how much more the tennis legend has to offer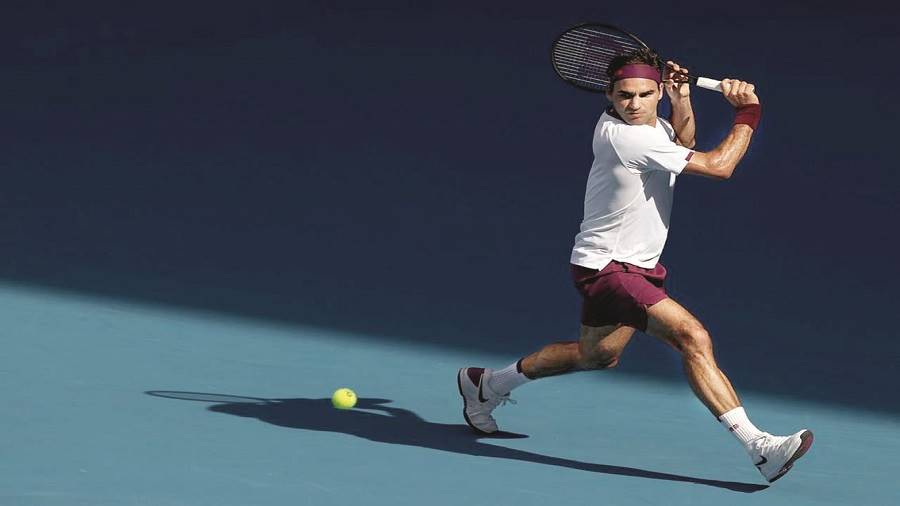 ---
---
You don't analyse sunlit perfection, you simply bask in its warmth and splendour. For what feels like forever, I have done the same — basking in the exquisite mastery of Roger Federer — always in awe and frequently speechless. And yet, with the march of the inexorable page-turner that is the calendar of life, I realise that the end may be near. After more than two decades of gliding along, the Fed Express may be coming to a halt, once and for all.
The gift that keeps on giving
Since debuting in 1998, Federer has carved out an unparalleled legacy, playing in a way that has so often transcended the sport, morphing into a form of athletic art that must be seen to be believed.
The seamless serve and volley technique attuned to flawlessness, the elegant movement that makes him float even as others scamper, the audacious single-handed backhand that kisses the line, the delectable lobs of impish brilliance, the imperious cross-court forehand reminding who's boss — the Federer arsenal of greatness is inexhaustible, constantly replenished to fine-tune the littlest details that make the overall magic possible.
Over the years, I have savoured countless moments of Federer's effortless grace, and marvelled at his ability to wield a racket with unflappable control, dominating with a simplicity that is brutal, yet beautiful. No waste of energy or emotion, just pure economy of genius.
But after repeated comebacks and several glorious bursts of redemptive brilliance, the gift that keeps on giving is in danger of being wrapped up, sealed, and confined to the gilded pages of history.
A year to forget
2020 needs no letter of recrimination, but as someone who cherishes spells of aesthetic escapism through the magnificence of a Swiss ballerino on a tennis court, this year has indeed been disastrous. No titles, two arthroscopic surgeries on his right knee, elimination in the semi-finals of the Australian Open, and a complete withdrawal from whatever tennis might be played in the rest of this pandemic-ravaged season, Federer has had a year to forget.
Though he has promised to return in 2021, I cannot help asking myself why. Does Federer still have something to prove to himself? Is he desperate to ward off Rafa Nadal and Novak Djokovic from overhauling his Grand Slam tally by securing at least a couple of more slams before riding off into the sunset? Or does he simply not know what to do if he is not playing tennis upon recovery from injury? In truth, it may be a combination of all three — a combination that could prove to be triumphant or toxic.
The final surge
I know what my ideal Federer farewell looks like. Awash in the bright hues of a London summer evening, I have imagined Roger lifting the world's most coveted pineapple (the Wimbledon men's championship trophy!) for an unprecedented ninth time. My dream would have been a reality last year, were it not for the machine that never quits, otherwise known as Novak Djokovic.
It is tempting to stitch up the most fitting ending for Federer, whose apparent timelessness has masked a number of harsh truths for a number of years — Federer is getting old, Federer is slowing down, Federer is only human.
At 39, even widely acknowledged sporting GOATs do not come back from a near 12-month lay-off to seamlessly recapture the summit.
But even within an exclusive echelon of elite performers, Federer can claim to be unique.
Perhaps, against my consternations, the logic of biology, and the hopes of his illustrious foes, the Fed Express will come speeding through next year, running on the same tracks it has charted for so long in incomparable fashion. Maybe the ultimate destination is still to be reached, the final surge still to be found.
Or maybe Federer will come back for the sheer sake of it, and I will bask again, not in the sunlit perfection of the past, but in the flawed twilight of the present, quietly watching excellence melt away.
ROGER THAT!
39 little-known details from the remarkable story of the Swiss maestro
1. No man has played more Grand Slam finals than Federer, who has appeared in 31, winning 20.
2. Federer holds both Swiss and South African citizenship and speaks six different languages, including his native tongue of Swiss German.
3. As a kid, Federer actively played badminton and basketball, before concentrating solely on tennis in his teens.
4. Until 16, Federer was a vegetarian.
5. Having received training as a child, Federer is adept at playing the piano.
6. As a junior player, Federer enjoyed his best year in 1998, winning the boy's championship in Wimbledon before losing in the final of the US Open.
7 Federer's first senior final was at Marseille in 1999, where he came up short against his compatriot, Marc Rosset.
8. Federer used to be quite hot-headed during his initial days as a pro, but his attitude underwent a drastic transformation after being severely affected by the death of his former coach, Peter Carter.
9. It was during the 2000 Sydney Olympics that Federer met Mirka Vavrinec, who was also a tennis professional at the time. The couple married in 2009 and have two pairs of twins together.
10. Federer did not slip out of the top 10 position in the ATP rankings for 14 straight years, between October 2002 and November 2016.
11. Federer was deemed to be "unsuitable" for the Swiss military in 2003, and had to serve in civil protection instead, as part of the compulsory national service in Switzerland.
12. In 2003, Federer established the Roger Federer Foundation, which has been seminal in providing access to education and sport for disadvantaged children across the world.
13. Federer has held the ATP World No. 1 ranking for a staggering total of 310 weeks in his career, out of which a record 237 were consecutive.
14. In tennis' Open Era, Federer is second only to Jimmy Connors for most professional titles, with a mind-boggling 103 tournament wins!
15. Till date, Federer has amassed an astonishing $130 million in prize money.
16. The 2006 season is statistically the best campaign of Federer's career, during which he won 12 titles with a win-loss ratio of 92:5.
17. Also in 2006, Federer became the first man to reach all four Grand Slam finals in the same year since Rod Laver in 1969.
18. Federer became the first male player in the 21st century to clinch a Grand Slam without dropping a single set when he overcame Fernando Gonzalez in the 2007 Australian Open decider.
19. During the 2007 US Open, the American press labelled Roger as "Darth Federer" for his all-black attire throughout the competition!
20 Federer's solitary French Open triumph came in 2009, after three years of successive defeats at the ultimate hurdle to nemesis Rafa Nadal.
21. Against Novak Djokovic in the Cincinnati Masters of 2009, Federer executed what is often considered to be the greatest shot of all time — the tweener — played between one's legs without looking at the opponent!
22. Between July 2003 and January 2011, Federer had never failed to hold at least one Grand Slam crown, an awe-inspiring streak that was eventually ended in the semi-finals of the 2011 Australian Open.
23. In 2011, a study by Reputation Institute found Federer to be the second most trusted and respected international personality, behind only Nelson Mandela.
24. In what was arguably the worst year of his career till then, Federer won just the solitary tournament in 2013, the Gerry Weber Open in Germany.
25. 2016 brought unparalleled professional lows for Federer, with a knee surgery and poor form meaning he went trophyless for the first year since 2000.
26. Federer's epic victory against Nadal in the 2017 Australian Open marked the first time he had got the better of the Spaniard in a Grand Slam final since Wimbledon 2007.
27. In November 2017, Federer was awarded an honorary doctorate by his home university in Basel, Switzerland, as a mark of recognition for his role in enhancing the reputation of his country.
28. In December 2019, Federer became the first living person to be commemorated in Swiss currency.
29. Federer holds the third-highest number of records (30) for a single discipline in the Guinness World Records.
30. GQ readers chose Federer as the most stylish man of the 2010s, ahead of the likes of Justin Bieber, Kanye West and Ryan Gosling.
31. No athlete has won the Laureus World Sportsman of the Year more often than Federer, who has received the honour on five occasions.
32. Federer has streets named after him in the German city of Halle as well as Biel in his native Switzerland, where he grew up training.
33. Federer topped the Forbes List for Highest Paid Athletes for the first time in his life in 2020, with his annual earnings amounting to $106 million.
34. The Looney Tunes cartoon Tweety bird is Federer's good luck charm!
35.Italian is Federer's favourite cuisine, with pasta being his comfort food.
36. Federer has endorsed luxury watches for both Maurice Lacroix and Rolex, among a whole host of other endorsements for brands like Nike, Gillette, and Mercedes-Benz.
37. Federer is a huge fan of rock band AC/DC.
38. Federer enjoys a great friendship with fellow sporting greats Tiger Woods and Sachin Tendulkar.
39. Among Federer's favourite pastimes is hiking, especially in the Swiss Alps.