CWG: Monkey off back, Murali Sreeshankar eyes more glory
23-year-old long jumper wins his first major medal, a silver in Commonwealth Games on Thursday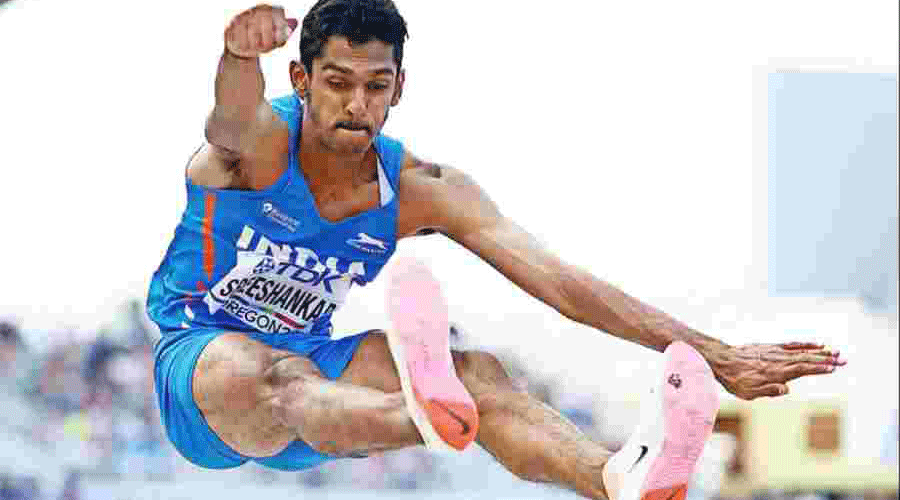 Murali Sreeshankar.
File photo
---
Calcutta
|
Published 06.08.22, 04:11 AM
|
---
Draped in the Tricolour, a beaming Murali Sreeshankar was soaking in all the cheers as he did a brief lap of honour at the Alexander Stadium in Birmingham.
A couple of young boys requested a selfie and the long jumper happily obliged. In between, compatriot  Muhammed Anees Yahiya came and hugged him. The monkey was finally off Sreeshankar's back.
The 23-year-old long jumper won his first major medal, a silver in the Commonwealth Games on Thursday, with a best jump of 8.08 metres to give India its second medal in track and field this year. High jumper Tejaswin Shankar won a bronze on Wednesday.
The medal also put to rest doubts that Sreeshankar is not cut out for bigger events and should do his confidence a world of good.
"Finally, I have won a medal in a big event. This will h e l p m e to do well in future meets," he said at a virtual interaction, organised by the Athletics Federation of India, on Friday.
Laquan Nairn of the Bahamas won the gold while Jovan van Vuuren (8.06m) of South Africa won bronze. Nairn also had a best jump of 8.08m, but his second best of 7.98m was better than Sreeshankar's 7.84m.Miltiadis Tentoglou of Greece had won the gold in Tokyo Olympics last year with an 8.41m jump and Jianan Wang of China came first in the World Athletics Championships last month with 8.36m. In Eugene, Sreeshankar (7.96m) had finished seventh. In that context, Sreeshankar's Thursday's performance should be like 'what's the big deal?.' It is. The way the 23-year-old national record holder (8.36m) came back on Thursday deserves all the praise.
"Yes, I have done much better this year but the focus was on a podium finish. I was lagging behind at one point in time but knew it takes just one jump to come back into contention," Sreeshankar, known as Sree in the circuit, said.
After the third jump in the mandatory six, he was lying sixth and then his fourth was foul by one centimetre under the new rule effective from November 2021.
"It was one centimetre," Sreeshankar would rue later.
He produced his best jump of 8.08m in the fifth. In the final jump, a 7.99 metres could have earned him the gold but it was again ruled no-jump, this time by two centimetres. Nairn jumped 7.98m in his final attempt which was his second best of the series.
The silver will surely banish the ghosts of Tokyo disappointment where he finished 24th in the heats after recovering from Covid-19.
A bitter spat between his father and coach S. Murali and AFI followed and Murali was sacked.
He was later reinstated after his son's good show in the Federation Cup in April. Sreeshankar had even contemplated quitting the sport.
On Thursday the proud father watched as his son was basking in glory. "My father always says you need one jump. That I kept i n   m i n d and I am happy to connect a successful jump to the right time," Sree said.
Sreeshankar's next tournament is the Monaco Diamond League on August 10.
"A good finish may see me in the final in Zurich (September 7-8)."
His main target is the Paris Olympics in two years' time. "This is a step towards the main goal."
After the Tokyo debacle, he made one promise. "I made a kind of shapath that I would not touch parotta till Paris. It's a lot harder than I thought. For Malayalis, parotta is not just food, it's a feeling."