Igor pointers helped Jarni
NUFC play their first match of ISL VI at Bengaluru FC on October 21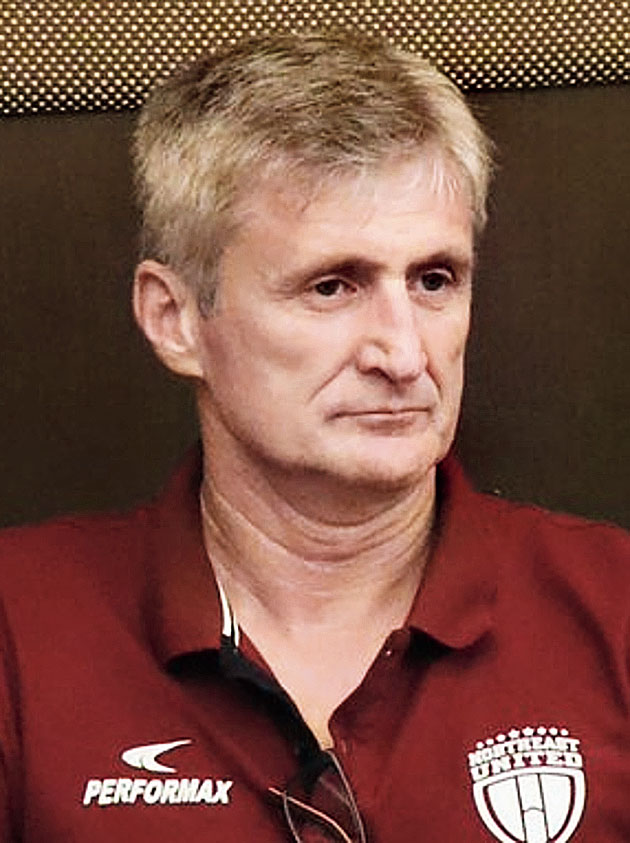 Robert Jarni
Telegraph file picture
---
Calcutta
|
Published 14.10.19, 10:37 PM
|
---
Northeast United FC (NUFC) head coach Robert Jarni took up the assignment after speaking to India national coach and his former Croatia teammate Igor Stimac.
'Yes, I did speak to Igor and he had only good things to say about India, the ISL, as well as the players. That made it easier for me to decide on the NUFC assignment. I am enjoying now as every feedback I had before coming here has become reality,' Jarni told The Telegraph on Monday. 'Igor and I discuss a lot about football. As a player, Igor was a leader on and off the field,' he added.
According to Jarni, to work with a national squad and help it grow as a unit need time. 'Time is a problem with the national team. A national coach hardly gets much time to work with the players. In that context, Stimac till now has done a wonderful job. Take the match against Qatar as a reference point. His boys showed great resilience to get that valuable away point,' he said.
Jarni revealed lack of time spent with the players of Croatia Under-19 and Under-20 squads was one of the reasons why he chose to work with a club. 'I had spent the last two seasons with Croatia U-19 and U-20 team. But with the national team, you don't get to spend more time; two to three days of training camp before a match… That's all. This is one of the reasons I chose to come here, to spend an entire season with a team. I believe I can implement my ideas in a better way if I get to stay with a team for a longer period.'
The NUFC pulled off a coup by roping in Ghanaian superstar Asamoah Gyan. 'I know him from the time he played in Udinese. He was a big star in the Serie A, played three World Cups and turned up for many clubs around the world. He brings in a lot of experience to the team and hopefully he will do great things for the club,' was Jarni's take.
NUFC play their first match of ISL VI at Bengaluru FC on October 21 and Jarni said the practice tie against the India national team last week proved that he has a strong side at his disposal. 'For the last 15-20 days we have the full squad and we are doing good. We are trying to have the strongest team for the first match. We played a tough match against the national team and we saw the team is strong.'
Jarni was an integral part of the Croatian national team which finished third in the 1998 World Cup. 'We were doing great during that period, especially 1996-98 going into the World Cup. We had a great squad and we always worked together as a team which eventually helped us. The team had some stars as well as some outstanding players and we gelled well and it ended up being a great tournament for Croatia.'
Jarni though refused to compare the then national team to the present one. 'In our time had a great side and this Croatian side too is star-studded and they had been excellent in the last World Cup. But football 20 years back was a bit different compared to today.
'Both sides have done great things for Croatia and I don't want to compare. If you ask me, I would rather they succeed in future and bring more glory to Croatian football.'