ICC Cricket World Cup 2019: 'Recharged' Karthik and welcome gesture
Dinesh Karthik is usually the always-smiling type of cricketer, but his body language appeared muted on Sunday evening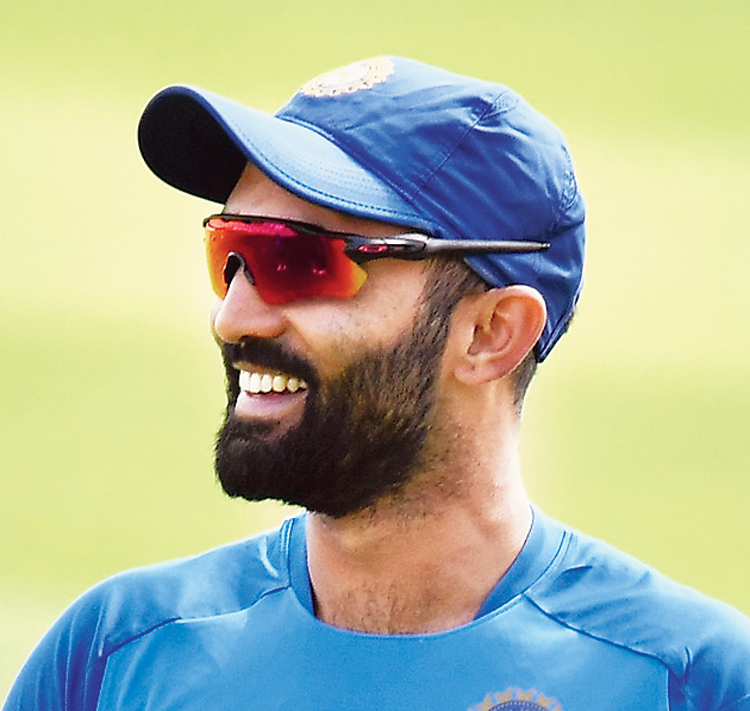 Dinesh Karthik
A file photo
---
Leeds
|
Published 03.07.19, 09:51 PM
|
---
The difference in body language which comes from actually playing in the India XI instead of merely wearing the reserves' vest can hardly go unnoticed.
To give one example, Dinesh Karthik is usually the always-smiling type of cricketer, but his body language appeared muted on Sunday evening, after he'd been overlooked for the match against England.
Karthik should have been the first choice, not replacement Rishabh Pant, when Vijay Shankar suffered an injury.
Cut to Wednesday afternoon... Karthik was back to his usual self, going to the extent of obliging a Kolkata Knight Riders (KKR) fan with a selfie when just about all teammates had boarded the coach at the Hyatt Regency in Birmingham.
The fan had come to this Reporter, requesting help for selfies with Mahendra Singh Dhoni and the KKR captain.
Dhoni had already boarded the coach, while Karthik had just stepped out of the hotel.
"I need to go back inside, but you will get that selfie. You just have to wait," Karthik told the KKR fan in The Telegraph's presence.
Sure enough, Karthik was out of the Hyatt Regency in a few minutes, but didn't go to the coach before personally doing the needful on the fan's phone.
Such gestures get talked about for long.
While Karthik had been in the squad for the 2007 World Cup, he returned without getting a match. So, 15 years after his first India appearance, he finally made his 'debut', against Bangladesh.
Meanwhile, Vijay's replacement Mayank Agarwal, uncapped in ODIs, has joined the India squad.
Mayank was expected to practise on Thursday morning, but the optional session has been called off.