Qatar 2022: VIPs are passe. Welcome the VVIPs
Every sports venue has its tiered system of luxury — the owner's box, the business lounges, the special-access elevators, the ridiculously expensive seats and so on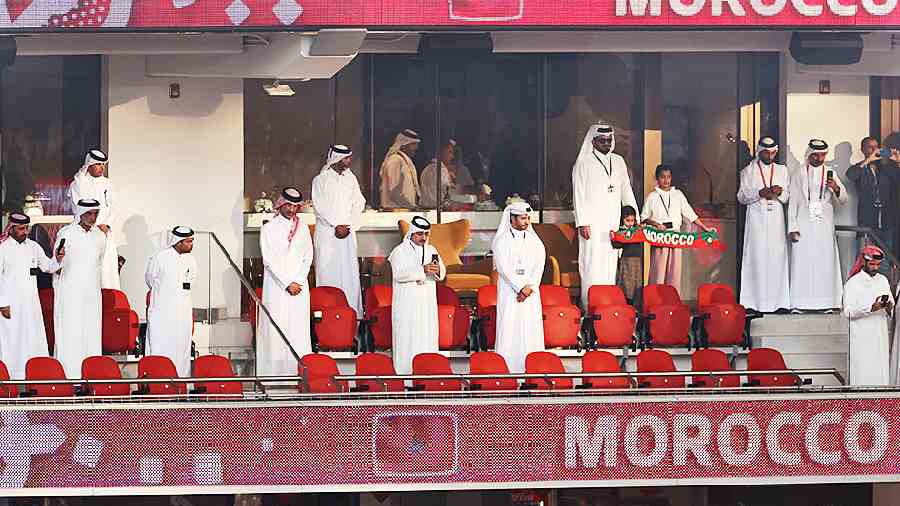 ---
Al Khor
|
Published 01.12.22, 05:47 AM
|
---
With its haughty aura of exclusivity, the red-carpeted, velvet-roped VIP entrance at Al Bayt Stadium seems designed to inspire maximal awe and envy. As regular fans were herded through their gates at the England-United States game on Friday, the VIP guests were welcomed by an exotic figure dressed as some sort of antelope, covered head to toe in shimmering golden squares. But this is the Qatar World Cup, where there is something even better than the VIP entrance: the VVIP entrance.
Not that it is available, or even fully visible, to you. Flanked by barriers and cut off from the normal road system, Al Bayt's VVIP entrance is a sweeping thoroughfare on which the most important fans, starting with Qatar's emir, who arrives by helicopter with his entourage and then hops into a Mercedes, are chauffeured directly into their special enclave in the stadium.
That way, they are never required to interact with, or even occupy the same general space as, regular fans.
Every sports venue has its tiered system of luxury — the owner's box, the business lounges, the special-access elevators, the ridiculously expensive seats, the even more ridiculously expensive seats.
But at this year's World Cup, the convergence of two entities awash in luxury and entitlement — Qatar, where all power and privilege flow from the emir, and Fifa, soccer's global governing body, with its vast wealth and patronage network — provides a bracing reminder that there is always a more rarefied degree of exclusive.
The main difference between the luxury and non-luxury seats at this year's World Cup is alcohol.
In a shock to fans (and to Budweiser, the official beer of the tournament since 1986), Qatar reversed itself and decreed just before the event began that the sale of alcoholic beer (indeed, alcohol of any kind) would be banned in and around the stadiums.
But that didn't affect the flow of free beer — or free champagne, Scotch, gin, whiskey, wine and other drinks — available to non-regular fans in the VIP, VVIP and hospitality areas.
The rules, it seemed, did not apply to them.
At a $3,000-a-seat hospitality lounge at Al Bayt during the US's game with England, for instance, the bar menu included Taittinger Champagne, Chivas Regal 12-year-old whisky, Martell VSOP brandy and Jose Cuervo 1800 tequila.
Also adding to the comfort: a dedicated check-in desk staffed by smiling hosts doling out special passes; tables bedecked with nuts, dates, popcorn and potato chips; a sumptuous buffet comprising dishes like slow-cooked lamb shoulder and marinated tuna steak and a selection of six desserts.
In all, there are five tiers of "hospitality" in the stadiums beginning with $950 stadium seats that serve streetstyle food, along with wine and beer.
At the highest end are private suites that cost about $5,000 per person and offer six-course meals prepared by a private chef, cocktails served by sommeliers and the promise of "guest appearances" by unnamed celebrities. The most exclusive suite is the Pearl Lounge, right above the halfway line at Lusail Stadium, which offers each guest an "exceptional commemorative gift."
There is also a suite at Al Bayt that boasts a retractable bed and a bathroom equipped with a shower.
The time to leave for the stadium drew close, and two women in navy blazers appeared, holding paddles directing guests to follow them— one for "Fifa VIPs," the other for "Fifa VVIPs."
A few minutes later, a well-dressed couple received their tickets. The woman peeked inside. "Only VIP," she murmured. In the driveway, the VVIPs were directed to a fleet of black SUVs that would ferry them to the match. The VIPs had to take a bus.
(With contribution from Tariq Panja)
New York Times New Service