For the love of football, celebration of fandom
A Saudi fan, of Egyptian descent, left his job in New York since his boss, a Jew, was not allowing him to travel to Doha for World Cup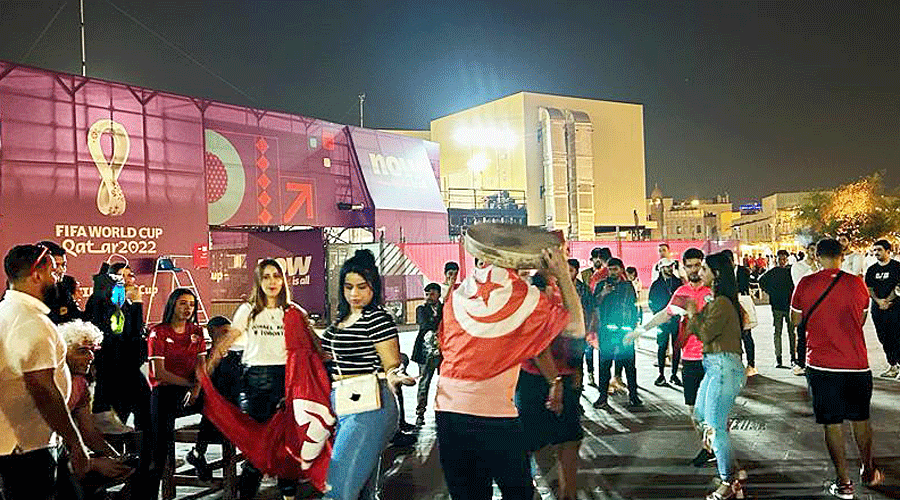 Tunisian fans dance at Souq Waqif in Doha.
Angshuman Roy
---
Doha
|
Published 30.11.22, 04:06 AM
|
---
Gorging on curry and parotta in one of the many Kerala food joints that you find here, two men were discussing football in Spanish in an animated way. One was wearing a Mexico jersey, with his sombrero occupying the chair next to him. The conversation was peppered with the names Messi, 'Tata' Martino and Ochoa.
"Worst team of the 32 playing here is Mexico," said one, clearly yet to digest the 0-2 loss to Argentina the other day. His name is Eder 'Pollo' Eduardo. The younger one, more of a listener, is Emmanuel Ornelas Lopez — an accountant who according to "Pollo' always bungles with figures. It was banter.
They are among the thousands of football fans who are in Qatar to watch the World Cup. The Mexicans have come in numbers, singing and dancing and being gracious in defeat.
The Barahat Al Janoub fan clusters at Al Wakra in the outskirts of Doha have mostly South Americans checking in 24x7, feasting on Malayali and Bangladeshi food and even playing football. It takes almost one-anda-half hours — a bus takes you to the metro station and from there to the city centre — but the distance and the weariness that come with daily commuting fail to dampen their spirit.
"It's a nice experience for us. Three matches and go home after a brief stay in Dubai," Pollo says. One Qatari rial is equal to 5.31 Mexican pesos so that doesn't burn a hole in the pocket too. "Yes, it works fine with us. But it's not just the currency conversion rate that brings us here. In Mexico, football is a way of life."
Mexico is one of the cohosts for the next World Cup along with the US and Canada and that was one of the reasons why many of them are in Qatar. "Next time Mexico will play hosts to the world. So we thought why not get the feel in Doha?" Gonzalez said.
If against Poland the Mexican fans had literally taken over Stadium 974, at the Lusail Stadium they matched Argentine fans chant by chant. "We are like this only. We are never silent for a moment, always with the national team."
Even the Argentine fans, who despite the promise of a false dawn since 1986, throng the stadiums backing their stars, agree to that. "We share a great rivalry with the Brazilians and Mexicans," Luis Martinien from Buenos Aires says.
It's not just South and North Americans who have taken Doha by storm.
Souq Waqif, the busiest marketplace in central Doha, keeps buzzing as World Cup enters the second week. A group of merry Tunisians weave through the thoroughfare. It started with 50 people and when they came back to the point from where they started, nearly 500 had joined them. It was 2.30am (local time).
Football can make you do astounding things. A Saudi fan, of Egyptian descent, left his job in New York since his boss, a Jew, was not allowing him to travel to Doha for the Cup. "Best World Cup ever. The Arab world has shown what we are capable of," he says while chatting with an Omani fan during Portugal's match against Uruguay at Lusail Stadium on Monday.
The Saudi fan may have acted on the spur of the moment, but for two IT entrepreneurs of Calcutta, Debmalya Dey and Jayanta Pal Chaudhuri, it has been meticulous planning. They are here till December 5 and have already watched five matches. They have tickets for five more games. 
"If it wasn't in Doha, then maybe we would not have enjoyed this once-in-a-lifetime experience," Dey, a Cristiano Ronaldo fan, says, digging into grilled fish at the Danat Al Bahar restaurant on the Al Wakrah beach. "The ambience is fantastic," Pal Chaudhuri adds.