39 in 2026, but Lionel Messi keeps door ajar for sixth World Cup
Have to see where my career goes, depends on many things: Argentina captain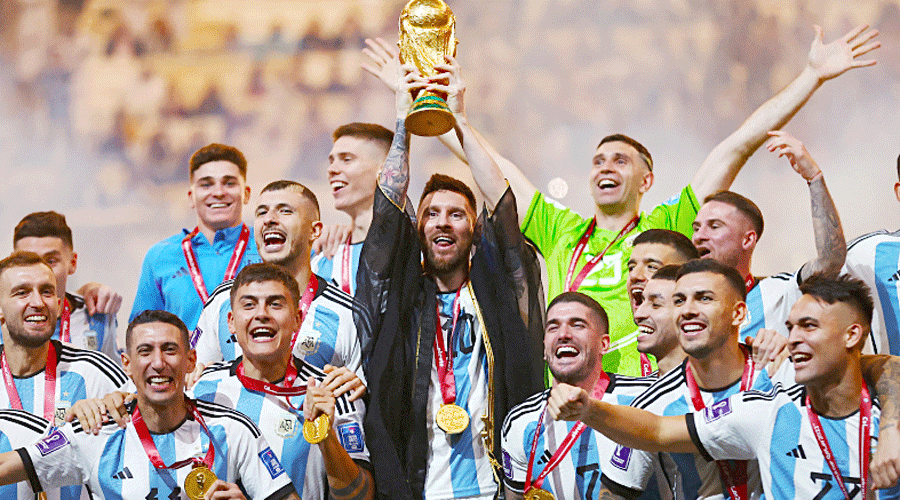 Argentina's Lionel Messi lifts the World Cup, alongside teammates, at the Lusail Stadium on December 18.
File picture
---
Buenos Aires
|
Published 04.02.23, 05:02 AM
|
---
After hoisting his first World Cup trophy with Argentina in December, Lionel Messi said that the tournament would be his last, but now it appears he's open to the possibility of playing in the 2026 event.
"Because of age it'll be difficult to make 2026," Messi, 35, told Diario Ole, a sports newspaper in Argentina. "I love playing football and while I feel like I'm in good shape and enjoying this, I'm going to keep at it. It seems like a long time until the next World Cup, but it depends on how my career is going."
The next edition will take place in Mexico, Canada and the US when Messi is 39.
In the near future, he suggested he wants to play in next year's Copa America in the US to help Argentina defend their title. "I will stay a little longer, I have to enjoy this," he said.
After scoring seven goals in the 2022 World Cup, Messi could become the World Cup's all-time leading scorer if he suits up in 2026. He has 13 goals, three behind record-holder Miroslav Klose of Germany.
The Argentina captain, however, is sure about one thing: he wants Lionel Scaloni to stay on as head coach until then, regardless.
Scaloni is negotiating an extension of his contract with the Argentinian football federation (AFA) and Messi thinks the coach should remain on the job.
"He is very important for the national team," Messi said. "To continue with this process would be spectacular."
Asked what it was like returning to his club Paris Saint-Germain after Argentina beat France on penalties to win the World Cup, Messi said he didn't have deep discussions about it with teammate Kylian Mbappe, the French striker.
"One doesn't want to speak and bring the topic of the final," Messi said, recalling his own experience after losing the 2014 World Cup final to Germany in Brazil. "I was also on the other side, I lost a World Cup final and I didn't want to talk about it."
"Truth is there is no problem with Kylian, quite on the contrary," Messi said.
Messi has often been linked with a return to Barcelona, his boyhood club. While it isn't yet certain if the Argentine will ever play for the Catalans again, he will surely live in Barcelona once he retires.
"When I finish my career, I will return to live in Barcelona, it's my home," Messi said.
When asked about the items he kept from the final, Messi said he took 'everything'. "I kept everything from the final: The boots, the T-shirts... Everything is there and now in March, I'm going to take everything to Barcelona, where I have my things and my memories."
Messi said winning the World Cup was a lifetime experience for him. "I saw the Cup so close, that I was drawn to be near it, kiss it. It was such an exciting feeling to say 'it's done'. To this day it remains such an exciting moment. Even when I see it now, I enjoy it more than I did at that moment. I see a lot of videos on social media now," he said.
Written with inputs from Reuters & AP/PTI