Football in times of trouble
Sandeep Chatoo, who started RKFC in 2014, thinks Real Kashmir have the potential to bring joy to the people of Kashmir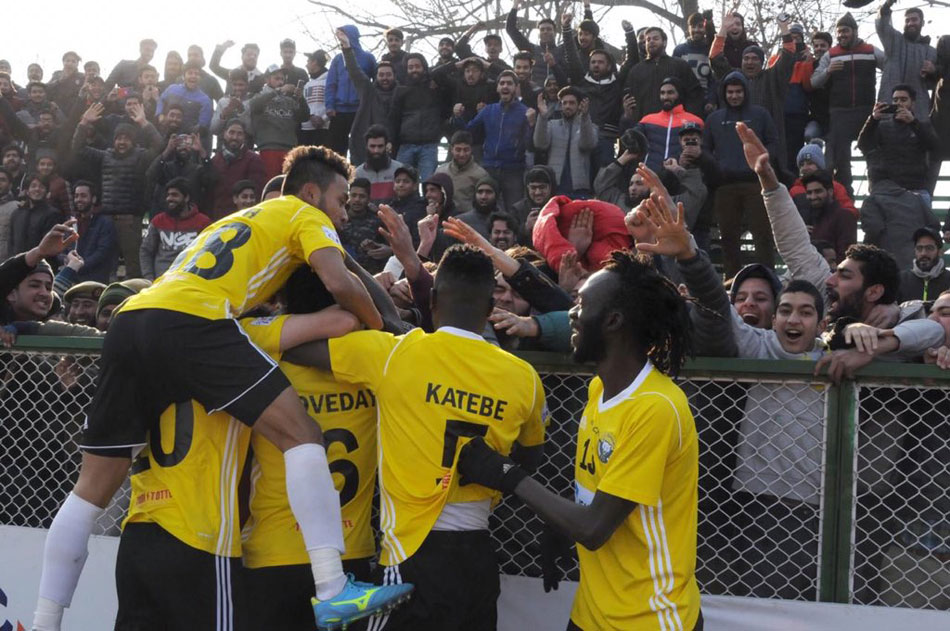 ---
Srinagar
|
Published 04.01.20, 10:59 PM
|
---
Mohammed Amin Khan is 65 and a former J&K Bank employee. On a sunny Saturday afternoon at the Tourist Recreation Ground he was waiting for his "big ticket".
"There is a big match on Sunday. Mohun Bagan will be playing Real Kashmir, so I am waiting for my ticket. I will be there at the ground tomorrow with my friends. It will be a good match. Real Kashmir are in great form," he told The Telegraph.
Khan sounded very buoyant. He sounded bitter about what is happening around him but he is trying to find solace in football, in Real Kashmir. "Everything is not okay here but Real Kashmir's home matches give me a reason to forget the woes," he said.
Khan is a keen football follower and has watched Mohun Bagan versus East Bengal Derby in 1999. "I had gone for the inter-bank football tournament with the Jammu and Kashmir Bank team. I was in the bank's sports board. What a crowd at the Salt Lake Stadium. I remember East Bengal winning the match and the crowd was chanting "Musah Musah". Wasn't there a player of that name?" He was told yes, there was one Suley Musah who played for East Bengal and he smiled.
"You know even here at the TRC ground we had a huge crowd last season. Then clubs said they will not come here for security reasons and we were deprived of even watching our favourite team. Now I hope Real Kashmir will be allowed to play their home matches at home and not at a neutral venue. Please highlight this. Fans want Real Kashmir to stay," he said.
Last season Real Kashmir, who were playing their first season in I-League, were very much in title contention when the Pulwama attack happened on February 14. Clubs voiced their concerns about playing in Srinagar and the I-League debutants were forced to 'host' East Bengal in New Delhi. They lost that match and eventually finished third behind champions Chennai City FC and East Bengal.
If football fanatic Khan is looking for ray of light in Real Kashmir, then there is this doctor couple who sounded completely oblivious of Sunday's match. "What match? We do not know. Here we are left with nothing but melancholy and you are telling us about a football match. Sorry, we do not know. What is happening here, outsiders cannot imagine," the person said.
The book stall owner at Sonawar also sounded least bothered. "Business is gone. We used to look down upon government jobs, but now if I get a job I would be more than happy. Football can wait."
But then players like Danish Farooq, who is a very important player in Real Kashmir's scheme of things, do get mobbed at different places. "Yes I am a known and famous face here. People here want me to score in every match," he informed rather shyly.
Sandeep Chatoo, who started the club along with Shamim Mehraj after the devastating floods in 2014, thinks Real Kashmir have the potential to bring joy to the people of Kashmir.
"Things are looking up. Internet is back at the stadium so that matches can be shown live. Also football and Real Kashmir give the people immense joy. Yes in the initial days post August 5, it was really tough since there was no communication. But now things are changing and it's for the better."
Chatto then narrates a story. 
"During Id last year, when we were in Kalyani playing the Durand Cup, the Kashmiri players were asked if they want something. And they said they would like to speak to their parents. After much difficulty managed to find one connection. So what happened was someone from my office would go to a particular player's home and the player would then call up that number. From one house the guy would go to another player's house and it continued. It was a risky thing. Because those were very early days of the clampdown and there was a lot of anger among the people. Carrying a phone could have landed my office person in trouble."