Desperate times but Chhetri's ready
'It's bound to get to everyone – junior or not. But yes, it is important that we work on and take care of our mental health in a big way'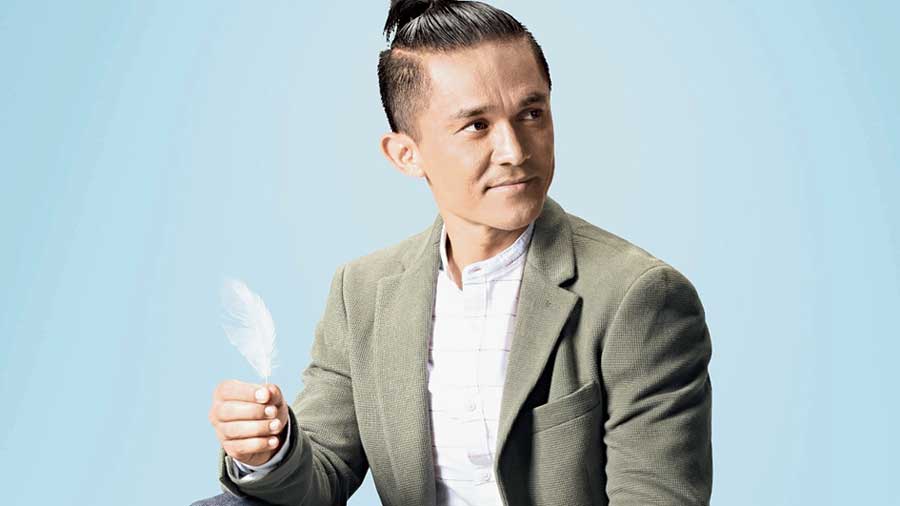 ---
|
Calcutta
|
Published 15.10.20, 01:09 AM
---
The experienced India and Bengaluru FC captain Sunil Chhetri has been there and done a lot. So when he says that living in a bio-bubble can affect the mental make-up of not just the junior players but the seasoned pros too, you know what lies ahead when ISL VII kicks off.
This ISL will see the players staying a bio-bubble for the entire duration in Goa where the league will be played at three venues — Nehru Stadium, Fatorda, Tilak Maidan and GMC Athletic Stadium in Bambolim.
"It's bound to get to everyone – junior or not. But yes, it is important that we work on and take care of our mental health in a big way. We will have to rally around each other. This is a season and a situation like none before. It will need adapting on the pitch and outside of it too. Staying cooped up in a hotel will be tough, playing in empty stadiums will be tough, staying away from families for that long a period will be tough. It's going to be a challenge, physically, but also mentally," Chhetri told The Telegraph in an interview.
East Bengal's newly appointed coach Robbie Fowler also had said, in his first media conference last week, football in a bio-bubble would be challenging.
Chhetri and his teammates are presently at the Inspire Institute of Sport in Karnataka, preparing for the league.
He thinks Bengaluru FC, being a tightly-knit family, will be able to overcome the challenge and adds that seniors will have to back the inexperienced ones in this time of crisis.
"What helps is that Bengaluru FC have always been a very tightly-knit family. The players, the staff — we're all close. The responsibility will be on all of us seniors to help the younger lot cope through this situation and season," India national football team's all-time highest scorer, 72 goals in 115 matches, said.
Apart from the pros and cons of being in a bio-secure environment, the talking point of ISL VII is obviously the induction of arch-rivals East Bengal and Mohun Bagan. Their entry means fan-pressure and of course is a huge boost to the league. Chhetri has played on both sides, with Mohun Bagan as a precocious young talent and East Bengal when he was already grabbing headlines. During Bengaluru FC's I-League days, he was also up against India's most two famous football clubs and relished the battles he had had with them.
"It's fantastic that they are now a part of the ISL. Their presence will make the league so much more interesting and all of us at Bengaluru FC are relishing the prospect of renewing what was always fierce competition with both these clubs," he said.
Sadly though there wouldn't be fans at the stands to enjoy Bengaluru FC and Chhetri battling it out against their rivals. "Fans are the soul of sport and football just isn't the same without them. So often we, at Bengaluru FC, have fed off the energy from the stands to score late in a game and snatch all points, or draw from a losing position," he said.
East Bengal and Mohun Bagan's entry to the country's No. 1 league also raises fear that the I-League will lose its sheen. "It boils down to creating a solid system through and through, like it happens with the big leagues in Europe, where everyone has an incentive and a chance to play in the top tier," he said.
The face of Indian football, who has the experience of more than 18 years behind him, turned 36 in August but is showing no signs of slowing down. "I am enjoying my football too much to think about when I should stop," Chhetri said.
He has recently started endorsing Celio and "is delighted to be associated with the French men's wear brand".
"I am delighted to be associated with the brand. Celio has been part of my wardrobe for as long as I can remember. Sadly, given the situation we are in, my go-to outfit is going to be uniforms and more uniforms! But if I were in Bangalore, I'd have pulled out my sweaters and classic denims on more than one occasion."