Dawn of 'new' Rohit
I am in such a great space in my life because of the family that I have: Rohit Sharma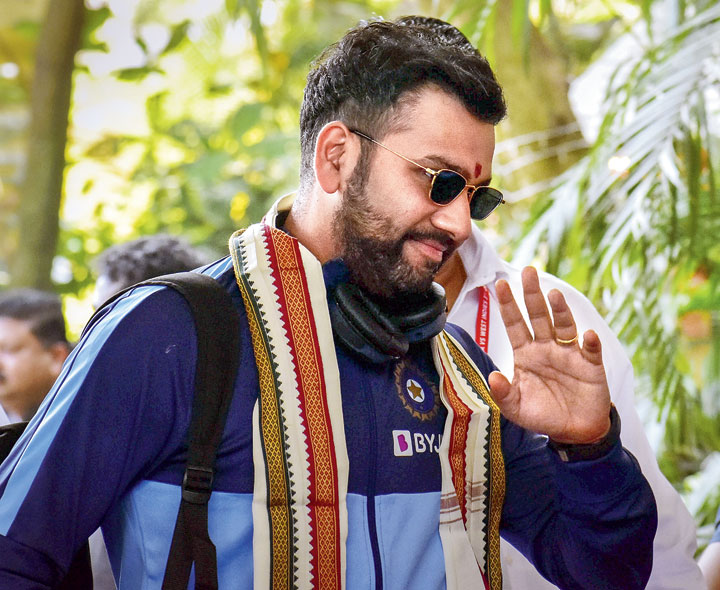 ---
|
Calcutta
|
Published 06.01.20, 10:45 PM
---
A happy family is Rohit Sharma's secret of success.
The India opener had an excellent 2019, scoring a record 2,442 runs across three formats.
"I am a different Rohit in terms of how I think. I am in such a great space in my life because of the family that I have — my wife (Ritika) and daughter (Samaira). I am not worried about what others are talking," Rohit said.
The 'new' Rohit shoulders arms to criticism. "They (wife and daughter) fill me with love and happiness and I try to stay within that rather than thinking about X, Y or Z making comments about me," Rohit said.
"I have actually passed that age to react to someone talking good or bad things about me. Frankly speaking, it doesn't matter anymore."
The gone-by year also saw Rohit complement his white-ball success with an impressive outing in Test cricket. That included a double century as an opener in the series against South Africa. But Rohit doesn't think much about Tests either.
"Honestly speaking, I stopped thinking about Test matches long time back. Earlier, I was thinking too much about finding success in Tests. I would go overboard, 'why is this happening, why am I playing that shot?' After each Test innings, I would go to our video analyst, sit, watch and then confuse my brain further. That wasn't actually the right thing that I was doing," recalled one of India's greatest white-ball players.
"Thinking too much about technique was not allowing me to enjoy the game. All that was there in my mind was, 'Oh I need to do well in Test cricket'. So, before the 2018-19 Australia series, I told myself, 'Boss, whatever has to happen will happen and I am not going to think about technique'.
"At the end of the day, I want to go out there, share a laugh with my mates and enjoy," the Mumbaikar said.
He also refused to admit that opening the innings in Tests was his last and desperate try to succeed in the longest format.
"If you talk about opening in the South Africa series, from people's perspective, it was my last chance… But I am a sportsman and I can't think like that. If I thought it was my last chance then I wouldn't have scored runs with that mindset.
"You can't allow negative thoughts to creep in when you are playing such a high profile sport," he said.
But at the same time, he is realistic enough to admit that he had to grab the opportunity that came his way.
"I know that I am no longer 22 or 23 years old that I will keep getting opportunities in Test matches and can take my place for granted. I know that every time I go out there, I have to put a high price tag on my wicket. I am blessed to get an opportunity that many are waiting for," he said.