Well-wishers, I think, relate to my life & to my cricket: Dhoni
If it's the barrier-smashing icon from Ranchi, expect a frenzy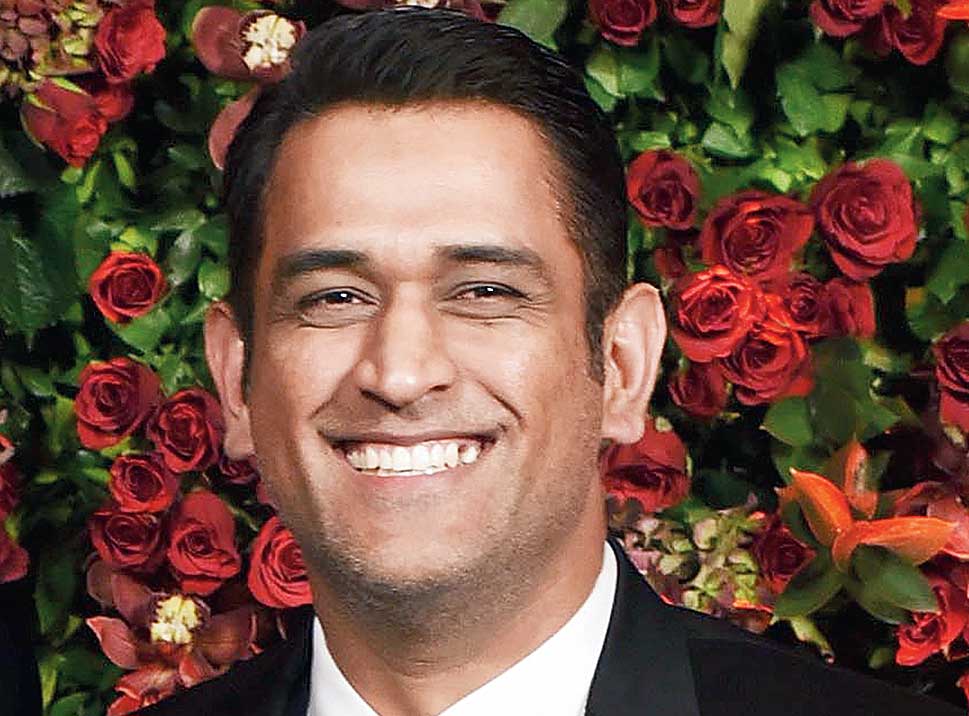 ---
|
Calcutta
|
Published 29.12.18, 09:05 PM
---
Maybe, it has everything to do with Mahendra Singh Dhoni having smashed barriers, but his cult-like following has to be seen to be believed.
Having watched Dhoni at close quarters from the time he'd just played a few ODIs, back in early 2005, one has been a witness to the frenzy he generates.
Except the quality of his cricket, however, everything about Dhoni is distinctly understated. Few emotions on the field, no theatrics off it either.
Most important, Dhoni is respectful. Towards the game, the cap he wears and towards the millions who probably see a small part of themselves in him.
Dhoni's statistics are rich, but somebody as inspirational as he has been cannot be judged on figures alone.
Till Dhoni came along, Ranchi was often largely identified with what is now the Institute of Neuro-Psychiatry & Allied Sciences. Renaming Jharkhand's capital after Dhoni wouldn't be an unpopular decision — unless some political outfit pushes its own agenda.
Dhoni, after all, has changed the city's identity.
In fact, on England's 2005-2006 tour of India when Sir-designate Alastair Cook scored a hundred on Test debut, the first question most visiting journalists asked was "where is Ranchi?"
By the latter half of 2007, when Dhoni captained India to victory in the inaugural World T20, it had ceased to be a question.
That Bangladesh knocked out India in the first round of the 50-over World Cup earlier that very year, perhaps led to a much bigger appreciation of our T20 success.
If the 1983 World Cup win, under Kapil Dev, took cricket in India to another level, Dhoni (and Yuvraj Singh) brought about Revolution No.II which continues to produce fearless cricketers.
In 2011, of course, Dhoni achieved God-like status after matching Kapil's 1983 achievement.
There was, however, a difference: Kapil's Devils had been rank outsiders, while Dhoni's men began the 2011 World Cup as one of the hot favourites.
On Friday, at the release of a coffee-table book on mentor Narayanswami Srinivasan and India Cements Ltd, in Chennai, one again saw the near-madness Dhoni generates.
Arguably the most popular there after the iconic stars of Tamil cinema, 'Thalaivar' Dhoni was mobbed even at what was a private (by-invitation-only) function.
From the catering staff to security personnel, from his Chennai Super Kings teammates to Kalyani Candade, the author of the coffee-table book, all desired a few moments with Dhoni.
After the release and a panel discussion, Dhoni went to the VIP Lounge at the Kalaivanar Arangam. Such was the rush for his attention that Dhoni needed around 15 minutes before he could reach wife Sakshi and daughter Ziva, who had to keep moving towards one corner owing to the frenzy.
That too in the VIP Lounge.
Invitees kept requesting Dhoni to autograph the coffee-table book. For a while, he obliged with a personal message. But, as more and more requests kept coming, he pleaded: "Please, now just my autograph... You write your name."
Briefly, The Telegraph managed to informally speak to Dhoni. Given the near-madness, one had to ask what powered his popularity to such incredible heights.
Responding in his customary whisper-like tone, Dhoni said: "My well-wishers, I think, relate to my life and to my cricket. That may be the reason."
It had to be a humbling experience, surely. Dhoni nodded, while being advised to leave the venue (with family) through probably the fire exit.
In keeping with his understated demeanour, that nod from Dhoni conveyed what could have required a thousand words.
Many, by the way, believe that Dhoni's biopic, M.S. Dhoni: The Untold Story, has added to his legendary following.
Meanwhile, Dhoni and the other ODI specialists leave for Australia on January 7. The three-match series begins in Sydney on January 12.
It's odd that the Dhonis haven't been booked on flights at least two days earlier. But, then, the professionals in the Board entrusted with the job perhaps know better.