Trust Imran to place the right man in the right place: Akram
Pakistan boys are under pressure and are cracking, says former captain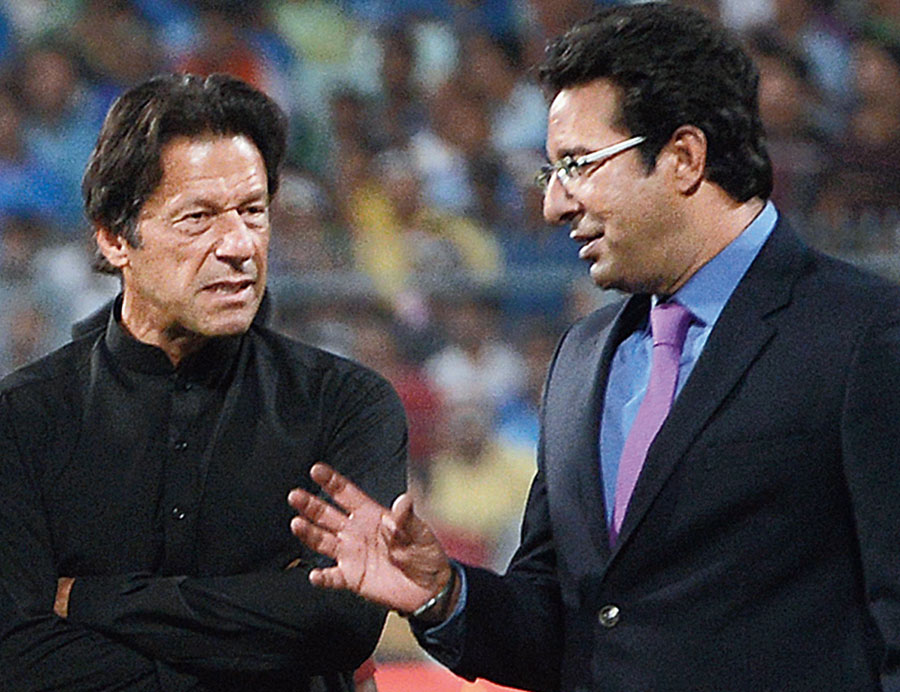 Imran Khan with Wasim Akram
File picture
---
Dubai
|
Published 24.09.18, 10:16 PM
|
---
Wasim Akram, a former captain of Pakistan and among the greatest of fast bowlers, spoke to The Telegraph at the V Hotel on Monday evening.
Our interaction took place on the sidelines of the 2018 Players' Draft of the ICC-approved T10 League. Akram, 52, is the mentor/head coach of the Maratha Arabians.
As Akram was a member of Pakistan's 1992 World Cup-winning XI under Imran Khan, the questions almost exclusively dealt with Pakistan's new Prime Minister.
Excerpts...
The captain who nurtured you is now the Prime Minister. What were your emotions when trends started to come in?
Look, Imran knew his time would come, I knew, Pakistan knew... It took 22 years, but change takes time. Imran sacrificed a lot. The Imran you and I have known for decades has stayed that way... Once Imran's mind is set on something, he will achieve it... Most pleasing is the big margin of Imran's win... His Pakistan Tehreek-e-Insaaf (PTI) finished way ahead of the two seasoned parties. Kaptan badi margin se jeeta hai... Imran's party had been in power in Khyber Pakhtunkhwa Province and created history by being re-elected.
Not just that, the PTI has come to power in Punjab as well...
Exactly. Punjab had been a bastion of the Sharifs.
Why did Pakistan vote so overwhelmingly in favour of Imran?
I suppose all of us had become tired of being governed the same way for years, tired of hearing the same things. Pakistan wanted a change and Imran worked hard towards offering an alternative.
You too attended Imran's swearing-in...
Yes... I'd been in England and came back to Pakistan a day before the elections. Nowadays, I stay in Karachi, but I went to Lahore as I'm a registered voter there. On the day of polling, July 25, my mother and I voted for the PTI... Next day I went to Islamabad and congratulated Imran... The PTI's A team was there and I was struck by the calmness of Imran and his key men. There was no shouting and jumping, no forcing of laddoos into somebody's mouth.
So, what was Imran doing?
Imran was looking ahead, talking to his most trusted aides, drawing up the draft of his maiden speech to the nation... Imran knew the enormity of the challenges ahead.
You've mentioned challenges... Will even five years be enough for Imran?
Five? People in Pakistan are so impatient, some are already complaining. When somebody has, in my presence, I've said 'Bhai, ek mahina hi hua hai... Don't be so impatient... Imran is not a magician, surely'.
What is Imran's dream?
One definitely is to make the institutions strong. Imran's view is that many issues will be taken care of once the institutions are strengthened. Trust Imran to place the right man in the right place and to then back that person 100 per cent.
How will Imran be able to overcome the sifarish culture which prevails?
Let me tell you that if anybody comes with somebody's sifarish, he'll be wasting his time. Imran had that stand when he was the captain and that hasn't changed.
What sets Imran apart as a leader?
Self-belief, tireless work... Imran doesn't have to shy away from telling his present team whatever needs to be done. That's because he can do those things himself... We are a poor nation, so Imran doesn't lead a lavish lifestyle. He wouldn't like his citizens to lead a lavish lifestyle either.
How about joining politics?
No... No... I'm happy with where I am in life, happy being associated with a sport I know best... I'm there to support Imran in whatever way, but not game for entering politics. Woh nahin.
Your innings with the Kolkata Knight Riders ended abruptly... All because of an anti-Pakistan sentiment?
Sadly, yes.
Final one... What has gone wrong with Pakistan in this Asia Cup?
Firstly, we cannot live in the past... People keep saying Pakistan won the Champions Trophy last year, but Bhai, that was 15 months ago... Also, we cannot judge ourselves on the basis of how we've performed against Zimbabwe and the West Indies... These boys are under pressure and are cracking... Two defeats in as many matches against India means there's more pressure on the Sarfraz Ahmeds... Such performances will be repeated until we stop the whimsical manner in which the Pakistan Cricket Board runs domestic cricket. Imran has been calling for a restructuring for years. Now, he has his man (Ehsan Mani) as the Board chairman. I don't subscribe to talk that only a former player should head the Board. Has to be a good administrator, must have a vision.