Rachin Ravindra, a reminder of games names play
The 21-year-old is said to have been named after two icons of the sport, Rahul Dravid and Sachin Tendulkar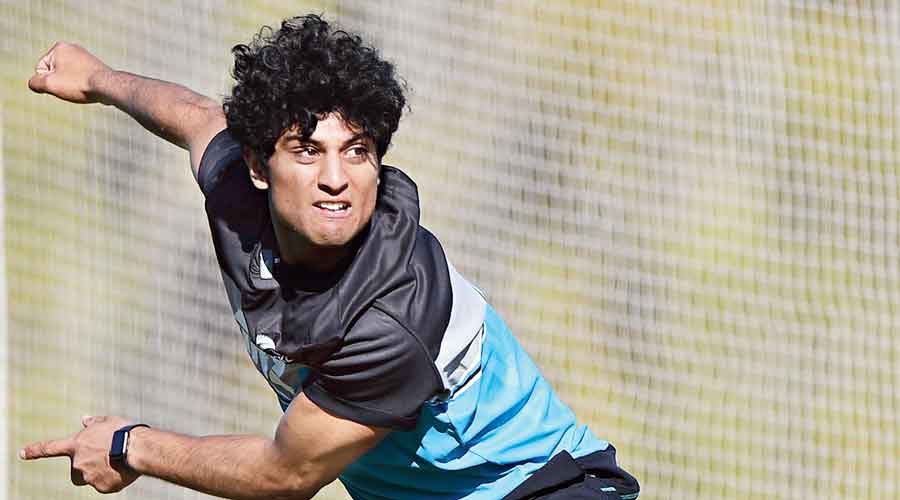 Rachin Ravindra.
Getty Images.
---
Published 26.11.21, 02:02 AM
|
---
Rachin Ravindra would prefer to be his own man. Given that the 21-year-old cricketer, who made his Test debut for New Zealand at Kanpur on Thursday, is said to have been named after two icons of the sport, Rahul Dravid and Sachin Tendulkar, by the lad's cricket-loving father.
But Rachin, a left-handed batsman and slow left-arm bowler, appears to be aware of the expectations that such a name can carry.  Asked if his name was indeed a portmanteau of Rahul and Sachin, the Wellington-born cricketer said: "There may be some truth behind it — but we don't really talk about it too much these days.
"I'm my own man, and I would like to take inspiration from those two, but we don't really talk about it too much these days."
Just as well. Cricketers named after legends often have to carry the weight of the legacy of those their parents idolised.
Take the case of Rohan Gavaskar. The former Bengal captain not only carried the burden of being the son of a legend named Sunil Gavaskar, his father decided to call him Rohan after the West Indies batting great Rohan Kanhai. And in his 1976 book Sunny Days, Gavaskar wrote that he had even come up with a middle name for his son, Jaivishwa, a portmanteau of two cricketers he admired, the dashing ML Jaisimha and the artistic GR Viswanath. In official records though, Rohan's middle name is Sunil. For any son in the same profession, a tough ask to emulate.
Ask John Bradman, the son of The Don. John had a distaste for the public gaze, much like his legendary father, who, in spite of being arguably the greatest batsman to have played the game, denounced the hero-worshipping that came with his fame.
John, who taught law at the University of Adelaide, was deeply affected by the constant media attention on him. "When people would come up to him as a child quite often the first question would be, 'and are you going to be a sportsman like your dad when you grow up?''," John's daughter Greta Bradman had said in an interview with ABC.
John, who, unlike Rohan Gavaskar, didn't take up cricket as a profession, decided the best way to cope with it was to change his surname.
In 1972, John Bradman, then 33, became John Bradsen, a pun on 'son of Bradman' with a nod to Norway, where he had spent some time as a young man. "John felt he was not his own person, that people saw him as Don Bradman's son, and it was crushing him," John's former wife and Greta's mother Judith Bradsen said.
According to her, the change worked. "People did not know. I did not ever, ever get a Bradman question all through the time I was teaching as Bradsen," she said.
At the time of changing his surname, John had written a signed article explaining his position. "I'm tired of people 'discovering' who I am. I'm me. And, I am no longer prepared to accept being seriously introduced as simply someone's son. I am an individual and not a social souvenir. I was popped into a metaphorical glass cage, to be peered at and discussed, like the other exhibits..."
Sachin Tendulkar and Rahul Dravid are legends. Like he said, Rachin Ravindra would do well to be his own man.