Pressure doesn't intimidate, I take it as a challenge: Shaw
U-19 World Cup-winning captain & centurion on Test debut speaks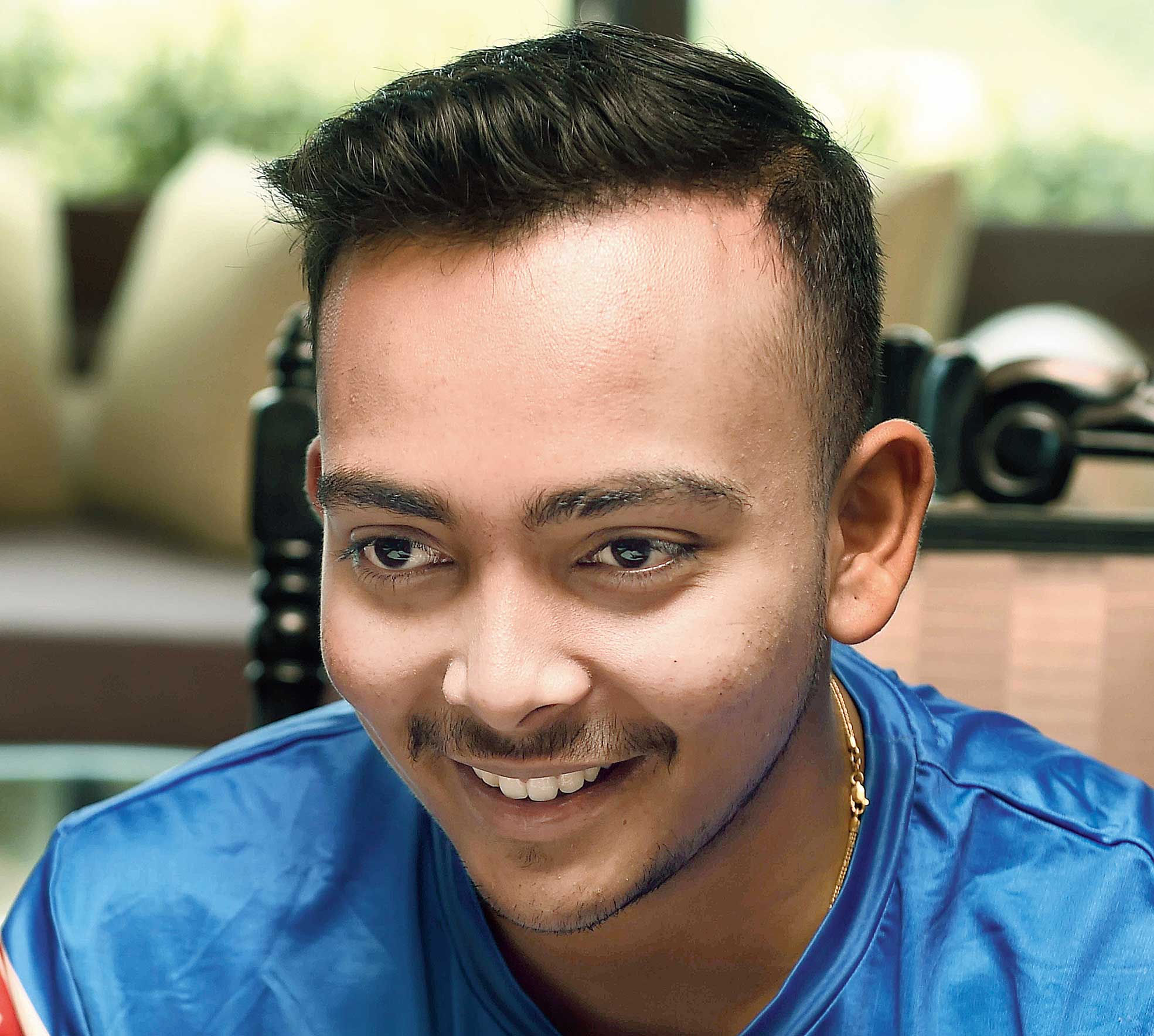 Prithvi Pankaj Shaw in the city on Thursday.
Picture by Santosh Ghosh
---
Calcutta
|
Published 11.04.19, 09:07 PM
|
---
Teenaged Prithvi Pankaj Shaw, an U-19 World Cup-winning captain and a centurion on Test debut (not to mention his mammoth 546 in an inter-school match), spoke to The Telegraph at some length on Thursday afternoon.
Prithvi, who turns 20 on November 9, is in the city as a key member of the Delhi Capitals' IPL franchise. The visiting team will face the Kolkata Knight Riders on Friday.
The interview with Prithvi took place at Taj Bengal.
Excerpts...
Q Your talent was talked about long before your India debut, in the Rajkot Test against the West Indies last October... When did you realise you were destined for big things?
A I began playing at the age of six but, at that point, I had little idea of cricket, forget the talent part. It's around the age of 10-11, when more people around me began talking of my skills, that I felt maybe I could go on to do something. My early exposure came through my school, Rizvi Springfield HS... I'd train at the MIG Cricket Club in Bandra.
Q To focus wholly on cricket, did you have to make sacrifices?
A (Emotionally) Not me, but my father, Pankaj, certainly. We stayed in Virar and it would take around two-and-a-half hours to get to Bandra. I was too small to be travelling such distances all alone by train, so my father had to stop dealing in garments to be with me on the long journeys and during nets. But for my father, I wouldn't have been able to focus in the manner I was able to.
Q It's no surprise that Sachin Tendulkar has had a huge influence on you. Do you recall anything he said which has actually played a role in the way you have shaped up?
A There was a time when a lot of people, including coaches, were keen that I change my bottom-handed grip. I wasn't comfortable with what was suggested and approached Sachin Sir at the MIG Club, where he too would practise. Sachin Sir simply said I didn't have to listen to anybody and there was no need to make the change. In other words, I should stick to what I was comfortable with. Soon afterwards, Sachin Sir gave an interview where he emphasised I shouldn't change my grip.
Q How old were you when you met Sachin for the first time?
A Eight.
Q You weren't capped during the last two Tests in England, but just being with the Virat Kohlis must have been an education...
A I was nervous when I entered the seniors' dressing room for the first time, in Southampton. The dressing room had legends, from Virat Bhai to the head coach (Ravi Shastri). I'd been watching some of the players for years and, as a result, I was tongue-tied for the first two days. Main kya bolta? Unke beech toh main goonga ban gaya! I'd only talk to Rishabh Pant, largely because of our Delhi Capitals connection.
Q Then, how did you begin to feel comfortable?
A Virat Bhai and Ravi Sir came to me and said there was no seniors/ juniors business and I was free to talk. Others also made feel at ease. It was only then that I gathered the confidence to interact somewhat freely.
Q Did you contribute to the team meetings?
A No. When Virat Bhai and Ravi Sir were talking, I didn't have to interrupt. My job was to listen. Only that.
Q To talk of your India debut... Did you have a restless night on the eve of the Test?
A That I'd be playing the next day was definitely at the back of my mind, but I slept well. I had a strong feeling that we would bat first, so I mentally prepared myself for that eventuality. I thought of small-small things and then told myself kal dekha jayega. I was quickly off to sleep.
Q Did your routine change on the morning of October 4?
A It was just the same. Had a good breakfast and switched on completely once in the team bus, thinking about the way the Shannon Gabriels would bowl.
Q Not nervous?
A I was a bit, but the nervousness went away once I'd scored my first runs (a three off Gabriel). As it turned out, I was destined to score 134.
Q After such a memorable debut, there had been great expectations from you in Australia. However, you had to come back very early owing to the left ankle injury in the warm-up match before the four-Test series. Did that leave you depressed?
A For sometime... It wasn't a great period for me as I'd been preparing to do well against one of the best attacks in the world... Against Mitch Starc and Pat Cummins... I wanted to be part of the team which was tipped to win the series... Virat Bhai and the rest did create history.
Q Many initially felt you should be 'preserved' for Test cricket and kept away from the T20 format. Your thoughts?
A The Test cap is more important than anything else, but the T20 format is also important in one's development. I wouldn't like to play only Test cricket, but ODIs and T20Is as well.
Q This is your second season with the Delhi Capitals. Have you had to adjust your game significantly to cater to the demands of the T20 format in general and the IPL in particular?
A Situations are different from Test cricket, but I haven't changed my game at all. Technique-wise it is the same.
Q Two legends are part of Delhi Capitals' support staff, Ricky Ponting and Sourav Ganguly. What have you learnt from them?
A Once you graduate from the U-19 stage, the talk from coaches and mentors is more on the mental aspect of cricket. So, with Ricky Sir and Sourav Sir, most of the talk has been on strategy. Both have such a wealth of experience of different conditions and of handling different situations. I seek to draw on their rich experience.
Q Delhi Capitals, earlier Delhi DareDevils, have never won the IPL. Does that put you and the others under more pressure? The pressure to consistently perform?
A Look, some of the other franchises too haven't taken home the IPL trophy. I won't go into the past, but we have a really good squad this time. The change in name and colour has definitely added to our motivation.
Q What has been the India A and U-19 head coach Rahul Dravid's role?
A Massive. I've worked with Rahul Sir for three years and will again do so if I play India A. Like Ricky Sir and Sourav Sir, Rahul Sir is enormously experienced. I remember the emphasis he put on mental toughness during the last U-19 World Cup and that played a big part in our success.
Q Success under your captaincy...
A I had such a good team and Rahul Sir as the head coach and mentor... In 2008, when I was just eight years old, I'd watched Virat Bhai win the U-19 World Cup. A decade later, I emulated him. In fact, till that 2008 edition, I wasn't even aware that there was a World Cup for the bachchas! World Cups for me meant the World Cup.
Q If you have an issue, do you call Rahul?
A I text Rahul Sir.
Q I've asked you about the pressure in the IPL. How do you handle pressure in general?
A If you look at any Mumbai guy, he starts to handle pressure at a very young age. Starts at the school level, then the pressure from parents, from the coaches... It's all pressure. Pressure doesn't intimidate me, I take it as a challenge.
Q How do you prepare, be it for India or Mumbai or the Delhi Capitals?
A The basics never change and what I did in school continues. If you keep changing your thoughts, everything would get mixed up. I'm confident that what has worked for me from the time I was 10-11 will work in the future too.
Q Irrespective of the grade of cricket, how does one score 546?
A (Laughs) By batting and batting. I took guard straight after lunch on Day I of the Harris Shield match between Rizvi Springfield and St Francis D'Assisi High School and got out in the final session on Day II. It was only after reaching 400 that I became aware of what I'd been doing. By then, a massive crowd had gathered at the Azad Maidan and they wanted me to surpass Brian Lara's 501 not out. I was dead tired, running so many threes, but went on to score 546. It wasn't easy, mind you.
[Prithvi's 546 was then the world's third-highest score in any form of organised cricket. Now, it's at No. 4.]
Q That epic was back in November 2013 and you were 14...
A As I've said, the Mumbai guys learn to handle pressure from a young age.
Q The other day, Lara praised you, saying there were shades of the great Virender Sehwag in you. Delighted, I assume...
A First of all, I'm grateful that a legend like Lara has talked about me. Comparing me with Viru Sir is a huge compliment... Would motivate me even more.
Q High point for you... Captaining India to victory in the U-19 World Cup or becoming the 15th Indian to register a hundred on Test debut?
A Clearly winning the U-19 World Cup.
Q Superstitious in any manner?
A No... Tried being once, wearing the same T-shirt which I'd worn during my 546... In the next match, however, I didn't go beyond 200 or so. That ended my being superstitious.
Q Likes/dislikes?
A I hate ice baths... Love to play table tennis and spend time on PlayStation.
Q Last one... How would you describe yourself?
A Very focused on the field, naughty off it. Naughty not in a destructive way, but I kind of like irritating people... James Hopes, for one, gets most irritated. Call me a prankster of sorts, if you wish!