Border-Gavaskar Trophy: Horses-for-courses plan
Rohit made it clear that team management is looking for someone to fill gap made by Rishabh Pant's absence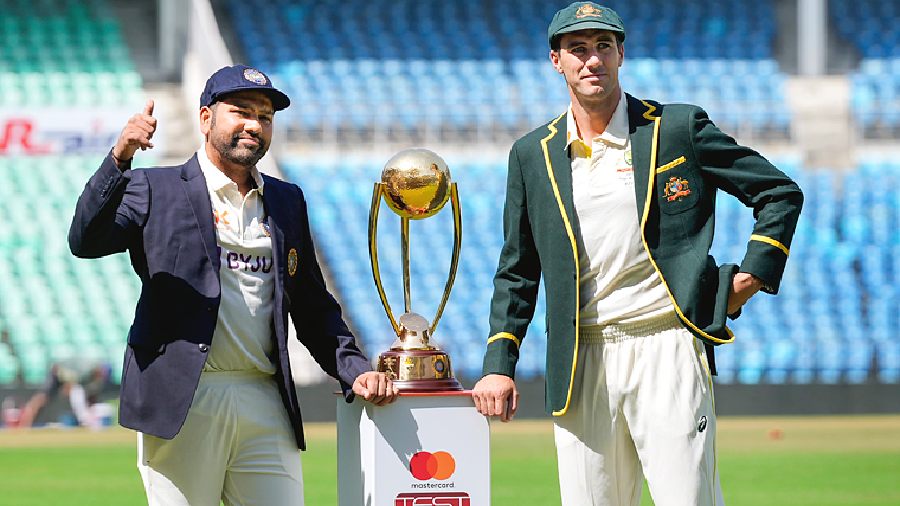 Captains Rohit Sharma and (right) Pat Cummins pose with the Border-Gavaskar Trophy on Wednesday, the eve of the first Test in Nagpur
PTI
---
Nagpur
|
Published 09.02.23, 05:16 AM
|
---
Rohit Sharma on Wednesday remained tightlipped about specific selection calls for the first Test for the Border-Gavaskar Trophy.
"What we have to do is we have to go to each venue, see the conditions, and try and get the best XI," Rohit said on the eve of the Nagpur match. "It's as simple as that, and that is what we have done in the past and that is what we will do moving forward.
"The message to the boys has been very clear. We are ready to play horses for courses. On whichever pitch, whoever we need, we have to bring them in. As simple as that. That is something that we have spoken to the guys (about) at the start of this series, and we will continue to do that. We have to assess what sort of conditions we are playing in, who are the right guys to counter those conditions. We are quite open to all of those options."
Rohit made it clear that the team management is looking for someone to fill the gap made by Rishabh Pant's absence. The wicketkeeper-batter is recovering from a car crash in December.
"Rishabh was a very, very important player for us in that middle order, how he batted in the last few years for us," Rohit said. "We will definitely miss that, but yeah, we have got a few guys to come and do that job for us in the middle. We are keeping an eye on that particular aspect, where we need someone in the middle order to come and do that — not just the middle order, even in the top order.
"Because you are playing on such challenging pitches, you need guys to stand up and find ways to score runs because it's not going to be easy. We have seen it in the last few series when we played here, you need orthodox cricket to be played as well. We've had a good, solid talk with all the batters, finding their own methods of scoring runs, countering what there is to offer, and all of that. Hopefully, when we start the game, we can achieve all those things."
No baggage:
Cummins Australia haven't won a Test series in India since 2004 but captain Pat Cummins says his unit doesn't carry the baggage of his predecessors.
"No, this team is very different from a lot of the teams that have played here in the past. So we don't carry the wins, we don't carry the losses," Cummins said. "We know it's tough to tour here, India are a really good cricket side, especially at home, so we are excited... we will give it our best shot."
He acknowledged the importance of first-innings totals in this part of the world. "Yeah, I think it's more important here than anywhere else in the world, that first-innings lead, hopefully. You just got to find a way to put a big total on the board thinking it's going to spin," Cummins said.