Edgbaston Test: Positive England excites 'retired' Moeen Ali
'They are playing in a positive way... I would say it would be a very close game'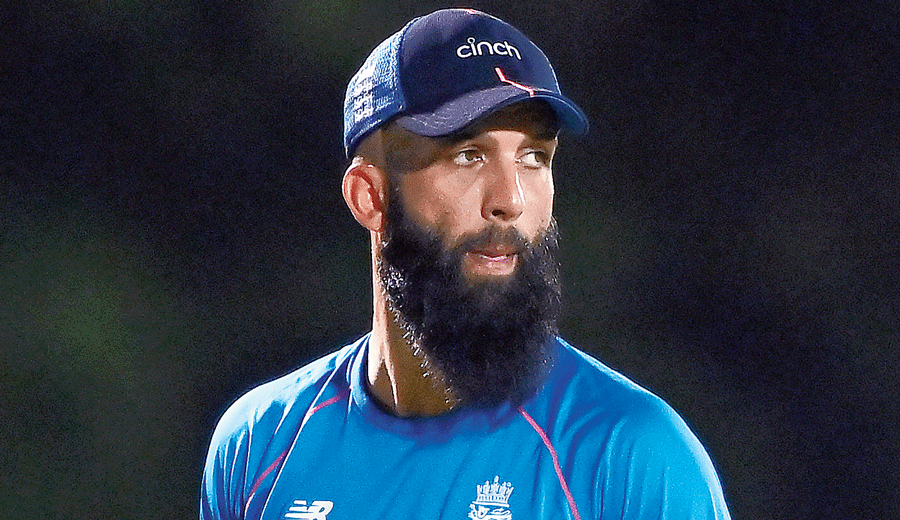 ---
Calcutta
|
Published 29.06.22, 02:19 AM
|
---
Moeen Ali played three of the four Tests of the unfinished India-England series last year. Nine months later, the all-rounder will watch from the commentary box as the home team battles to square the series 2-2 at Edgbaston from Friday.
Mooen quit Test cricket a few days after the fourth Test at The Oval last year but is open to playing again following a request from the new team management, comprising head coach Brendon McCullum and captain Ben Stokes. England's new brand of "positive cricket" has forced Moeen to think differently about himself and the rescheduled Test in Birmingham.
"If you had asked me five weeks ago, I would have said India would win the game. The way England have changed their cricket, their mindset has been exciting. They are playing in a positive way... I would say it would be a very close game.
"If anything, England in my opinion will be the favourites. Three very good Test matches (against New Zealand) and the way they are playing is superb. India at the moment are undercooked... No KL Rahul, who played brilliantly last year, and potentially no Rohit Sharma. So England have to be the favourites," Moeen told a select group of mediapersons on Tuesday.
The Test will be telecast live on Sony Six and SonyTen 3.
"If this Test was played last year, India would have won, but now I feel England will win. Last year India had four games under their belt, this time they have a lone practice game to show as preparation. England have played three Tests and seem to be very confident. Last time they were lacking confidence but this time the mindset has changed.
"India are still a very good side but they will miss the combination of KL and Rohit, who were both playing very well last year. They were giving them some very good starts and seeing off the new ball. Their absence will be a huge miss for India," Moeen remarked.
But England can't take it easy, he said. "India have an experienced and quality bowling attack but England will be more attacking than they have been. The guys will be pretty confident playing this way than they have been playing six months ago. But India are a different challenge and it will be interesting to see how positive they will be."
Moeen feels the dry conditions will favour the spinners.
"The conditions here have been extremely dry over the last four/five weeks. The weather has been amazing and it will definitely spin. I don't see it spinning on the first day or day-and-a-half, but Jack (Leach) is bowling better than he has ever bowled.
"I watched him live in the last Test, and as the series went ahead, he got better and better. I will back him to do a good job. India have good players of spin, especially the ones spinning away from them. It's a big challenge for him and he has the confidence to do well."
Given his success against the visitors, does he think the Indian batters are vulnerable against spin? "I wouldn't say vulnerable. I would say there are some very good players of spin and some pretty normal stuff... They are better to balls spinning away from them than the ball coming in.
"But sometimes you face so much of spin, that you get wickets anyway. I would say every team is vulnerable against spin at times. You go through phases when you play spin well at times and then you don't play spin that well. But some fantastic players of spin are there in the line-up," Moeen said.
But if India are to play one spinner, Moeen would prefer Ravindra Jadeja over Ravichandran Ashwin. England's transformation has given Moeen hope to think differently. "As soon as Brendon McCullum took charge, he asked me if I was available to play for him and how much fun it's going to be... I think the mindset changed once Ben Stokes took over as captain... The brand of cricket they are playing is the one I like playing, bit more positive and attacking."