Day-Night Test signal for Virat Kohli
India's next Test series is in New Zealand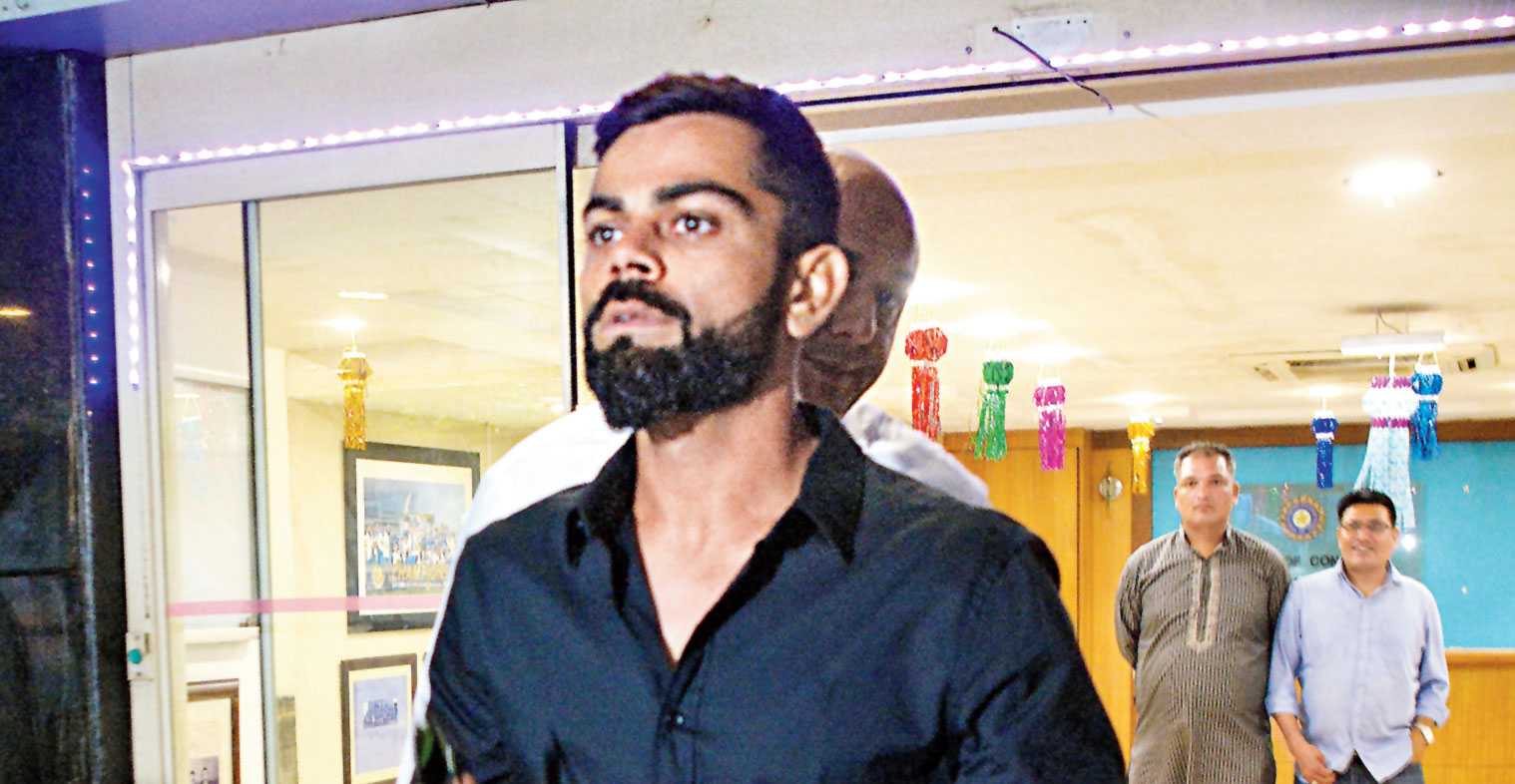 ---
|
Mumbai
|
Published 24.10.19, 08:18 PM
---
Sourav Ganguly, the newly-elected president of the Board of Control for Cricket in India (BCCI), has made it clear to Virat Kohli that the Indian team has to play Day-Night Test matches during their first formal meeting at the Cricket Centre on Thursday, sources told The Telegraph.
Virat was there to attend the selection committee meeting to pick the squads for the T20Is and Tests against Bangladesh.
Virat's meeting with Sourav lasted for about 45 minutes. BCCI secretary Jay Shah was also present. Rohit Sharma, who will lead the side in the T20Is in Virat's absence, joined later.
Sourav believes D-N Test matches is the way forward to arrest the dwindling spectator count. The Indian team has been averse to playing D-N Tests, but according to sources, Sourav stressed on the need to move with the times.
On Wednesday Sourav had told this newspaper: "Personally, I am very much interested in D-N Tests… I'm a huge supporter of D-N Test matches. How can you continue with empty stands… I hope the D-N Tests are a solution to bringing the crowd back to the stadium. You don't know till you try."
While other top Test playing nations like Australia, New Zealand and Pakistan have played D-N Tests, the Indians have always resisted the idea. Their bone of contention has been that the SG pink ball might not meet the required standards at home.
The team management had even scuttled a move to have a D-N Test in Adelaide during the last tour Down Under.
"India don't have a Test series at home in the next few months after the one versus Bangladesh. Sourav believes the No.1 ranked side can take a risk against Bangladesh and play a D-N Test during the second game at the Eden.
"Virat wasn't too keen on such an idea. But Sourav has requested him to think about it. Moreover, the Bangladesh board will also have to be taken into confidence," a source said.
India's next Test series is in New Zealand.
Sourav also met the selection committee members on Thursday. Neither the team management nor the selectors are aware of Mahendra Singh Dhoni's plans and so Sourav will need to speak to him to get an idea on his future.
The BCCI president has already announced that whatever stand Dhoni takes, it will be respected.